Chocolate Lovers?
Majique MiMi's Edible Review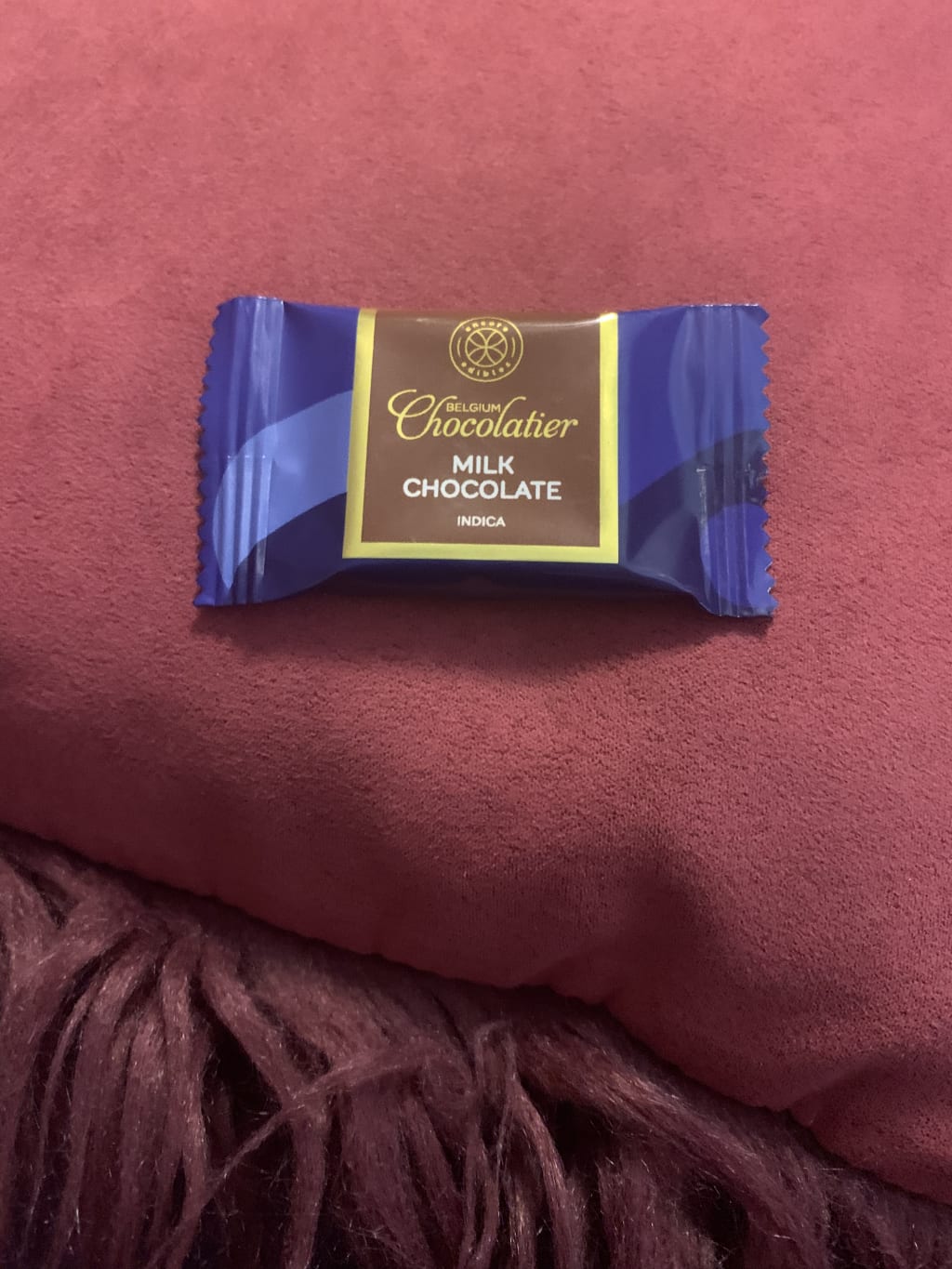 Actual Photo of Product taken by MiMi
Hey hey! 👋 What it do? How's it goin; how are you?
MiMi is GOOT with a T, but I ain't fittin to lie to y'all, I'm always skeptical when tryin a new cannabis product mainly because I honestly don't have the disposable income to play around with my healing and I'd it don't work, I'ma be mad.
Sidebar: I remember a time I tried a particular 🌱strain because it was a sativa, and it was on sale. Plus when I looked it up online, the flower itself was sooo PURDY with whisps of orange and purple, it appeared "citrusy". Paired with a name like Mai-Tai , I thought I was in for a tropical paradise experience.It was not.
Not only was the experience NOT tropically relaxing…that particular strain made ME panicky and anxious. So now,I try to avoid any product that has the same chemical make up.
Back on the scene with the edible review:
It has now been an hour since I consumed the Encore Edible's Belgium Chocolatier Milk Chocolate 🍫 Indica Square.
And I'm hot 🥵, lol. But I just took a shower and it's supposed to be 90 degrees tomorrow; so I'm pretty sure my elevated body temperature had more to do with that than the edible. 😬🤦🏻‍♀️🤣
First of all lemme just say, I was "scurred"the chocolate would've been bitter or tasted like dirt, but it didn't. It was actually creamy and the chocolate was smooth #af.
It was actually kinda tasty y'all. 💜
At this point in the hour, I'm sooo chill.
I happened to leave on WETV , and Brat Loves Judy is on. So, I keep staring at the green shape at the crown of Judy's head and I LOVE it! I dunno what shape it is, but the color is fly.
Physically, I'm not hot anymore, but I'm not feeling my toes either so I'm wiggling them. 🤣. I'm not tired, and my one knee is hurtin today, so I'm just waiting it out to see if the medication works it's way to my other problem pain areas.
I suffer from migraines, anxiety, ptsd, and major depression. My problem areas are usually my neck, shoulders, temples, back of head …and now my knees. 😑
The knee thing isn't just a menopause joke y'all. 🤣🤣🤣 I NEVER in my LIFE had knee problems and now that I've entered "Area 51" my knees hurt so much they HOIT!!!
(Area 51=code for menopause)
Hoit, for those unaware of this particular colloquial banter, is approximately seventy six point four percent more painful than- hurt. But only the one knee hoits right now, so I'm just layin back noticing the edible is working.
How do I know said edible is working?
Because I'm super duper chill and I actually give a flyin fajita about Brat & Judy and their little date.🤣 I don't follow this show at all and never had a desire to watch it, still don't. But all the bright colors keep me hypnotized like a damn kid .😵‍💫
No I'm not lyin, I really like the colors in Brat & Judy's hair, makeup and fits.
And so, about twenty minutes later, as I was typing this, I started to get tired.And that is good. I mean it's not a knock out and drag out kinda tired, but I'm starting to get grumpy cuz I just want the show to end so I can see Brat's tatt & go to bed. And because this is a review of an edible, let me digress.
As far as the Encore Edible's Belgium Chocolatier Milk Chocolate 🍫 Indica Square is concerned:
I'ma keep getting em. For now.
First , they're packaged so stinkin cute.
It looks like a chocolate you'd leave on somebody's pillow in a luxury hotel.
🚨Keep 'em stored properly, cuz I can see people mistaking these for Godiva chocolates and taking a few accidentally.
Second, they taste amazingly good.
Third, I'm tired but not sedated so that's a definite plus.
Try one & tell me how you feel?
✌🏼💜💨
Peace, Love Exhale
About the Creator
You can call me MiMi. I'm a Brain Aneurysm & Stroke Survivor & Former English Professor. I write to stay sane and to keep gratitude in my Spirit & Praises in my mouth.
Reader insights
Be the first to share your insights about this piece.
Add your insights