America's First Ever Cannabis Café
Lowell Farms opens up the first marijuana restaurant and lounge in Los Angeles, CA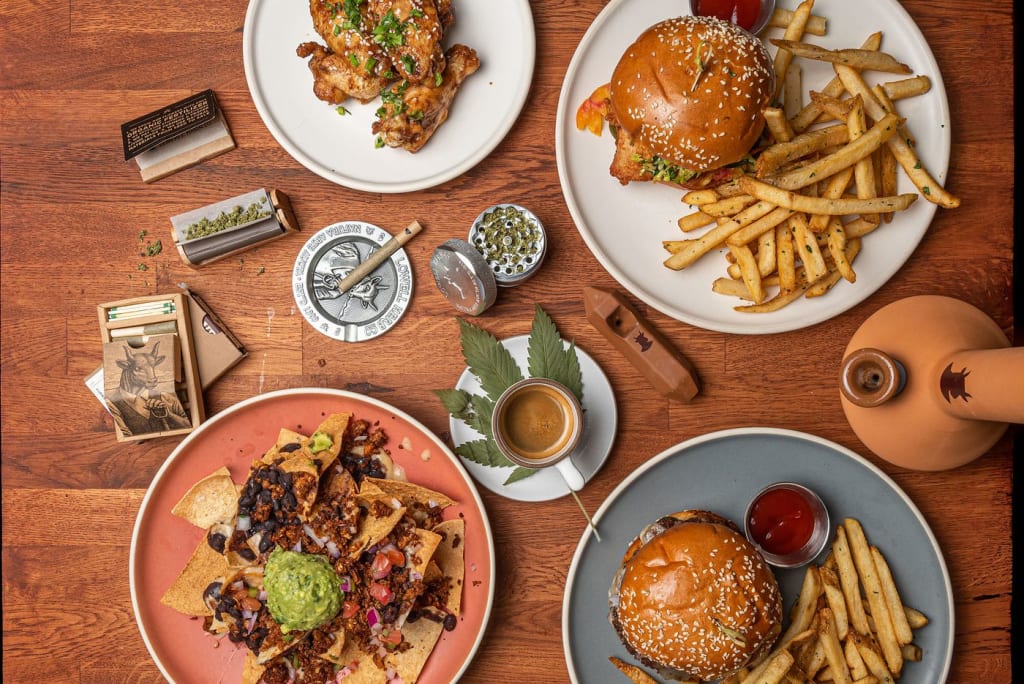 The Lowell Café, West Hollywood
Lowell Farms Co., a Santa Barbara County organic cannabis and CBD company started in 1909, has officially put an end to the marijuana prohibition in Southern California, opening up the country's first-ever marijuana restaurant and lounge in early October, The Lowell Café. Backed by big-shot celebrities like Miley Cyrus and Mark Ronson, this West Hollywood café and dispensary hybrid serves up farm fresh food, delicious coffee and juices, and different strains of cannabis to match your meal of choice.
Unlike any modern restaurant that has ever opened before, diners are actually allowed to smoke, vape, and dab inside the dining room and on the side patio during their visit, thanks to a new license issued by the city of Los Angeles. I know this makes you picture a hotboxed room overloaded with weed smoke, but management took care of that problem by installing a special air-filtration system to suck up smoke from throughout the entire restaurant.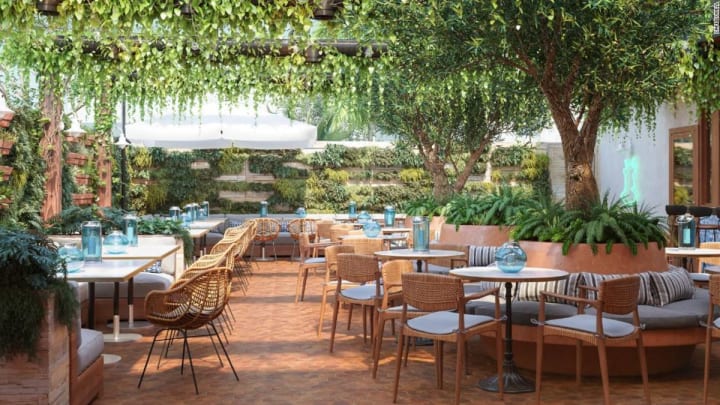 Restaurant director Kevin Brady made a point to establish a certain level of sophistication and functionality of the restaurant while still keeping it casual, and does not want diners to expect just a couch-filled room with pizza and video games. Instead, Lowell Farms seems to go above and beyond, providing a "Dab Bar" for the more experienced cannabis consumers and a "Flower House" for those who wish to be paired with their perfect bud. The café aims to rid of the "negative stigma" that is associated with marijuana and its users while creating a welcoming, cozy, enjoyable, and safe environment for both the experienced smokers and those who they call "just canna-curious."
Upon arrival, guests are seated at a table and greeted by a flower host, or "budtender," who will guide diners threw their café experience and direct their cannabis decisions (they are often compared to wine sommelier, and make a note that all cannabis products are seasonal). They start out the visit by asking some questions about your marijuana history, if any at all, such as frequency of use, typical forms of consumption, and an estimated tolerance level. They do this to personalize your cannabis order and give you a custom experience, while at the same time pairing different strains with different items on the menu. Take note that guests can bring their own bongs or pipes from home or can rent one at the restaurant, and cannabis and edibles brought from home can be consumed for a small "tokage fee" of $20, similar to a corkage fee. Some rules are still similar to a traditional bar, so budtenders also clarify that all marijuana consumers have planned a safe ride home that does not include them operating a vehicle of any kind.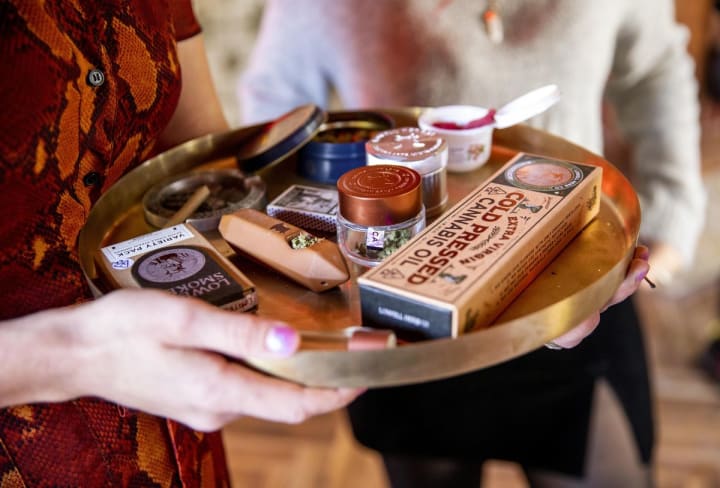 In addition to the knowledgeable flower hosts, guests are also assigned a wonderful server from whom diners can order food and nonalcoholic drinks. Although I think most of us would love for this to be the case, food served at The Lowell Cafe is not THC infused, unfortunately, due to legal issues. Chef Andrea Drummer's incredible menu is actually inspired by different flavor profiles in various strains of marijuana, and every menu item has a suggested cannabis product, that can be vaped or smoked, to be paired with (mostly supplied by Lowell Farms). Some of her dishes that can be found on the opening menu include miso-glazed pork belly, sticky tamarind wings, jalapeño mac and cheese bites, vegan nachos, and house made pickles, and she is even hoping to introduce a breakfast menu next month.
Since this is such an extraordinary exciting and new idea and project, it is also a sort of an experiment to see if more of these weed cafés could be possible. Because of this, there are definitely some enforced regulations and prohibitions that are necessary for the continued existence of the restaurant (see below for the ground rules).
Want to impress your friends with one of the coolest private parties they have ever been to? Lowell Farms has got you covered, just visit their website! Or if you find yourself in Los Angeles, or have time to make the trip, stop in West Hollywood at The Lowell Café to have an incredible experience that isn't available anywhere else in the country.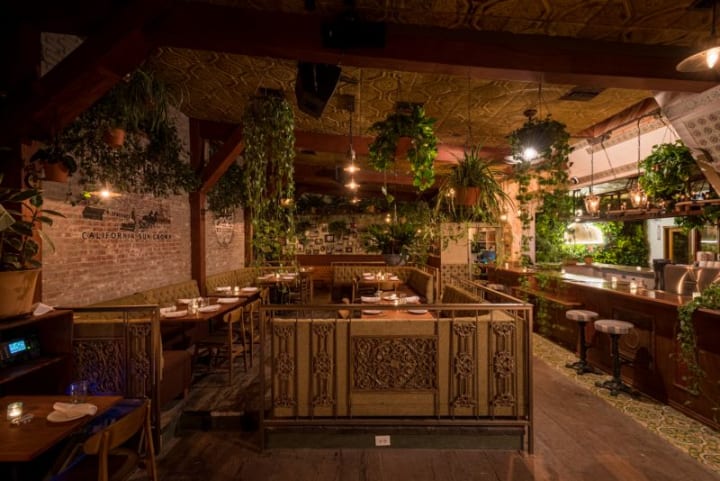 Open daily from 10 AM - 10 PM (although they are pushing to extend their hours to 8 AM - 2 AM and serve a breakfast course by mid-November).
Located on N. La Brea Avenue at W. Lexington Avenue in West Hollywood (for more info, visit lowellcafe.com).
Here are the ground rules when visiting the Lowell Café:
Entry is allowed ONLY for those 21 years or older with a valid form of ID (under the age of 21 with a valid medical card is NOT acceptable).
Smoking, vaping, and consuming edibles is allowed only in the dining room and on the side patio, and is prohibited on the front patio.
Alcohol is permitted only on the front patio, and will not be served on the side patio or inside the dining room.
It is prohibited to smoke to the point of incapacitation, and security and flower hosts will be doing checks regularly.
Lowell Café is 100 percent tobacco free, absolutely no cigarettes allowed!
Marijuana and cannabis products can ONLY be purchased with CASH, but debit and credit cards can be used to purchase food and drinks.
Unfinished cannabis products may NOT be taken out of the restaurant, but food leftovers may be taken home.
Guests are allowed 1.5 hours at their table, due to the current high demand.
No pets are allowed on café grounds, only certified service animals are permitted (NOT including emotional support animals).
Reservations are allowed and encouraged (book up to 30 days in advance), but walk-ups are taken at first availability. When placing a reservation, credit card information is taken, and no-shows will get charged a fee.