33 Incredible Marijuana Statistics
Enjoy these 33 incredible statistics about this growing industry!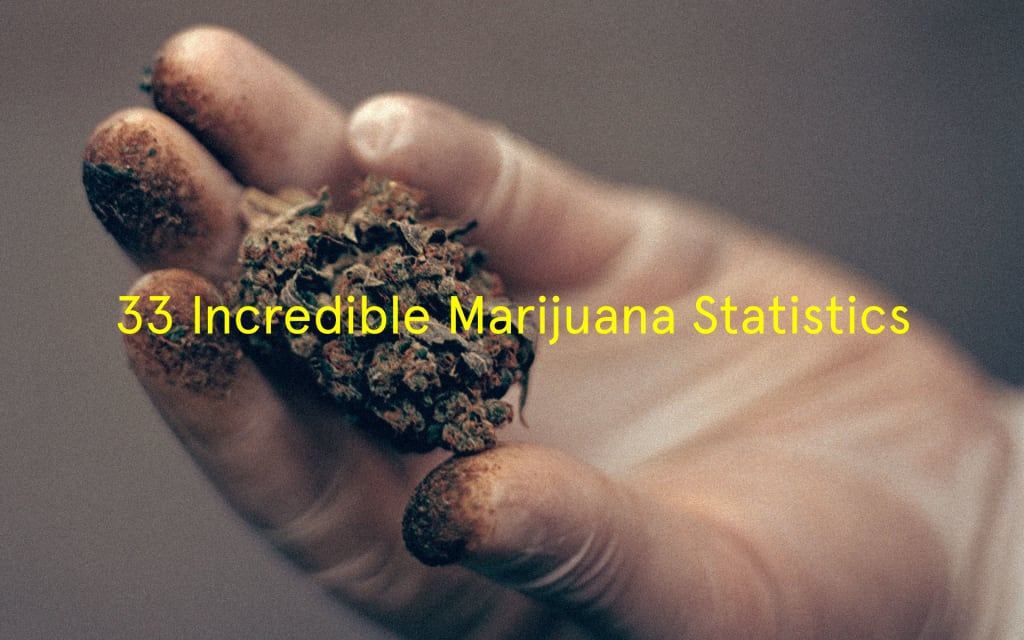 I am always amazed by the staggering statistics of the cannabis industry. As more states are legalizing medical and recreational marijuana sales and usage, I thought I would take a look at the latest statistics reported in the market.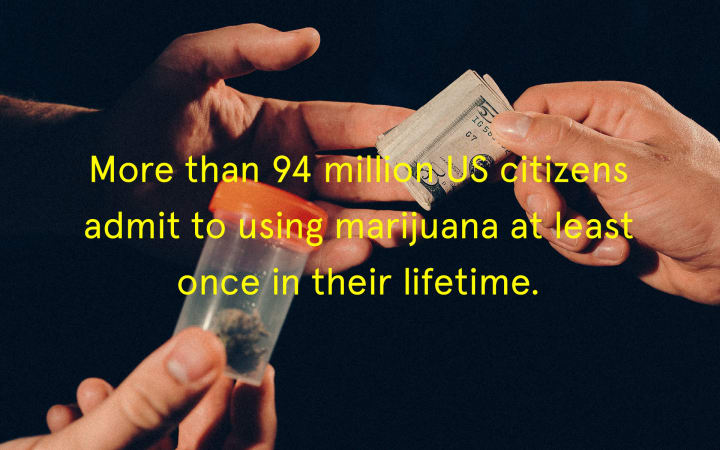 There are approximately 2,604,079 medical marijuana patients in the United States as of 2016. (Source: trendstatistics.com)
In 2015, legal sales in Colorado of medical and recreational marijuana reached nearly $1 billion. The tax revenue from these sales is higher than the revenue gained from alcohol sales and a significant percentage of this income benefits the school system. (Source: usatoday.com)
30% of women and 58% of men support the legalization of marijuana for recreational or medical use. (Source: trendstatistics.com)
In Colorado, there are more marijuana dispensary locations than the combined total of McDonald's and Starbucks locations. (Source: BusinessInsider.com)
There are 15 conditions that show great success in being treated using medical marijuana in clinical trials. This number continues to climb as research continues. (Source: TheMotleyFool.com)
More than 94 million US citizens admit to using marijuana at least once in their lifetime. (Source: trendstatistics.com)
Every year, approximately 700,000 people are arrested on marijuana-related charges. (Source: usatoday.com)
According to a 2012 survey, nearly half of all Americans admit to having used marijuana at least once in their life. (Source: TheMotleyFool.com)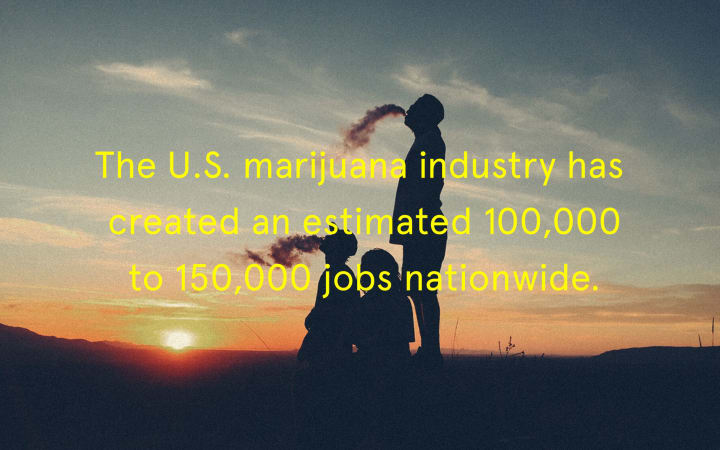 Legal marijuana sales grew in the United States by approximately 17% in 2015, bringing total sales to $5.4 billion. (Source: ArcView Market Research)
Since legalizing recreational marijuana use in the state of Washington, dispensaries posted over $1 billion in non-medical sales since 2012. (Source: BusinessInsider.com)
Twenty years ago, approximately 25% of Americans were for legalizing recreational use of marijuana, that number has climbed to roughly 58% of Americans as of 2016. (Source: TheMotleyFool.com)
Currently, there are over 25,000 different products applications using industrial hemp, and more being developed every day. (Source: usatoday.com)
With the addition of four states which passed ballot initiatives that legalize nonmedical marijuana in the 2016 elections, one in five American citizens now lives in a state in which it is legal to smoke marijuana without a doctor's note. (Source: BusinessInsider.com)
Maine now allows individuals to possess more marijuana than any other state. They allow Mainers to possess up to 2.5 ounces, which is more than double the amount of any other state. (Source: BusinessInsider.com)
The U.S. marijuana industry has created an estimated 100,000 to 150,000 jobs nationwide. (Source: mjbizdaily.com)
As more states lift the ban on marijuana sales, legal marijuana sales could rise by a compounded average annual rate of up to 30% over the next four years, topping out at upwards of $22 billion annually. (Source: ArcView Market Research)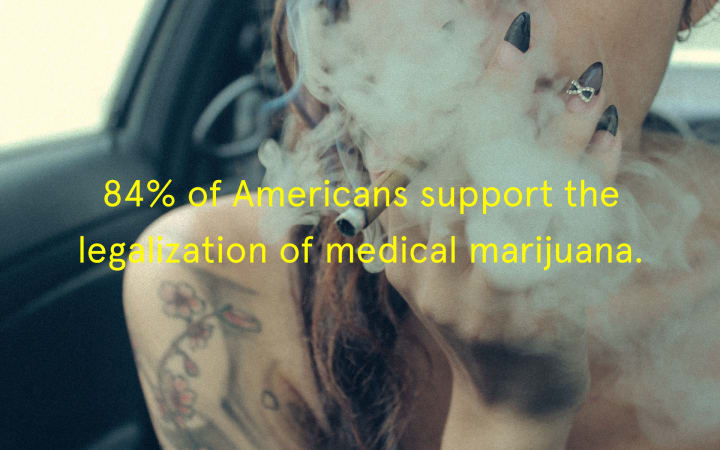 George Washington was among early Puritans who grew hemp as a major crop on their farms. (Source: usatoday.com)
In the state's second year of being legal for recreational marijuana sales, Colorado posted $996 million in sales for 2015, leading to $135 million in tax revenue, 35% of which went into the education department. (Source: TheMotleyFool.com)
According to a 2015 survey, 84% of Americans support the legalization of medical marijuana. (Source: TheMotleyFool.com)
The state of Oregon generated nearly $15 million in tax revenue in the first year of legal marijuana sales. (Source: BusinessInsider.com)
While e-commerce is used for everything today, the very first e-commerce transaction was a sale of marijuana between students at Stanford University and students at the Massachusetts Institute of Technology. (Source: usatoday.com)
While most businesses take years to become profitable, nearly 90% of dispensaries, recreational marijuana stores, wholesale cultivators, and infused products companies report breaking even or being profitable in 2016. (Source: 2016 Marijuana Business Factbook.)
Marijuana sales hit a record $38 million in the United States on 4/20 in 2016. (Source: mjbizdaily.com)
There are currently 28 states that have legalized medical marijuana use. (Source: ProCon.org)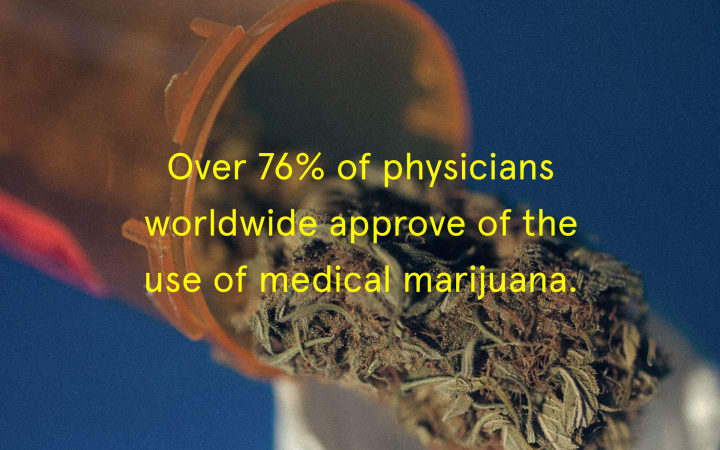 The cannabis industry is projected to post sales of $20.2 billion by 2021. (Source: BusinessInsider.com)
Studies suggest that legalizing marijuana in all states would result in approximately $3.1 billion in tax revenue per year. (Source: NerdWallet)
The federal government and select state governments spend about $17.5 billion per year to prohibit and enforce the prohibition of marijuana. (Source: TheMotleyFool.com)
Over 76% of physicians worldwide approve of the use of medical marijuana. (Source: trendstatistics.com)
In 2016, Colorado, Oregon and Washington State averaged a combined total of $123.5 million in legal recreational marijuana sales. (Source: mjbizdaily.com)
As cannabis research has expanded, seven new cannabinoids have been discovered and cultivated from the cannabis plant. This discovery brings the total of known cannabinoids found in cannabis plants to 111. This research is important because these cannabinoids bind to the receptors found in our brain and immune system. As we discover additional cannabinoids, more conditions may be able to be treated. (Source: TheMotleyFool.com)
As of 2017, the number of deaths caused by an overdose of marijuana remains at zero, when compared to nearly 18,900 deaths caused by opioid-related overdoses, marijuana maintains a stellar safety rating. (Source: TheMotleyFool.com)
92% of medical marijuana patients report improvement in their symptoms as a result of medical marijuana use. (Source: trendstatistics.com)
Marijuana strains bearing celebrity names post an approximate 24% markup over unbranded strains, proving celebrity endorsement matters when it comes to the premium a strain will carry. (Source: mjbizdaily.com)