Willy Wonka has Nothing on Anne-Adele Wight
Wight's work leads poetry readers into the world of science fiction.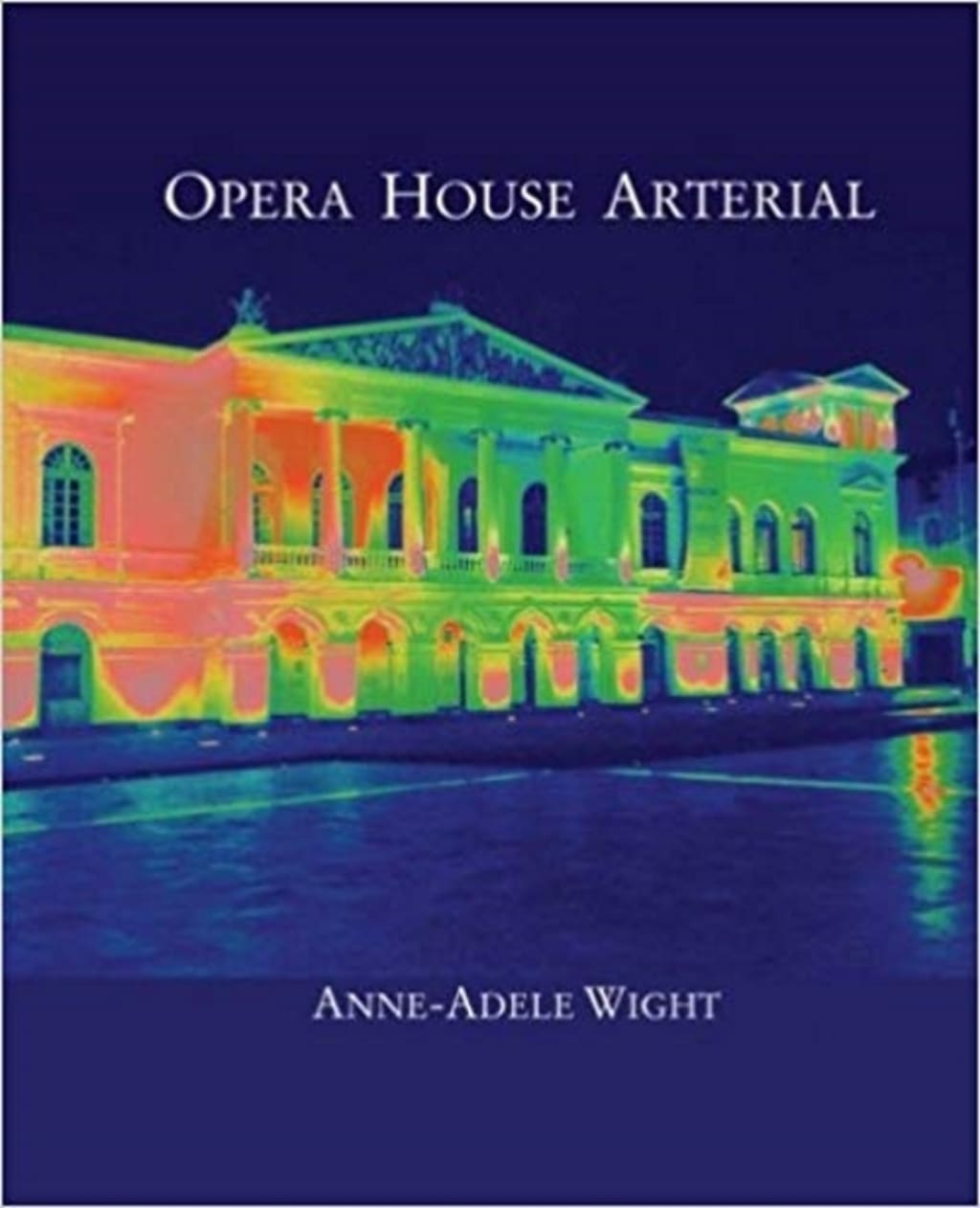 Opera houses may never be looked at in the same again. Anne-Adele Wight's Opera House Arterial, published in 2013 by BlazeVOX [books], is a work that will never be confused with anything else. The entire collection defies any strict labels of what poetry must be or act like.
Wight takes a quote from Edward Braun to serve as an introduction to her work: "...an amusement park ride for elemental particles..." This is as near perfect a description as one could get for this collection. The Opera House Arterial is essentially the Twilight Zone imploding into verse.
Much like In the Age of Greenhouses, Wight's work is not really a book of poetry, but rather it is a multi-dimensional gaunt taken at light speed through a rabbit hole of unadulterated, unrestrained creativity. She is a poetic Willy Wonka, leading her readers cheerfully through that tunnel full of colors and terror where they will be "...lost over centuries..." and trapped in "...one thousand atmospheres..." The readers are at her mercy, as they proceed along the tour; there is no escaping the mercurial opera house in that "trickster dimension the best narcotic..."
Her collection combines the universes of science fiction with the realm of poetic verse. Her protagonist, or perhaps it is best to say 'the antagonist,' in this set of poetry is a flighty, chaotic opera house. Delightful malice, and malicious delight abound in these poems as "cells roll off the opera house into your living room" before it appears on a lady's dressing table, this time sporting "...duck feet...," but then it is off again. "Watch the sea rise and turn into ghost ribbons/opera house blacks out lighthouse".
There is also a touch of horror sprinkled in throughout Wight's words. "Something's going on with the peaches" is such a mundane line, but when it is placed in between extravagant romps of galactic proportions this simple statement about ordinary peaches chills the skin with its foreboding tone.
That line snaps the readers back into reality. It warns them that while they may be having fun on their wild adventure, something very bad is happening at home, and yet no one seems to notice that "we keep making love in a bed of medical waste." The facade of 'all is well' begins to crack in "Faulty Research among Flatworms." A quickening of the blood is felt as eyes follow the lines, "my arteries tangle like snakes/everything made of red glass/whose cell phone stalks me while I map my genes?" Wight then leads her readers to "Magnetic North Takeover." It is here that the calamitous will of the opera house "cries wendigo intent in an Arctic voice." And then the readers are faced with this question: "What was the role of the opera house in ending life on earth?"
A hard question to answer when there is absolutely no defining the opera house, and when grappling with such a difficult collection of poetry.
But while Wight's poems are wild beyond belief, there is still a sense of simple poetic beauty present in the collection. It is faint, to be sure, but it crops up from time to time with gentle reassurances like, "recall your life as a fish before you surfaced in this room..." And Wight describes the end of the world in delicate terms: "nothing left of us but a light-filled basin."
Wight's poetry is not, nor will ever be, easy reading. Her zesty ability to blow past any ill conceived notions that the scientific world should be kept separate from the world of poetry means that readers of verse will truly find something new in her work. Her writing is unusual, spritely and out of this galaxy.
About the Creator
Welcome! I provide free book reviews for modern poets! At the end of the year, 10% of all earnings and donations will be given to a non profit organization. This year you will all be helping Lambda Literary! Thank you!
Twitter: @poetryberry
Reader insights
Be the first to share your insights about this piece.
Add your insights