William Topaz McGonagall
The best bad poet of all time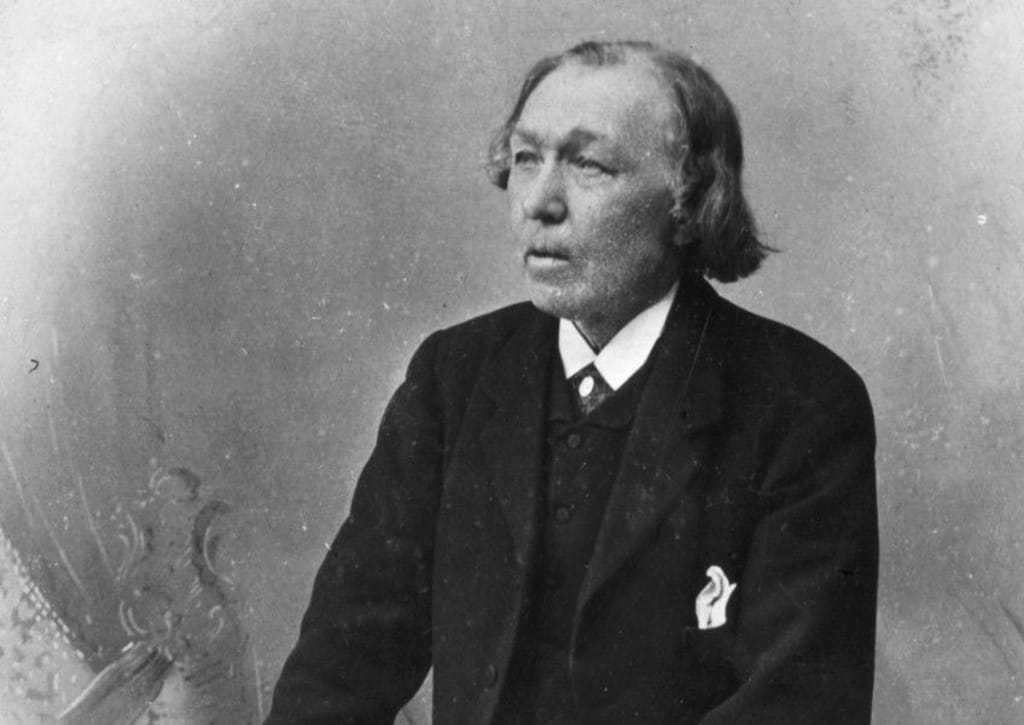 The world is full of very bad poets, so the crown of the "best" (or should that be the "worst"?) has to be bestowed with care. However, there must be few people who, having been introduced to his poetry, would deny that honour to William McGonagall.
William Topaz McGonagall
To be truly bad as a poet, the candidate has to have an abundance of bad poetry to their name, to have their own style of awfulness, and to have always deceived themselves into believing that they were gifted as a great poet when they were in fact precisely the opposite. McGonagall ticks all those boxes, many times over.
The year of his birth is uncertain, as it could have been anything from 1825 to 1830. McGonagall wrote a prose autobiography but neglected to give his date of birth (we know that he died in 1902). He was a handloom weaver in Dundee (on the east coast of Scotland) who fell on hard times when machine weaving became established in the city. He then suddenly became a poet at the age of around 50, having had what he describes as a sort of "Road to Damascus" experience. Hearing voices telling him to write, he thought he might write a poem in praise of a local preacher, the Rev. George Gilfillan, which he did. He also sent it anonymously to the local newspaper. It must have been a slack week for news because they printed it, including the final lines:
*
"My blessing on his noble form and on his lofty head
May all good angels guard him while living and hereafter when dead."
*
George must have been delighted with that!
McGonagall's love affair with the Tay Bridge
Success now went to William's head, as he convinced himself, in his own words, that "Dame Fortune has endowed me with the genius of poetry". His next effort was therefore a paean of praise for the railway bridge that crossed the estuary of the River Tay into Dundee. The poem was written before the bridge was opened (on 31st May 1878) and it contains elements of the McGonagall style that were to feature in virtually all his subsequent work:
*
"Beautiful Railway Bridge of the Silvery Tay!
With your numerous arches and pillars in so grand array
And y our central girders, which seem to the eye
To be almost towering to the sky.
The greatest wonder of the day,
And a great beautification to the River Tay … "
*
There is the delight in precise detail, the appalling scansion, the forced rhymes and the general sense that the words are simply there to make up the numbers. However, worse was to come.
McGonagall's capacity for deluding himself was apparent from the account in his autobiography that it was the reading of his poetry in Brazil that persuaded the Emperor to visit Dundee in disguise to see the bridge. However, the poem relates that it was the bridge itself:
*
"That has caused the Emperor of Brazil to leave
His home far away, incognito in his dress,
And view thee ere he passed along en route to Inverness."
*
However, what most people know about the Tay Bridge is that it collapsed in a gale as a train was crossing in December 1879, with the loss of 75 lives. Strangely enough, McGonagall had foreseen this possibility:
*
"I hope that God will protect all passengers
By night and by day,
And that no accident will befall them while crossing
The Bridge of the Silvery Tay,
For that would be most awful to be seen …"
*
Needless to say, McGonagall was equal to the task of meeting the occasion with a poem, entitled "The Tay Bridge Disaster". This poem has several interesting features, such as the line which occurs here several times, as well as in many other McGonagall poems:
"Which will be remembered for a very long time"
When William Topaz was stuck for a line, this was one that came in very handy.
We also get some details that stretch the concept of poetry to breaking point:
*
"I must now conclude my lay
By telling the world fearlessly without the least dismay,
That your central girders would not have given way,
At least many sensible men do say,
Had they been supported on each side with buttresses,
At least many sensible men confesses."
*
And the concluding couplet is one of McGonagall's most memorable:
*
"For the stronger we our houses do build,
The less chance we have of being killed."
*
The bridge was rebuilt, and our friend was on hand with "An Address to the New Tay Bridge":
*
"Beautiful new railway bridge of the Silvery Tay,
With your strong brick piers and buttresses in so grand array,
And your thirteen central girders, which seem to my eye
Strong enough all windy storms to defy."
*
Having enjoyed such a triumph with his original version, William Topaz saw little point in changing a winning formula. However, he possibly went a bit over the top with:
*
"The New Yorkers boast about their Brooklyn Bridge,
But in comparison to thee it seems like a midge …"
*
There are many other examples that could be cited to show McGonagall's genius as a terrible poet, but the point to be made is that his poems are not merely inept as poems but characteristically original in their style. There have been many bad poets and innumerable bad poems (some of them by otherwise good poets), but a McGonagall poem is recognizable at thirty paces. No-one else, before or since, has written in quite the same style, which is why the accolade of the best bad poet must surely go to William Topaz McGonagall.
celebrities
I am a retired librarian, having spent most of my career in academic and industrial libraries.
I write on a number of subjects and also write stories as a member of the "Hinckley Scribblers".