Watermelon is June 6th
This is summer.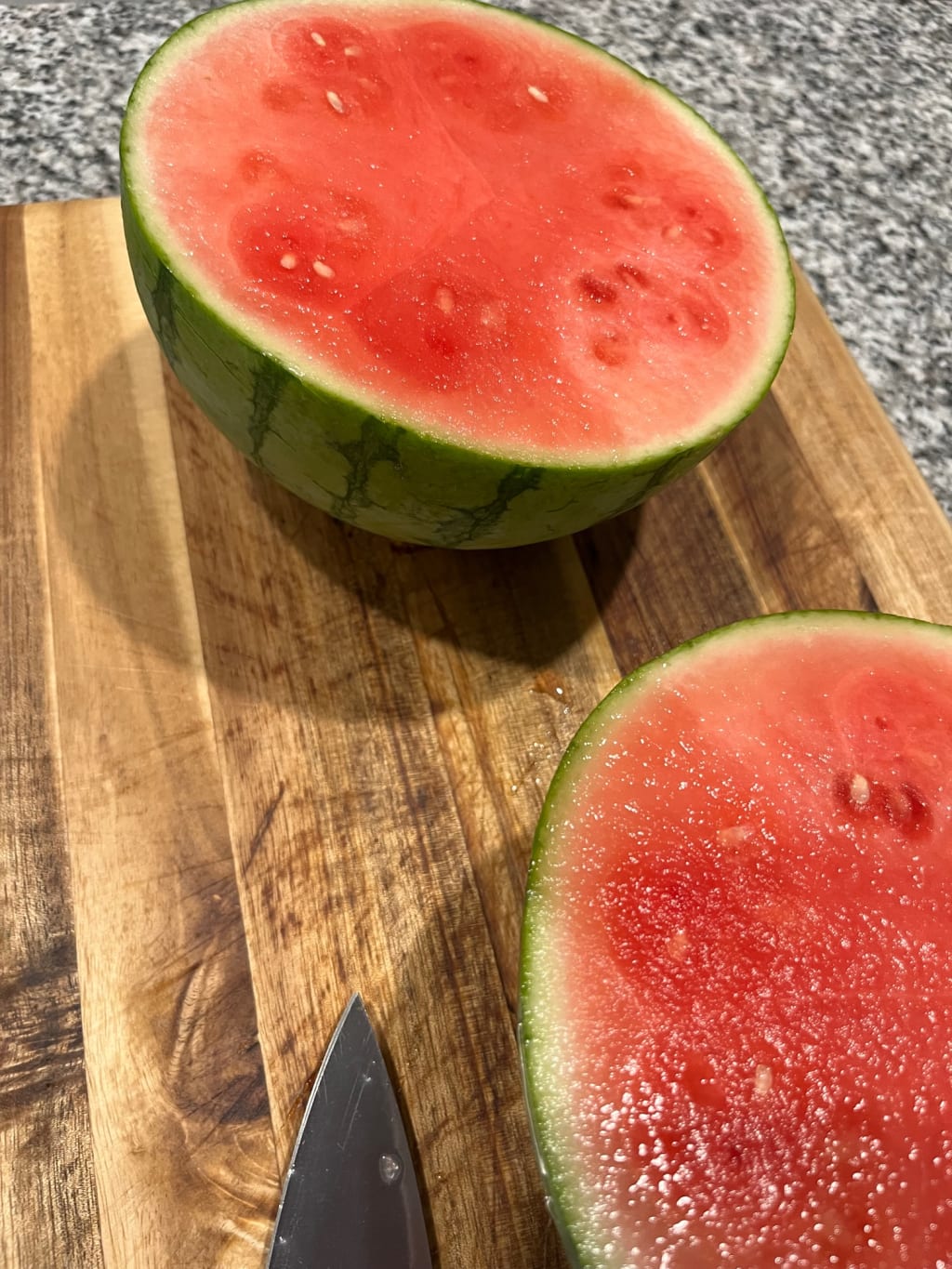 I grab the mini-sized watermelon out of the fridge and set it down on the cutting board, pick up the over-sized knife, and chop away. This is June 6th. This is the first day of summer.
-
I opened the email from my student's mom, read the accusations of poor leadership skills and miscommunication, and screamed out loud. That was April 25th. That was an average day as a teacher.
-
I slice the watermelon in half - quietly. I don't want to wake up my wife or the dogs. This is my time for me. This is June 6th. This is a summer evening.
-
I ate my lunch in my car - quickly. I had a meeting with a disappointed parent. She scheduled the meeting during my only availability. That was May 9th. That was my thirty-minute lunch break.
-
I throw the cubes of watermelon in a bowl and throw the green crust in the trash. I keep some cubes in a smaller bowl and put the rest in the fridge. I cover the bowl with salt, making sure to coat each layer. I eat one piece - delicious. This is June 6th. This is my sweet, sweet summer.
-
I pulled the two bullies into the office and told the rest of the students to get ready for class. I asked the two if they knew why I was talking to them and let them squirm. I called their parents, letting each of them talk through what happened. I told them they were in huge trouble. They were crying. That was January 14th. That was a long, difficult day.
-
I take my bowl of watermelon with me upstairs and sit in the recliner. I kick my feet up, grab the TV remote, and flip on some cartoons. I smile and find comfort in my childhood heroes on screen. I eat through my bowl of watermelon, savoring bite after bite. I reminisce about simpler times. This is June 6th. This is summer.
-
I took my program with me to my seat and flipped through it to find my student's names. I pulled out my phone, opened up the photos, and scrolled through some pictures of the graduating seniors. I smiled and thought through the growth and success my students have had over the past four years. I watched each of them walk the stage, cheering for student after student. I reminisced about the good times. That was May 23rd. That was graduation day.
-
I look at the clock. Midnight. I shrug and walk downstairs to get more watermelon. I don't have any obligations in the morning. No parents to calm, no students to discipline, no crises to solve. I'm free to stay up as long as I'd like - eating watermelon and watching cartoons. This is June 6th, after all. This is my time for me.
-
I looked at the computer screen. Inhaled. Exhaled. I shook my head and deleted the email I had typed out to the student's mom. She didn't have the correct information for the after-school rehearsal. No context, no awareness of the calendar, no regard for how dedicated I am to the success of her child. I still needed to bend over backwards for her - she is the parent, after all. That was April 25th. That was what I signed up for during the school year.
-
I wake up on the couch with another episode halfway through. I turn off the TV and take my empty bowl to the kitchen sink downstairs. I rinse it out and go to bed way past my normal bedtime. This is June 6th. There is no bedtime for a teacher in the summer.
-
I cheered for my student after his incredible performance. He had entered a national competition and was named a finalist. I was so proud of him and had to make sure he knew it. That was May 21st. That was an awesome day as a teacher.
-
I pile watermelon into a bowl, cover it with salt, and head upstairs to watch cartoons. This is how I recharge in the summer. This is June 7th. The next school year will come sooner than I think.