Walk from Brook Avenue into History
It's no surprise that this is prize winning poetry.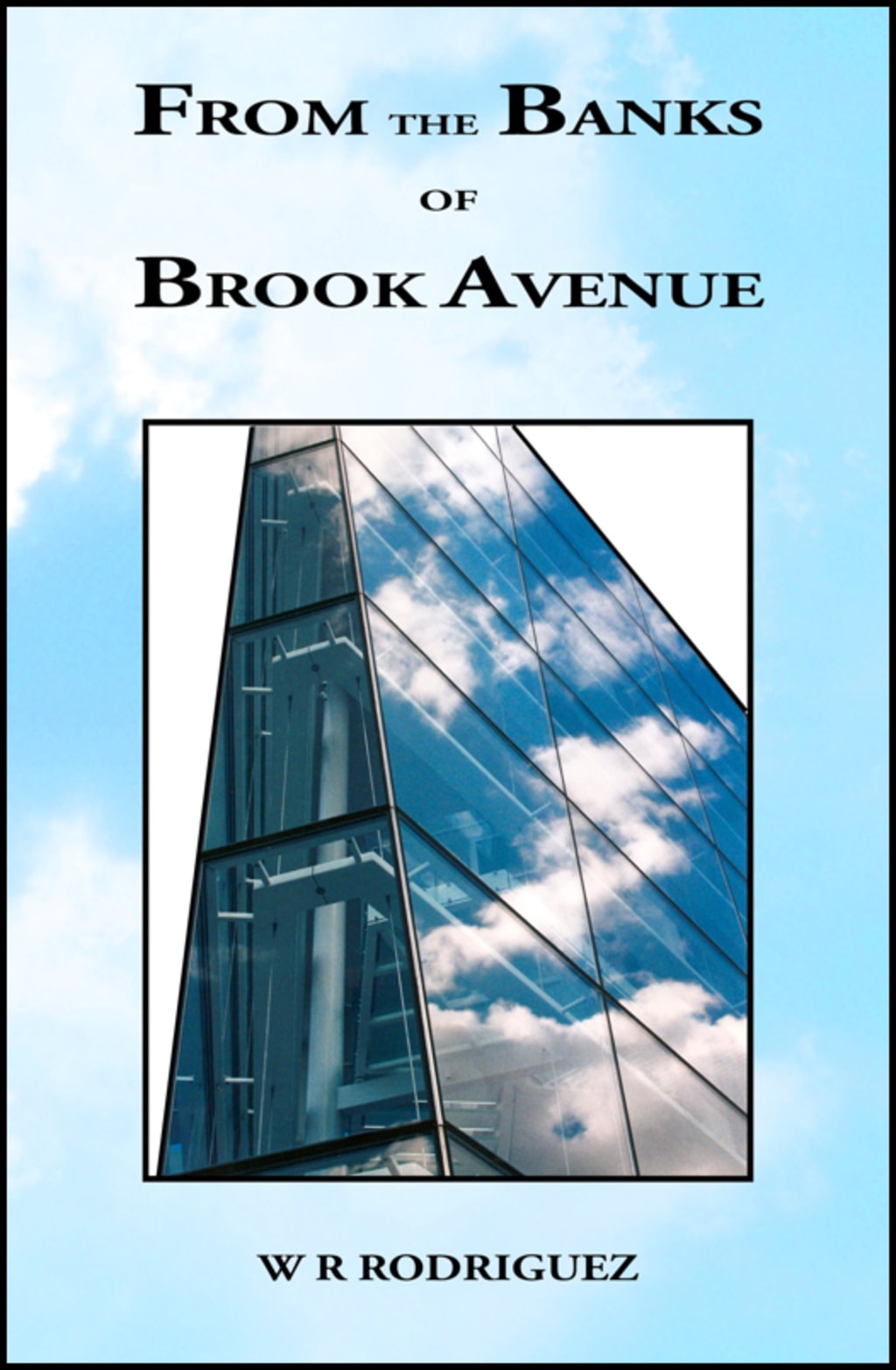 New York City may have only been the fifth girl in Sex and the City, but W. R. Rodriquez honors the entire state of New York by raising it up to play the role of the cosmos in From the Banks of Brook Avenue. Rodriquez's 2015 poetry collection delivers a seething critique of the United States of America's torrid past and a myriad of hypocrisies while struggling with the fact that no entity is an entirely flat character. All things are multifaceted, multidimensional in both their evil and good doings. Nothing is pure, "...the world is too crooked / for that;" everything is tainted and yet everything is beautiful. The complexity of the beings present in his work creates both heroes and antagonists.
As it did in Rodriquez's previous poetic work, Concrete Pastures of the Beautiful Bronx, the "...leafless lifeless..." moon once again loomsalmost ominouslyin the speaker's mind. This "...moon that shone over stalingrad / when death oozed through the rubble / this is the moon that glowed over the balcony / when Romeo swore his love and Juliet was enchanted...," this moon allows that "...anything is possible..." This celestial body's chilly, uncaring glow awakens in the speaker the mantra which is silently chanted throughout the rest of the book's pieces: "there are tears and joy / there are more things to fear in heaven and earth / than i can dream of..." Pain and wonder, life and death can never be fully separated from each other.
It is not a surprise that this brilliant collection won the 2018 North Street Book Prize for poetry. Rodriquez's mastery of intense, sharp staccato poetic verse blends time and space together in such a way that the reader is studying New York's distant past while simultaneously wading through the speaker's own past and present without any confusion. Rodriquez seems to transform his readers into the very air of colonial New York so they may be present for it's marbled history "before the age of development and ruin..." so they may silently bear witness to the growth and change of the area. They watch as the people of different generations all stumble through their big and little lives all toward the same destination. The history of New York which Rodriquez depicts, speaks directly to America's own, less desirable, personal history:
her mighty limb bears a beacon of hope /

a wary welcome to the new world /

where geronimo is imprisoned /

where chinese laborers are expelled from seattle /

where former slaves are massacred in a mississippi courthouse /

no one is indicted for their murder /

in this great republic where the lord /

and manifest destiny work in mysterious ways
As can be surmised from the above lines, America is an intensely complex and bitterly flawed character in Rodriquez's work. It is characterized by the speaker as an eagle watching "...his back / a wary carnivore / in a troublesome world."
Despite the troubles of this raging world, whether self-induced or otherwise, the readers will discover that New York is also brimming with treasures and memories so sweet that "... even hamlet / would find succulence in the dull world..." Though, "in america where the rivers are poison / and there are no free swims," the speaker is still able to recount the joy of celebrating Thanksgiving with family, the perfect simplicity of the job of the tire man rolling tires down the hill. That tire man "... will never run for president / he will never pitch for the yankees / but there are no spitballs / and he throws a perfect game." Rodriquez's ability to capture the beautiful obstinate nature of humanity in his work is stunning.
It also must be noted that Rodriquez's skill at holding his characters accountable through lines such as, "death is solemn / but suffering is hysterical / when it happens to others," while still being able to appreciate moments of happiness, keep his work from diving into cynical nihilism. He realizes that, like all natural predators, "humanity is beautiful from a distance," and even predators share tender moments with their loved ones between their kills.
From the Banks of Brook Avenue is an exceptional collection of poetry. One that should be shared with those individuals who enjoy lively and roaring work.
About the Creator
Welcome! I provide free book reviews for modern poets! At the end of the year, 10% of all earnings and donations will be given to a non profit organization. This year you will all be helping Lambda Literary! Thank you!
Twitter: @poetryberry
Reader insights
Be the first to share your insights about this piece.
Add your insights