Ultima Thule
Excerpt from Bucolica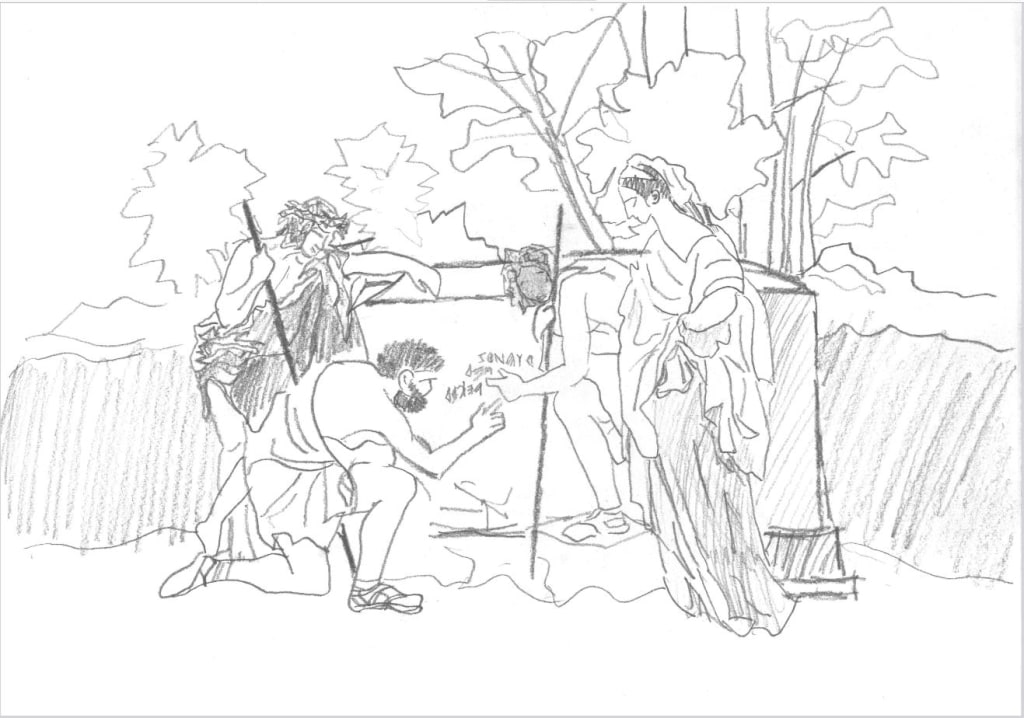 Sketch by author after Poussin's Et in Arcadia Ego
from
SEA TO SHINING SEA,
even unto Ultima Thule
by all the East West South North
Winds
Wolf legacies to sweep the fold,
keeping cattle.
WolfwindsPairing off
Not in opposition but apposition
for Wind is the Wolf of the Wood
SUN Glenr's god-blithe Bed mate wadeth
Into a GODDESS' MANSION with rays;
that shine on the sea that light on the fleeces,
that dazzle in the metal-splash
then the good light cometh
coldish,
metallic
of good grey-haloed MANI his moonshine
DOWNWARD:
Wolf of the Wood is the Wind
But then the SUMMER,
'tis the Comfort of Serpents
(ouch)
We shall wave our swords
on the plains of the cornfield sea
O Dyer of Wolf's Teeth
make them glimmer and glitter
the writhing deed we have for wreaking
in the Comfort of Dread Dale Serpents
for their comfort is our own comfort
warmth being winterbalm for the weary
from the guesthouse to the goathouse
in the forest of Family Trunks,
branches by KINFOLK
Family-Stem, Genealogical-Bough, Kin-Branch
right from
The Head-Tree
Where someone said
the runners shot free and
OXEN Red Meat Driven Gentle
milled about
Where Holy
STAGS nibbling the world-tree tidbits
called Dainn Dvalinn Duneyrr and Durathor
PASSION then is the Wood-Wolf, Desire,
dread Wind of Troll Women
(One Desired is Named and what of Giants)
She who is of noble mind
is called GENTLEWOMAN
even the same as PLOUGHSHARE
our function follows
fairy blessed and fairy cursed
THE HAND of MAN is the Earth of Weapons,
following function on the fallow fields
with THE LEGS root the Tree of Soles
the DREGS (Christ is still on the back of their artifact),
Ultima Thule
we are where the word
SKY
came from
My Bucolica is a modern reboot of the "eclogue" form originating in Classical Greece and Rome and much rehashed throughout all European literature. It usually comes in the form of a collection of shepherd's songs, dialogues, and stories featuring themes of love/desire, nature/the seasons, death/mortality, and the passing of time. It is often a playground to poeticize the animal world and humankind's relation to it, as well as particulars of the seemingly idyllic life led by simple shepherds and farmers in Arcadia. It is also referred to as bucolic literature. I wrote my Bucolica 2017-2018 in a mix of poetry and prose.
About the Creator
Experimental poetry and prose; fixed-form free-fall, endeavor to produce a multi-sourced and multiform jubilee of various objects and emotional stances. And free for all, so step right up.
Reader insights
Be the first to share your insights about this piece.
Add your insights