Twas the Last Day of Summer
One Mom's Ode to Back to School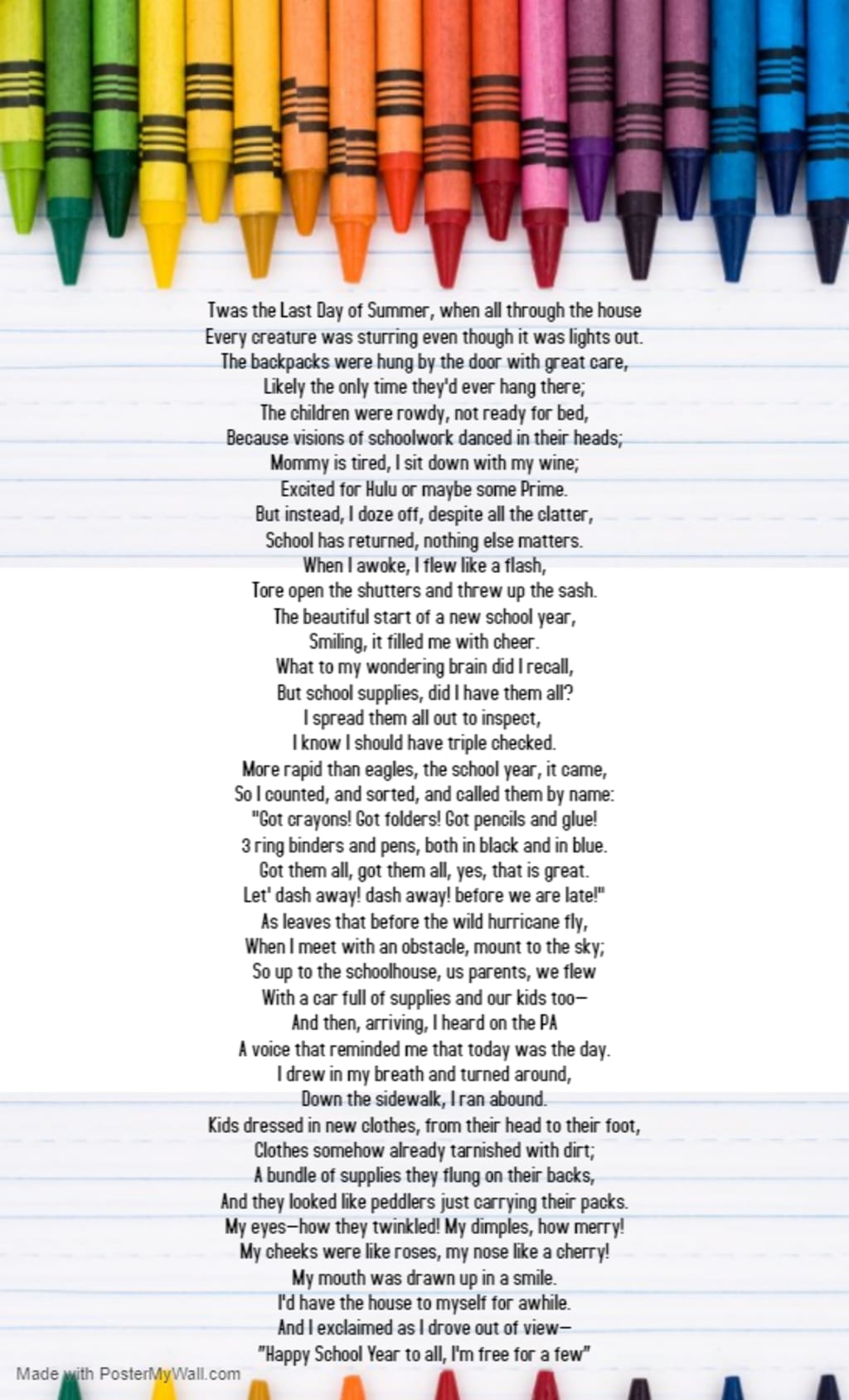 Twas the Last Day of Summer, when all through the house
Every creature was stirring even though it was lights out.
The backpacks were hung by the door with great care,
Likely the only time they'd ever hang there;
The children were rowdy, not ready for bed,
Because visions of schoolwork danced in their heads;
Mommy is tired, I sit down with my wine;
Excited for Hulu or maybe some Prime.
But instead, I doze off, despite all the clatter,
School has returned, nothing else matters.
When I awoke, I flew like a flash,
Tore open the shutters and threw up the sash.
The beautiful start of a new school year,
Smiling, it filled me with cheer.
What to my wondering brain did I recall,
But school supplies, did I have them all?
I spread them all out to inspect,
I know I should have triple checked.
More rapid than eagles, the school year, it came,
So I counted, and sorted, and called them by name:
"Got crayons! Got folders! Got pencils and glue!
3 ring binders and pens, both in black and in blue.
Got them all, got them all, yes, that is great.
Let's dash away! dash away! before we are late!"
As leaves that before the wild hurricane fly,
When I meet with an obstacle, mount to the sky;
So up to the schoolhouse, us parents, we flew
With a car full of supplies and our kids too—
And then, arriving, I heard on the PA
A voice that reminded me that today was the day.
I drew in my breath and turned around,
Down the sidewalk, I ran abound.
Kids dressed in new clothes, from their head to their foot,
Clothes somehow already tarnished with dirt;
A bundle of supplies they flung on their backs,
And they looked like peddlers just carrying their packs.
My eyes—how they twinkled! My dimples, how merry!
My cheeks were like roses, my nose like a cherry!
My mouth was drawn up in a smile.
I'd have the house to myself for a while.
And I exclaimed as I drove out of view—
"Happy School Year to all, I'm free for a few"