Turning Lead to Mr. Gold
The Story of An Alchemist with a King Midas Complex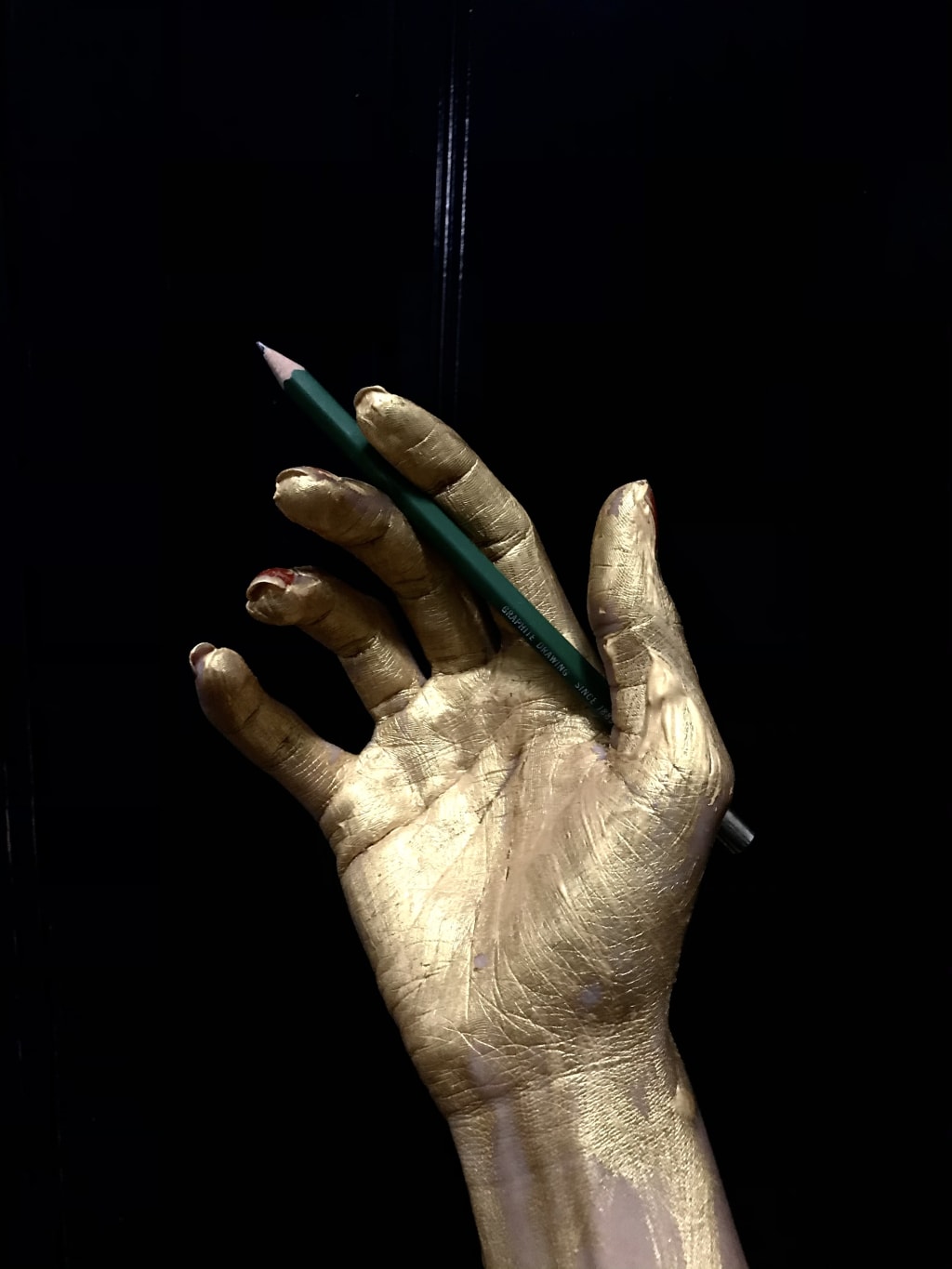 Sing to me of the man, Muse
whose tale I've never told
He's the art that lives inside of me
I call him Mr. Gold.
My jeweler father's workplace was always so cold.
It started in the forbidden room where he'd hammer and fire and pour in molds
The melted metal, real actual melted gold.
And there were tools of all sorts for me
To create, mold and pretend to make my own gold.
I became obsessed with the idea of making gold.
I was used to seeing beauty created with gold.
Elaborate chains and rings galore.
So I yearned to create even more.
But my hands were too small to carry the gold.
And so I gravitated to art.
Art was the start.
Art was the beginning. It was the vehicle. It was the doorway to making gold. Hello Mr. Gold.
And create I did.
With a pencil I did.
With paint I did.
With everything I could get my hands on…all I did was create.
I wanted to make gold. Be gold. I became obsessed with Mr. Gold.
Because he could turn it all to gold.
To be like Midas himself.
The king whose touch turned all to gold.
If he could see, hear, feel, breathe just like I could see, hear, feel and breathe
Then I too could have his touch.
An alchemist is what I really longed to become.
Because me and the pencil were already one.
Lead to gold. Boom. Done.
So I drew. And I grew.
Smudged. Splattered. Swiped. Sanded
Went bolder. Bigger. Darker. Wider.
Tried Watercolor. Paint. Crayons. Marker.
I started to see the world in every tone.
Jumping in an out of the zone.
The textures, the shadows, the highlights, the contrast.
The slightest glimmer of light reflecting against the moist nose of the cat.
On Command, my right hand, made things so grand.
I realized after decades of creating, that I had achieved my goal.
Everywhere around me, all the things I made… they are all gold.
Not literal gold, but yea it's gold.
Why is it gold?
Because it breaks all molds!
Because for thousands it's sold!
Because all stare in awe just like gold!
All these years I thought I'd been trolled
And that I'd never sit on my throne.
But behold.
I did it.
I turned my art into gold. I am now one with Mr. Gold.