Transmutation into Paper
A Poet Becomes a Poem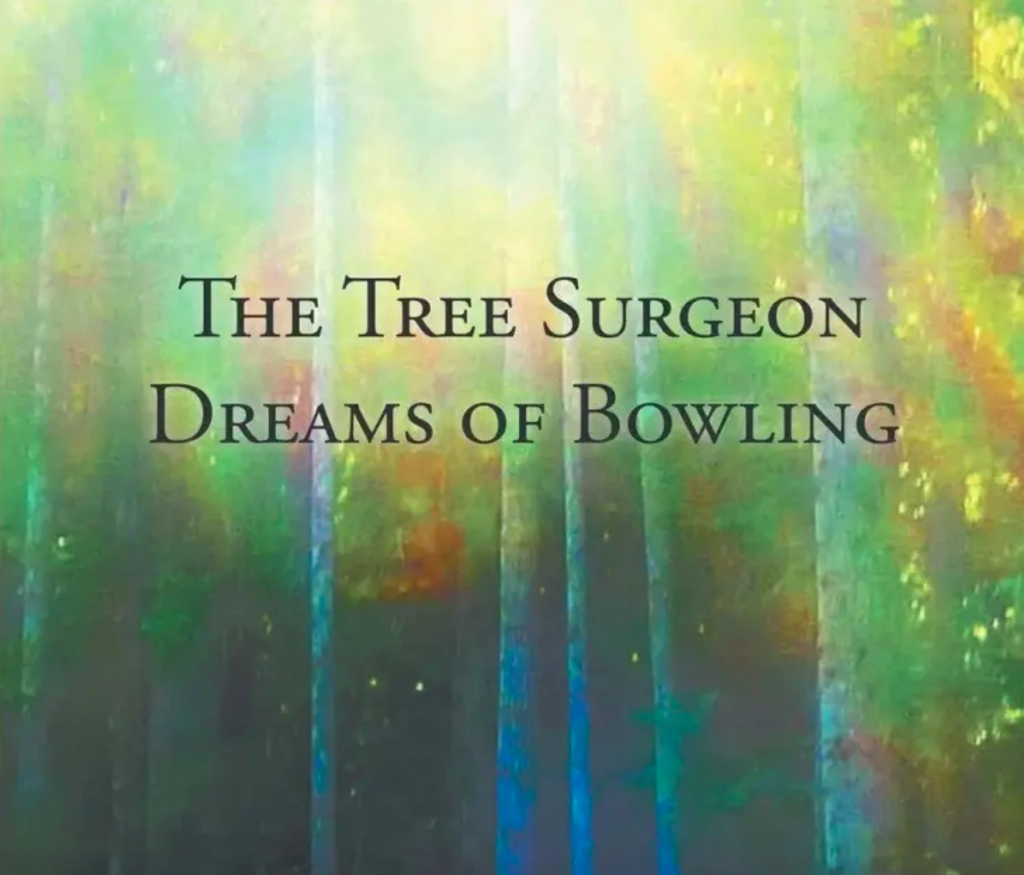 Jayne Marek's 2018 poetry collection, The Tree Surgeon Dreams of Bowling, is a long exhale of breath broken into three specific movements. These movements showcase very distinct emotional territories as well as perform the transformation of a flesh and blood woman into ink. The opening of the book is filled with a cold bitterness. This is a marked change from what follows in later pages. Readers are then met with the serenity and calm which is wafted into the air by the flicking pages found in the middle of the collection. At last, in the final selection, Marek offers up a sense of subdued bereavement to her readers. Together, these factions form a whole work which is a hushed whisper; impressive lines seem to speak a little louder, assuring themselves places in the reader's memories, and an escape from loneliness on the page.
Poet Marilyn Kallet astutely remarks that Marek "makes her home in the moment." This observation is proven throughout the work.
These neatly crafted poems seem to be appearing before our eyes with such off the cuff artistic turns of phrase as, "History, an old jacket full of holes..." and "Habit, awake through all the black and blue night, listens / to the wind touch everything outside without hands."
Readers will feel small tremors down their own arms as they read, "My arm aches from the tool's vibrations- / going nowhere but cutting away / things I wish I didn't need."
And while Marek is skillful in her writing, her passion could not be described as tumultuous storm. It is a quiet one. The work is gentle because its execution is performed with such delicacy. Marek is not attempting to coerce her readers into an emotional state. While turning through the collection, readers are bearing witness to the poetic inspiration Marek is seeing around her, sniffing out her own sense of being as she describes what moves her through the poetry. No wool is being pooled over anyone's eyes for some cheap potshots at the heart. She mourns her cat in no uncertain terms in "Elegaic Unsonnet for My Cat." She writes, "Would that the dying could renew themselves, / Beloved friend. I lost you in the cold / Of winter..." Her grief is as real as the books in her readers' hands.
She is right to name herself the "poem" in "The Woodturner's Shop, Itsukushima." All of her being—her memories, sensations, feelings—is transmuted into the text presented to her readers. She is not writing dry, stuffy poetry. She is sharing herself with whoever spends time with this collection. This act of poetic chemistry is what makes Marek's unassuming poetry truly interesting. The work may not be revolutionary, but that is not its mission. These poetic works are a clone of the writer, an attempt to create a collected memory with those who pick up the book. It is a lovely gift of vulnerability and quiet reflection.
The Tree Surgeon Dreams of Bowling may not incite any dramatic changes to the world of poetry, but it will provide any reader with some quiet companionship perhaps as they are snuggled in the arms of an overstuffed chair or riding home from work on the bus. Marek's poetry is gentle and should read by those who wish to be eased into a mental state adequate for serene contemplation.
Those interested in reading more of Marek's poetry can delve into her three prior collections: Imposition of Form on The Natural World, In and Out of Rough Water, and Company of Woman, which is a collaborative project between Marek as well as poets Lylanne Musselman and Mary Sexson.