The Password You Have Entered Is Incorrect
Please try again.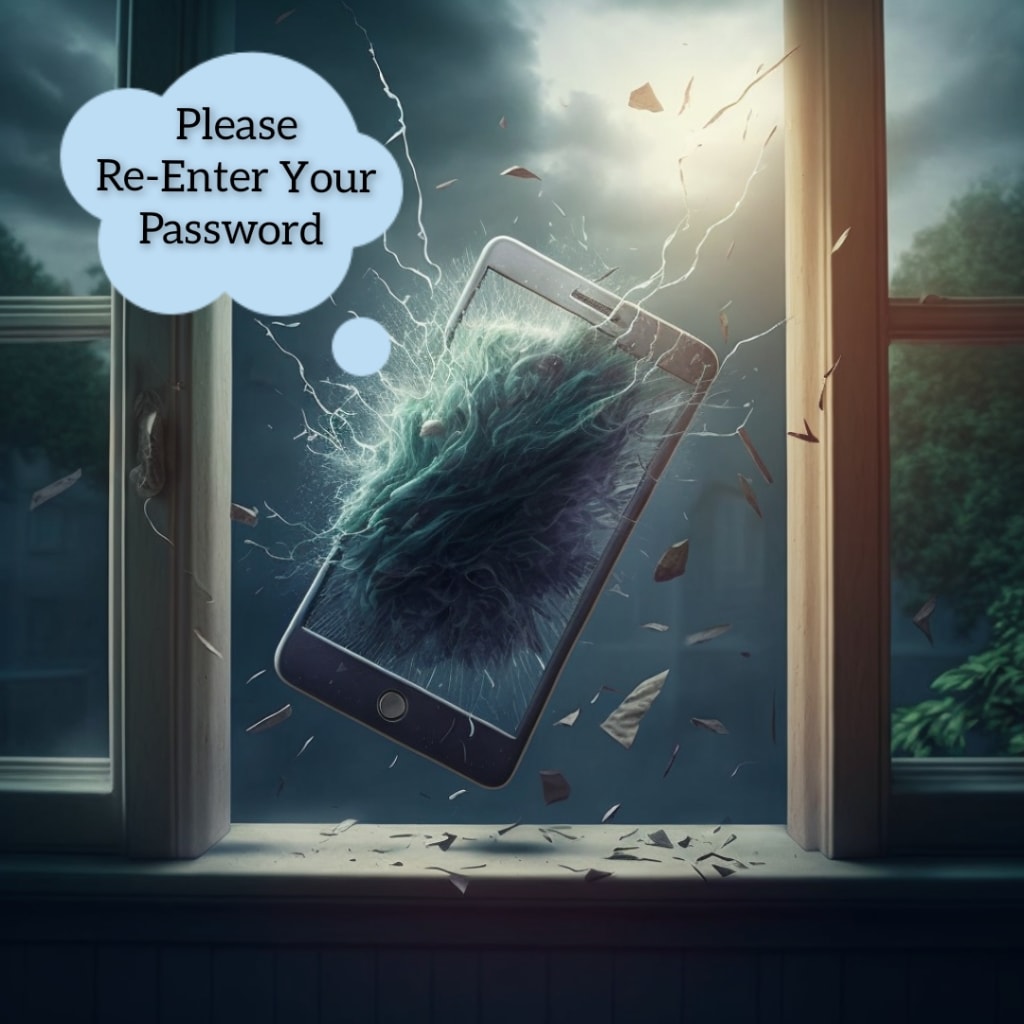 Artwork Created by the Author via MidJourney
Has anyone else ever had their whole day disrupted by what should've been one
Seemingly simple task?
You see I'd just sat down to eat lunch when my phone pinged. 
A signal that a text had just come in.
~
Ahh! A text alert from the doctor's office:
"Check your email, you have a new message from your provider."
No problem.
So, I log in to my email and I find another hyperlink:
"Login to your patient portal,
You have a new message."
~
Clicking on the link,
I input my email and password,
No, "That is an incorrect password"
Is the error across my screen.
~
I re-enter my information, 
Certain everything is correct.
"You have entered an incorrect password again. 
Would you like to reset your password?
Click on the 'Forgot My Password' link below."
~
I haven't forgotten my password!
I KNOW what it is! 
Entering my password, AGAIN,
The letters that should be capitalized are,
The numbers are there,
The special symbol is too.
~
"The password you have entered is incorrect" returns to my screen.
At this point, my language is becoming borderline obscene.
I try one final time and finally gain access to my account.
~
The inbox reads "No Unread Messages."
I'm sorry… What??
Further down the screen, a phone number is shown: 
Feel free to call if you have any questions about your account.
~
I copy down the number and give the office a call.
"Do you mind if I place you on a brief hold?"
No trouble at all.
…..
……..
……….
Nine minutes later: "Miss, are you still there?"
Deep breath… 'Yes, I'm still here.'
~
"I'm so sorry for the mix-up, 
The message your provider left is located in the patient portal for our office.
You were logged in to the hospital's patient portal. 
You'll need to log in to the provider's portal to view his message.
I do apologize, but he's not in today.
So, I'm afraid you cannot speak with him directly.
Nor can I ask him what his message is in reference to."
~
I thank her for the information… or lack thereof.
Hanging up, I go back to my email inbox to find the link for the practice's portal.
I enter my information:
"The password is incorrect. Would you like to reset your password?"
~
No! No, I do not. 
I try again. Same error.
The heck with it, "Forgot my password" it is...
~
I enter my new password of choice.
Perhaps it's a bit colorful, but it'll do.
"The password you've chosen is not long enough."
~
I enter the next option:
"The password you've chosen is too predictable."
Fine. 
I propose yet another. 
Let's see how you like this one!
"The password you've chosen should not be words or phrases that can be easily guessed."
~
I enter the password that I was so sure WAS my password for this account:
"Your password cannot be one that you have used previously for this patient account."
This is a joke, right?
Ashton Kutcher are you out there?
~
I'll try one last time. 
This is ridiculous, ya know?
"The password you have entered is too long."
What?
"The password you have entered needs to contain letters and numbers, not just special symbols."
Oh, I've got a special symbol for you!
~
Seriously, this is my last proposal or suggestion!
"Please select each image which shows a bicycle in it."
I select them all.
Ohh yay! Now it's motorcycles.
"Select all of the airplanes."
Fun, fun.
~
"Please click the box below to confirm that you are human."
"New Password Accepted. Please do not share your account's login information with others.
Do not write it down anywhere.
Be sure to keep it in a safe location.
Do not click "Stay Logged In" if on a shared device."
~
My patient portal appears… 
Hold up!
Why wasn't there a second screen to confirm my new password?!
Oh hell! Which one was the last entry?
Oh, I'll never get back in! 
The heck with it. 
I'll just check my inbox and leave it for another day!
~
On the message, I click.
My doctor says my lab results are in, and the report is now viewable…
"Just login to your hospital patient portal to view the results and my report."
~
And all of THAT is why I now need to know if the warranty is going to cover my phone
After its unfortunate… slip… out the window this afternoon. 
"Yes, Miss. Absolutely.
That's unfortunate, but I'm happy to help you out with this."
~
"First, we'll just need to go over some basic account information with you
To ensure your warranty is current and to confirm your identity."
Sure. Absolutely.
"What is your name and full address, please?
Excellent. Thank you."
~
"What is your phone number and email?
Okay. Great, that's what I have here on my end as well.
Can you please provide me with the date of purchase for your phone?
And your store account number?
Wonderful. Uh-huh. Thank you."
~
"Now, when you signed up for your store account you had opted in for our
Two-step authentication process.
Can you please provide me with your PIN?
Great. Yeah, that's correct.
One more thing,
Then I can definitely get you set up with that replacement."
~
"I'm going to need you to enter your store reward account information.
Once you've logged in I can confirm your warranty and replacement.
I'm just going to need you to enter your email and password, please.
Oh, I'm sorry. It says that's incorrect.
Do you have any idea if it could be anoth-"
~
"Ma'am! Please calm down!
Would you like to simply reset your password?"
Oh, I'll reset YOUR password!
"SECURITY!"
~
Honey, I'm at Great Deal…
Can you please just…
Yes, I wasn't aware that the Nerd Crew had a "holding cell" either.
Can you just stop laughing and come pick me up, please??
. . .
If you've enjoyed reading this, please consider giving it a "like" by clicking on the ❤️! If you'd like to read more of my writing, be sure to subscribe! Tips and pledges are voluntary, and so greatly appreciated!
I'm also on Medium.
Reader insights
Be the first to share your insights about this piece.
Add your insights