The Most Terrible Crime
When you lose a friend.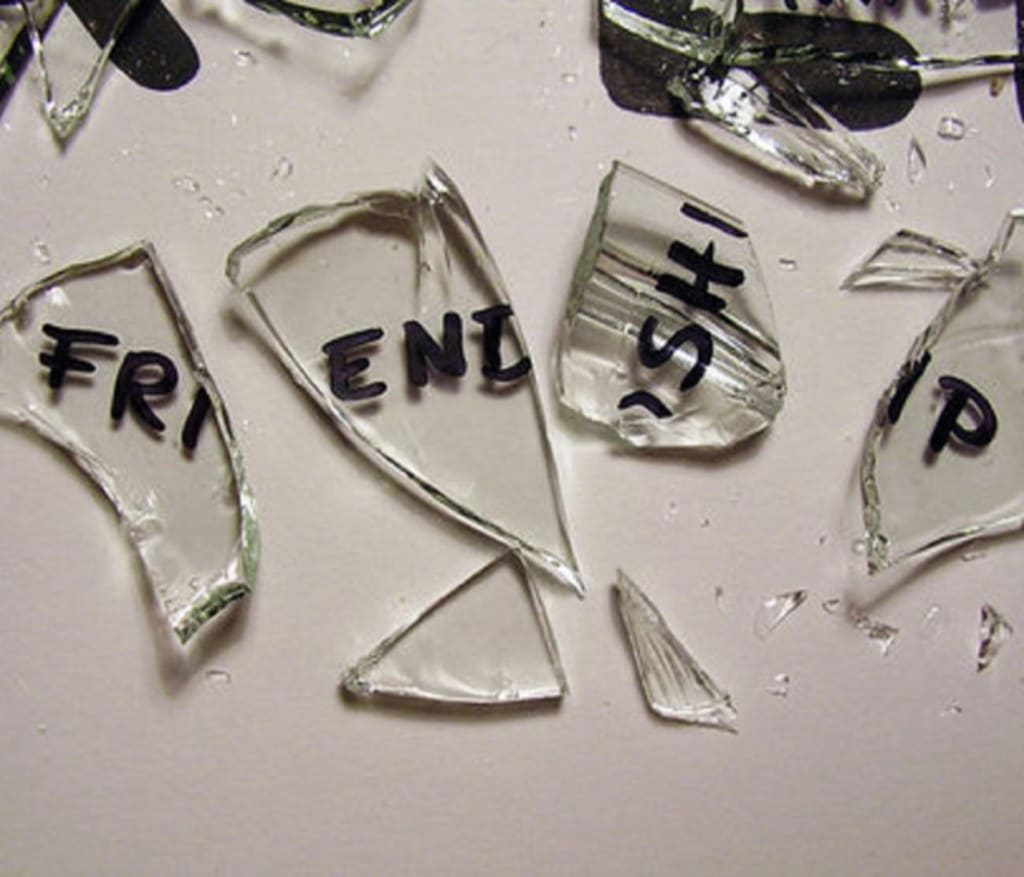 It lasted forever, it ended in one night
She made me better, but she finished in one fight.
A one sided battle that should have involved two,
She made the decision for me too.
It's been two years since we became best friends
We made promises and wrote letters we will never get to send.
We took pictures to capture just what we had,
Little did we know, we too, were just a fad.
She made me a scrapbook with our favorite things
With photos and letters and songs we would sing.
We danced together, worked together, planned our lives out,
But one simple boy would change our "perfect" route.
It always seems to come down to just this:
One happy moment can't provide eternal bliss.
Before he happened we would spend hours at home,
But now with him here I have been left alone.
She chose her boyfriend over me,
My best friend was not who I knew her to be.
No goodbye, no reason, no reconciliation,
No calls, no texts, must be a miscommunication.
Reaching out into an empty abyss,
I realized she was who I was going to miss.
Feelings are stupid, feelings are wrong,
But why do we let them ruin life's song.
We find the one person to complete our life
And later come to find they are the cause of our strife.
Why have I let her bother me so?
Or is it because she so easily let me go?
I was there for her when she needed me most,
I was her loving friend and gracious host.
My entire life spent with just her
Now haunted by memories of who we once were.
Inseparable as we may have seemed,
A high school best friend will always just be a dream.
For although my story might be too rough,
It is stories like these that have made me so tough.
At a point like this it's much easier to hide.
To end this pain that is eating me inside,
But I have never been the one to sit there and cry,
Yet to say I'm not hurting would definitely be a lie.
Despite what may be going on in your life right now
You can only be treated how you will allow
Let these lessons sprawled across this ivory page
Be a testimony for you to forget pinned up rage.
Once I let it go and gathered myself,
I realized each person deserves their own shelf.
There are people in your life that may stay, and there are people in your life that will go,
But one thing is for sure, you will never know.
For life is about the journey, it's about what you have to give
For in life you have to love in order to live.
While it's hard to find the courage from within,
One of these days you are sure to win.
A one-sided battle that should have been two,
She made a decision, and I did too.
I lost a friend, it caused me pain,
I found myself, it caused me gain.
How was I to know what hurt me so,
Would be the inspiration I needed to help me grow.
As I end my slew of emotion here,
I want to draw your attention ever near.
There is hope in the world even when it's dark,
Maybe the world is just waiting on your special spark.
Don't let anyone ever denounce who you are
Because your spark shines brighter than the brightest star.
Live life to the fullest, love all the time,
Because life without love is the most terrible crime.