The Me I Admire Most
This, I think, is the cool me.The me I love.The me other people rather see. By Natalie Marie Stefani Rice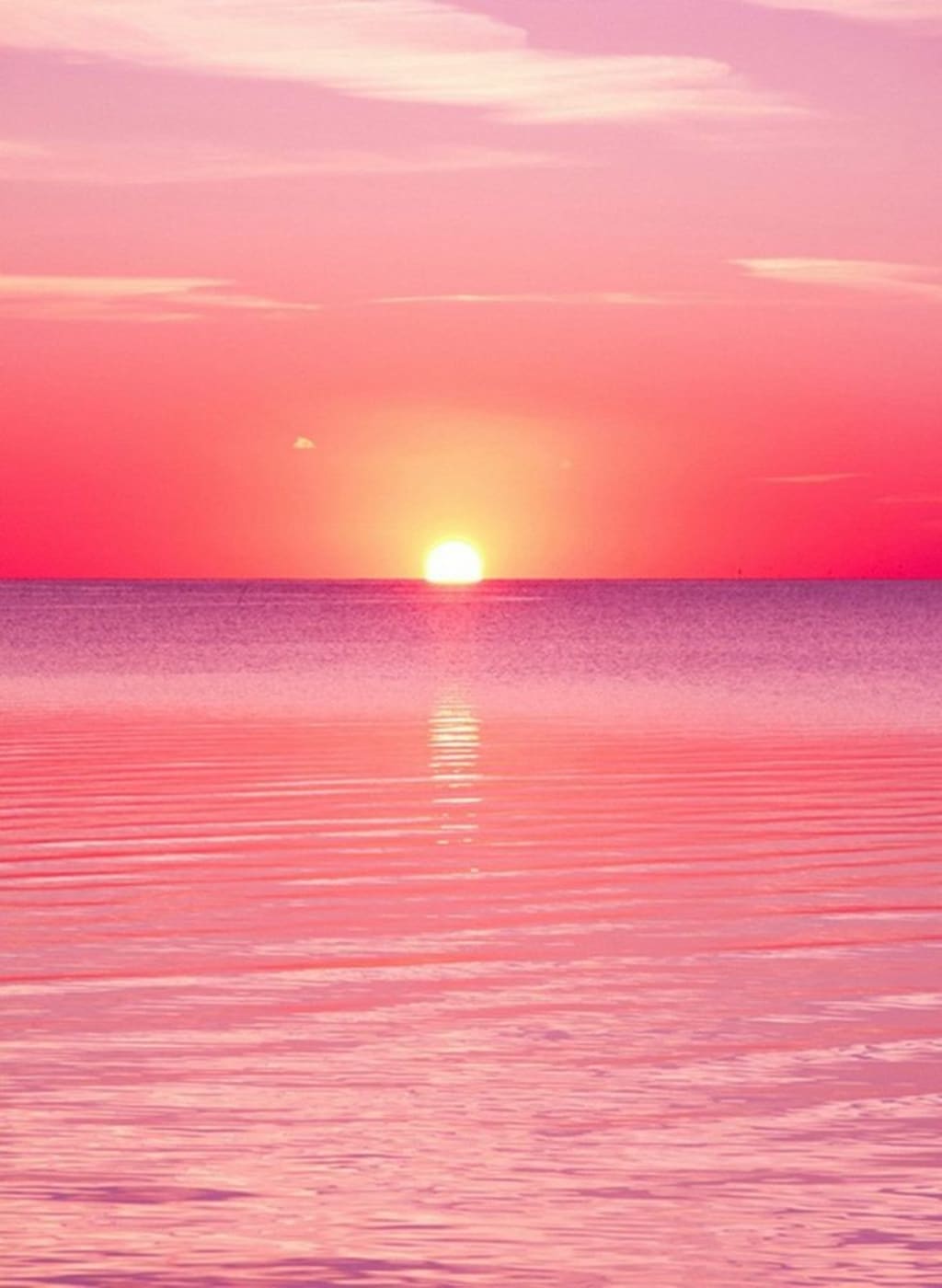 1544 Pink Sunset thebackdropco Pinterest
I hear the seagulls again.
And before I open my eyes I stop to pretend.
For a little while I'm on a beach.
Somewhere far away and desolate.
I'm walking.
I have been walking for hours so it seems.
I'm golden from my days spent in the sun.
I'm healthy and thin.
My hair long.
I look younger, but somehow I know I'm not.
My feet; dry in spite of the water,
pick up little shells with every step.
In my hand is a woven basket and I am carrying what appears to be a hundred or more sea shells.
I'm humming and I look so relaxed.
This, I think, is the cool me.
The me I love.
The me other people rather see.
I keep my eyes closed.
I think I do it to just tohang on a while longer.
I hear the seagulls.
I smell the ocean.
I feel her peace.
She's alone and seems okay with that.
She stops, picks up a shell and rolls it around in her hands.
She tosses it in her basket.
Squatting down she browses through her day's collection.
Taking in each shell with appreciation and pride.
With the sun gazing down, she sits in the sand now and stretches out her legs.
Images of a much younger me fill my head.
Days of playing at the water's edge, building sand castles.
Escaping the waves that roll up on the sand trying to tickle my little toes.
I see myself running with the wind, wild, young, and carefree.
The tide rolls in and touches my toes.
The water is warm like bath water.
In my daydream time passes and I find myself walking again with the setting sun.
It's so beautiful I can't help but to stop and stare.
Watching it slowly leave the sky.
I watch her walk away deep in thought, and I leave her side.
The seagulls overhead remind me that I'm dreaming, and I open my eyes to another day.
It feels as though I brought a little bit of something back with me this time.
I pull down the visor mirror.
I wipe the sleep from my eyes.
And I see something on the passenger floor board that wasn't there earlier.
Odd, I think.
Reaching down I pick up the most beautiful sea shell I have ever seen.
Yes, I definitely brought something back with me.
Setting the shell on the dashboard, I promise myself to let it symbolize faith and determination.
"A new beginning," I say out loud.
And I look up in the mirror and silently thank the cool me.
Hoping she sticks around for a while.
The me I admire most.