The Contest of a Lifetime
25 Haikus about Mountains

My Connection with Mountains
I have always felt a very powerful connection with nature. Mountains in particular hold a special spiritual meaning for me, helping my reconnect with both myself and my ancestors/lost loved ones (one notable one: my dad).
I truly believe that the amount of symbolism and wisdom that can be drawn from mountains are more massive than the largest mountains one can envision.
The Contest of a Lifetime
I recently entered the contest where the prompt was to write a haiku about a mountain. Feeling inspired, I composed 24 of them. However, I laughed to myself, thinking, "25 would have been better." Call me ridiculous, but I love numbers.
Ironically enough, I was taking a much needed self care day in which I completely unplugged from social media, and deeply explored myself and my journey. Later in the evening, I was walking my dog, enjoying nature. and reflecting upon life. I was contemplating which direction I was feeling pulled to go, heavily relying on my intuition and presence in that very moment.
Suddenly, I started thinking about the mountains, and the haiku poems. I instantly started to compose a rough draft in my head, and quickly pulled out my phone to record my thoughts. Within five to ten minutes, I had composed my 25th haiku.
Although I didn't get to enter this 25th haiku into the contest, I felt it must be included in my collection, as it was quite symbolic and meaningful. It was like a full circle moment, where I had finally rediscovered parts of myself I had previously hidden away.
I may not have won the contest, but I did have a win. The contest provided a prompt that I used to create a win for myself.
THAT is a grand prize in its own way, and one that I felt quite honored to receive.♥️
25 Haikus About Mountains
1. Majestic Mountain
Majestic mountain,
your beauty leaves me in awe.
My journey awaits.
2. Fearing the Mountain
I feared the mountain.
I stumbled on the rubble.
I plunged to my death.
3. The Dangerous Journey
Treacherous mountains:
Jagged cliffs test my balance.
Climbing tests my strength.
4. Remember the Mountains (dedicated to Diddy)
And my dad whispered
to "remember the mountains."
He will meet me there.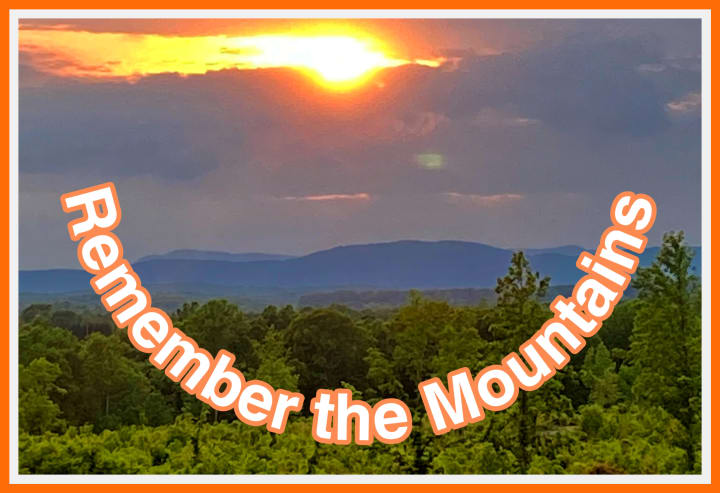 5. Peaks and Valleys
The peaks and valleys
give a mountain dimension.
You are a mountain.
6. Contrasts
Beautiful contrasts;
mountains are nothing less than
nature's masterpiece.
7. The Mountains are Calling
Nature's melody;
the mountains are calling me…
And I must answer…
8. Valleys
Within the valleys
lies wisdom to uncover.
Let's play hide and seek.
9. The View
Over the mountain
awaits a new point of view.
Perspective is key.
10. Waiting
Look at that mountain
merely waiting to be climbed.
Why are you waiting?
11. Celebration
You climbed the mountain.
Silently soak in the view.
This moment is yours.
12. The Melody of the Mountain
I heard the mountain;
a melody for my soul.
I feel whole again.
13. Transformation
The seasons will change.
The mountains merely adapt.
The transformation.
14. She Climbs Again
Life came crashing down
like boulders in a landslide.
So, she climbs again.
15. Slipping
Sometimes you need to
take a step back to be able
to regain footing.
16. Hidden Pathways
Paths never traveled,
hidden by looming mountains…
Wasted potential.
17. Mountains (A Haiku About Life)
Daunting. Intriguing.
What lies within these mountains?
What lies beyond them?
18. Choices
Me: why are you here?
Mountains: "to enhance your life,
or destroy…your choice…
19. Pursuit
I love these mountains.
What once was my obstacle
is now my pursuit.
20. Be Present (Conversations with a Mountain)
I called out for help.
The mountains said: "Be present."
Life is beautiful.
21. Exploration
Nature brings wisdom.
I got lost on the mountain,
and I found myself.
22. Obstruction
I am a mountain;
my own biggest obstruction.
Undiscovered beauty.
23. Moving Mountains
Enormous. Heavy.
Mountains are not meant to move.
This load is not yours.
24. I Have Arrived
A beautiful view
after a treacherous climb…
It was all worth it.
And finally, here is the 25th haiku.
Thanksgiving, 2022:
25. The Reawakening
ETA: Arrived.
Place: my reawakening.
(To be continued…)
Reader insights
Be the first to share your insights about this piece.
Add your insights