Storm Clouds Over Cincinnati
Alone in a confusing world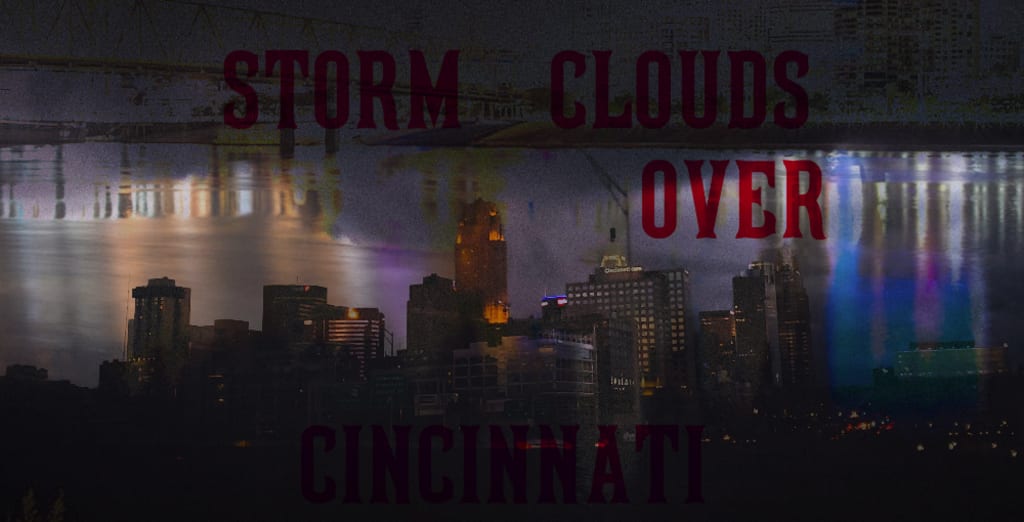 Awake alone and sober in my bed at 2 a.m.
Going through my recent camera roll
Bizarre
How life manages to move so fast and slow at the same damn time
Ceiling fan chopper whirring away
In an effortless constant speed
But I still feel as hot as a lake of fire
With just a thin blanket on me
***
It's easy to ignore the hourglass
When you're on a sandy beach
But not with your eyes on the nightstand
As the seconds flash in chic
***
This universe constant is vicious and vile
With actions people take that I won't even put to words
Let alone express with rhyme
So many things have been making me think
I'm tired of trying to form a thought
That could pattern-explain away this mess
***
There's no cohesive narrative
I'm tired of pretending there is
***
If all I want is to lie in peace
Then what will I want when I'm lying?
With my stretched-out sleeve I cover my face
So my tears won't know I've been crying
***
I'm alone in a confusing world
With nobody coming for me
Under the darkening layer of storm clouds
Over Cincinnati
Each of us is forgetting ourselves
One lifetime at a time
Competing and tumbling over ourselves
To be the next big way to forget
At the center of free fall's hill
***
We stutter like culture in the early 2000's
With a wobbling balance of counters and crimes
In a grungy defense of the arrogant grime
We polish the rust on our likeness, in time
***
The sound of the night, there's something about it
That's lonely, like we tend to be
Even when we're around people
We flash ourselves with the blinding lights
Of headlights on dark roads
Deaf and blind to the waterspout flow
That says we're not alone
***
On the River of waste that flows through the city
Bedazzled trickster lights
Luring the loneliest objects of pity
To dive bars and dazzling stripper fights
But on the River of waste, glowing and pretty
The current flows with ease
Not even knowing it carries the trash, there's no one it has to please
***
Screaming sirens and bleeding gums
The echo never stops
Across the lonely storm-struck city
With seven hills and seven drops
Down to the pit of reality
In the belly of the beast
Where the only way to see the light
Is to cut your own self free
***
I'm alone in a confusing world
With nobody coming for me
Under the light through a hole in the storm clouds
Over Cincinnati
social commentary
surreal poetry
sad poetry
inspirational
fact or fiction
About the author
I'm an aspiring poet, writing from both personal experiences and surreal concepts, with the goal of inspiring anyone who may read. I hope my art can strike a chord and shift a perspective or two. 20 years old.
Reader insights
Nice work
Very well written. Keep up the good work!
Top insights
Compelling and original writing

Creative use of language & vocab

Heartfelt and relatable

The story invoked strong personal emotions
Add your insights