"Sonrisas"
Anecdotal Poetry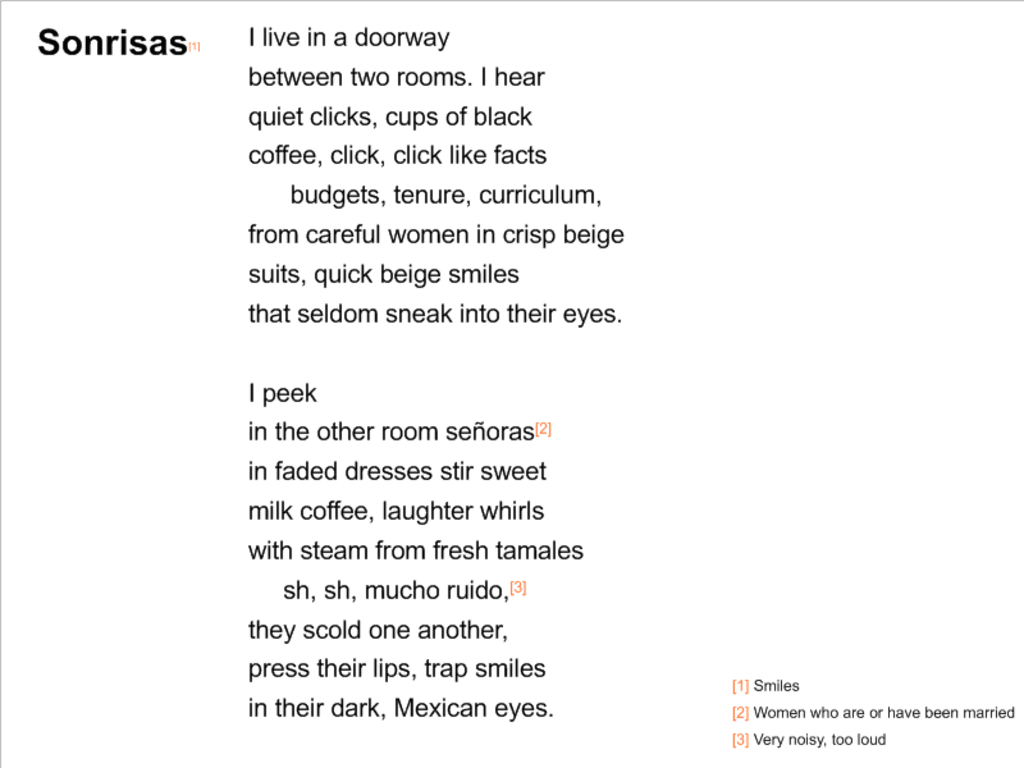 And so I drove. I concentrated on the constant hum of the undercarriage rumbling, hovering over the highway. The unhealthy clicks and bumps once my concern, became a comforting lull of familiarity and silence as I drove farther from those who penetrated my thoughts. My wheels traced the edge of the poorly paved tar, displaying the road I must take. Everything was forced. In the beautiful country we belong to, its vague pursuit freedom shapes the cynicism of predestined stigmas we must all conform to in order to please society. To break from this mold means disapproval, but to choose my own path is to contribute to popular belief.
And so I drove. I concentrated on the constant hum of the undercarriage as it whispered to me the lies of my situation. Usually disregarding such nonsense, I let a sliver in, I listened. The doctors said they were not sure how the procedure would go, so I prepared for the worst. Trapped by my fears, I peered into the lives of my friends for my happiness. I lived vicariously through others the life I had always wanted for myself. My childhood was never normal. I did not have sleepovers with friends. I never went camping. I did not adventure to random mountains and hike. I went to school, came home, tended to the family, and went to sleep. On special occasions our mother would take us to Disneyland. I found myself constantly wanting what others my age had: a mother and a father. If not granted with both, at least to have a mother that was not constantly battling hospital visits and cancer. I peeked into the lives of my friends and found "sweet milk coffee" with "fresh tamales."
And so I drove. I concentrated on the constant hum of the undercarriage as it gave me sweet release from the "beige" monotony of reality. My life was the same doctor's office and the same surgeons. I clung to every "beige smiles that seldom sneak into their eyes" hoping the dreary situation pressing us along would one day come to a stop by the vibrancy of what life has to offer. I can relate to Pat Mora's "Sonrisa" because I was the child stuck "in a doorway between two rooms".
And so I drove. I concentrated on the constant hum of the undercarriage as it gently drew me far from the pressures of the world. I fell into the vat of "black coffee" only to dream of what it was like to be in the other room. Mora touches on this idea of being an outsider. While I believe her piece displays a binary opposition of American workers juxtaposed to Mexican workers, it is her being torn between those enjoying a life of happiness in their situation, and those simply trudging along with their money. "I peeked in the other room senoras in faded dresses stir sweet milk coffee, laughter whirls with steam from fresh tamales," it is this contentment amidst an otherwise undesirable predicament that gave me hope in my Scion XB. I need to learn to be happy in my life. "Sonrisas." Smile. Pat Mora testifies that in the most dim of light, a smile can brighten a room. The workers "trap smiles in their dark, Mexican eyes" while the Americans' "quick beige smiles seldom sneak into their eyes." This central focus of both ending lines of the stanzas zeroing in on their eyes is a transformative portal in which to see through to ones soul. As I drove over rocks and cracks and lines slathered on the pavement, I realized life will never be the way you want it to. If it were, I would not be the person I am today. No feasible number of miles could take away what was happening during this time. As I became stuck between two rooms, I took up residence in a doorway. I saw the room with self-fulfilling prophecy and seemingly perfection and I saw the dim nature of those never happy. I chose to sulk in my pain rather than accept my obstacles as markers of what was to shape me into the woman I am today.
And so I drove. I concentrated on the constant hum of the undercarriage as it spoke truths of myself, my honor, and led me back to where my heart truly lies: my family. I drove in search of an unattainable happiness. I drove to ease the pain, but the medication was within me. All I had to do was follow Pat Mora's insightful advice, "Sonrisas."