Seasons Change
So I sit in the darkness listening to my own breathing, feeling my pulse quicken. Keeping time of the beating of my bleeding heart.. By Natalie Marie Stefani Rice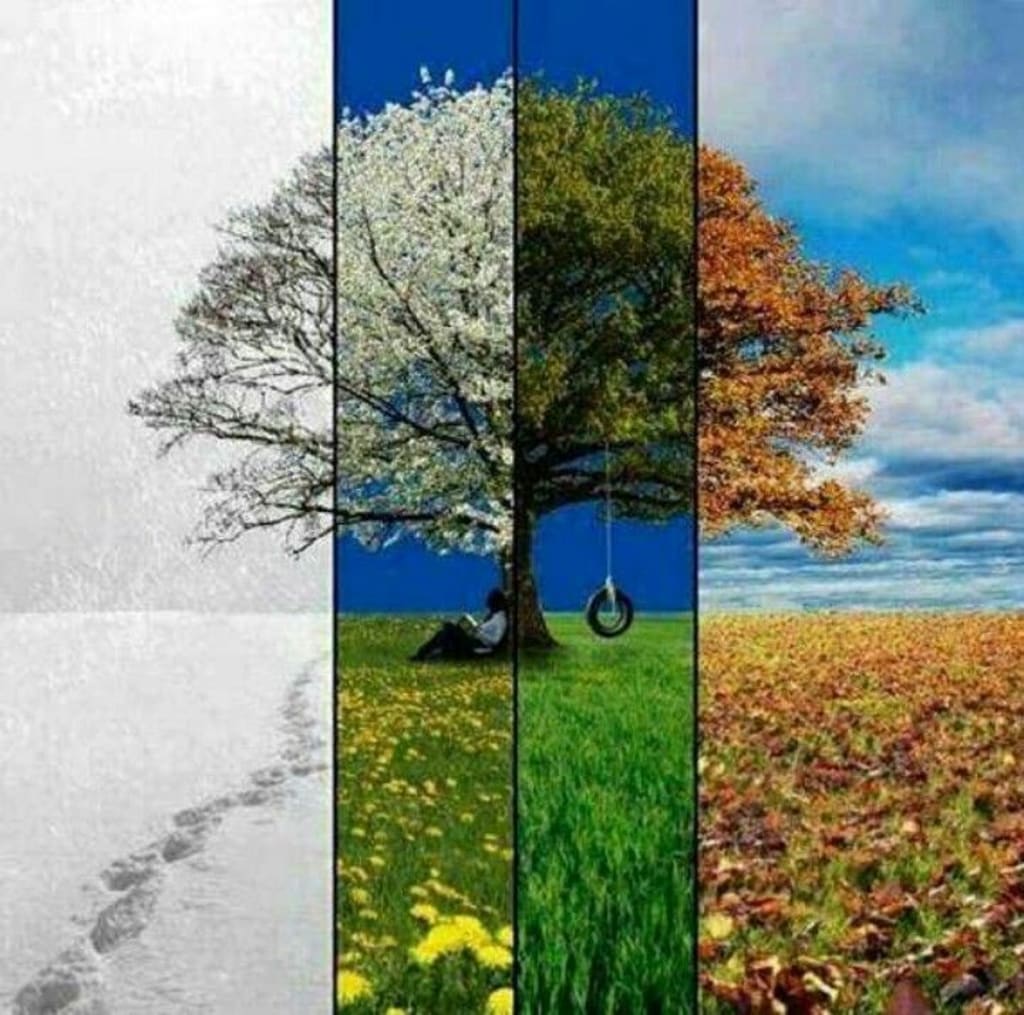 Jennifer Bowen Pinterest
I can feel the change coming.
The cooler nights, moist morning air.
I'm afraid of it actually.
Not the change itself but enduring the cold snap alone.
Many moons have passed in my current state of solitude.
My induced isolation.
I foresee no change.
I anticipate no future.
My gloom and despair is an onset of events I've been made to endure.
I push to a rapid ending of my days.
I'd rather lie in bed and mourn.
Daylight brings only memories I would rather bury somewhere else than here.
I do have regrets.
Roads never traveled.
Doors never opened.
And much to my shame I will admit that I have relied on someone else to bring me happiness.
And it's never come.
I find myself still looking far into the distance hoping you'll return to me some day.
But my mind tells me that I will probably never see you again.
I'm in troubled times I'm fully aware now with the colder season approaching.
I don't like living alone but I've been made to.
My lifestyle dictated by a man without my best interest at heart.
For I had no offer of choice in the matter.
And my will is strong as well as my resolve but sadly I feel as though I barely the strength to carry on let alone survive the winter months without you here.
Your ghost; he haunts me.
He calls out my name in the darkness.
From my slumber I hear you weep.
I search everywhere but I can not find you.
I try to follow your voice but most times it grows faint.
Fear begins to set in and I cling to the edge of our bed crying out your name living out my nightmares.
On brighter days, I hear you chopping wood out back.
I go to you but only find the bark of young trees untouched stacked neatly by you the season prior.
Some evenings you dine with me and ask about my day.
You've even asked me to dance a time or two.
But now I sit scattered taking in my surroundings.
Making sure nothing has been moved out of place.
Looking for signs that you've been here.
I smell your scent.
At night I feel your touch.
I check cabinets and drawers.
I check your wardrobe, the linens.
A coffee cup not put up I certainly do take wholeheartedly as a sign.
I believe you're still here.
I refuse to admit the decade we endured together did not take place.
I refuse to admit you admonished me and deny the only love I know to be real.
I refuse to admit that you deny my existence.
So I sit in the darkness listening to my own breathing, feeling my pulse quicken.
Keeping time of the beating of my bleeding heart.
Feeling your spirit here.
Overcome by your sorrow.
Overcome by your despair.
Feeling your pain wash over me.
Tear for tear; we weep together.
The choices you have made my darling were terribly in error.
I hear you clearly and I find myself reaching for your face to wipe your tears.
I yearn for your shoulders to rest my weary head upon.
I reach out in the darkness for your hand to hold especially now that I am so frightened.
Lacking drive and most incapable.
Hoping you could still carry me as I find myself so unstable.
I'll always hold you near to me, for it's the only way I have to keep going on.
Your spirit stays alive beside me.
Together we grasp onto all that's left of a love once so bold, a love so true.
And another season passes that I'm here with out you.
sad poetry
So please grant me peace from the demons I see. They crowd me and stalk me and won't let me be.
Receive stories by Natalie Marie Stefani-Rice in

your feed