Remember Me, Remember Me Not
Home Means Memories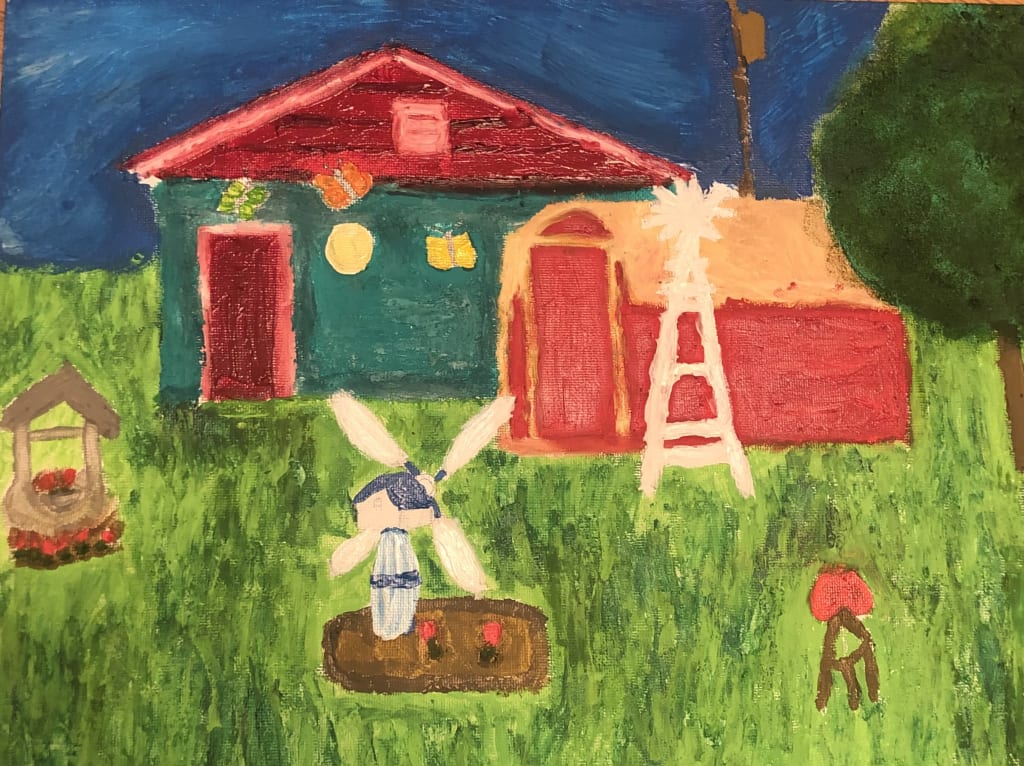 Painting I made for my dad: Grandma's backyard.
Born as a sponge, absorbed mama's and dada's love.
Formed friendships and *hush* *hush* crushes.
Grandma held me, as a little one.
Once I turned seventeen, wore skinny jeans,
she no longer remembered me
or recipes.
My favorite, banana creme.
Her home became only a place to stay.
Family pictures were only decor on walls to fill empty space.
Family, so-called-strangers, let themselves inside,
to see Grandma's mind, and Grandma tried
to remember.
Who were they?
Blank.
Unsafe. She was afraid.
My dad's heartache grew
as he held the love his mother gave,
the rare moments she remembered his face.
After a while,
Grandma moved to a Senior Living's room.
Dazed and confused.
But there were happy days,
puzzles, games, and new friends every day.
Once in a while,
she would recall, wake up and recognize she's not home.
Not at all.
She's ask:
Where was the chair, I held grandchildren in?
What happened to flower beds, I planted colors in?
When she remembered.
She'd become upset.
Maybe then, she chose to forget.
I looked into my mother's eyes,
and questioned her time.
By the end of life
will she remember being so proud
I won the spelling bee?
Or remember the time
I made her cry
crashing a car into a stop sign?
Sometimes…
I wish I had no roots
to fly away in a hot air balloon
or set sail in every sea,
unattached and unafraid
which direction the windbreaks.
But I know,
there would be no love
if nothing was at stake.
It was my grandma
that helped me to see what a home means, and how important it can be.
so I choose to live and love each moment unconditionally.
To cherish all of our memories.
performance poetry
I have many passions and talking about myself is not one of them. However, as a reader, I know it is important to know who the writers are. So her we go: I like writing poetry, running, learning about Speech Pathology, and being king!