Red Hands
Scarred but no longer scared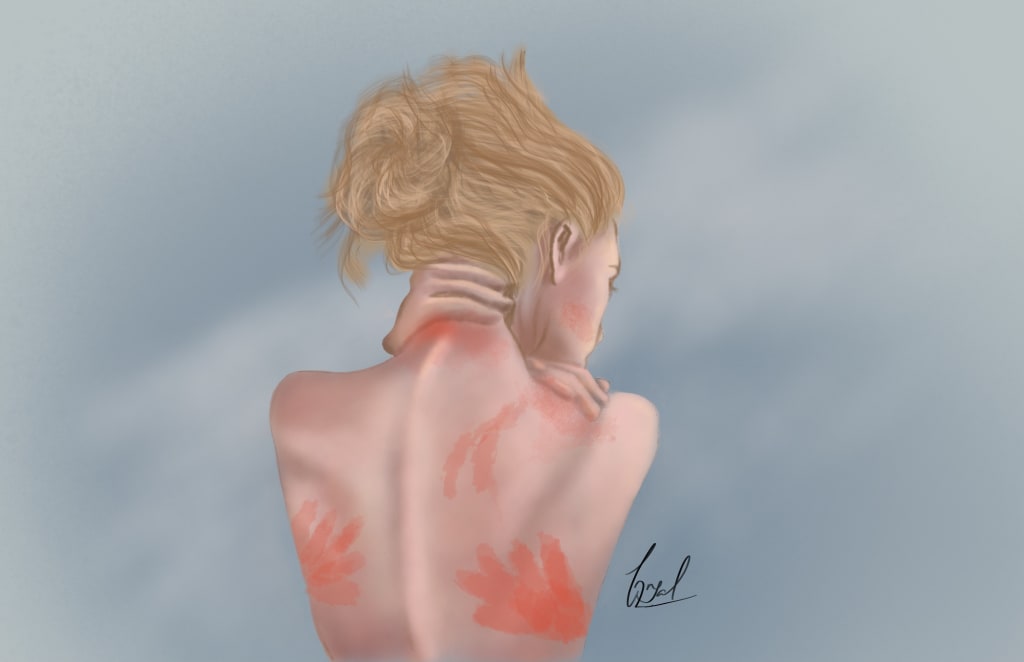 Original artwork
Your red hands wounded me.
I can see the scars, still.
They're here in my eyes from
The tears I did cry and
Pain that filled me with
The dread of my existence.
Like an abstract painting,
Crimson stained ivory
Limbs did lie dead
After your skin touched mine.
Claw marks slash down sides
And grip my regret, because
Why did I ever have to say
'Hello'?
The violation of your transgression
Dug deeper into my flesh than
Anything you can do physically.
The sickness I still feel
Rises higher in my throat
Every single time I
Picture your face.
It rises and rises,
Staining my tongue with
The rust of that night and
Memories I've tried to forget,
But, body won't let
And, even if I met you again
I'm not sure what I would do -
But, I know my strength now.
You taught me endurance.
And, although my skin, mind and soul
May be stained -
So, too, are your hands.
Red hands, red hands,
Red stands for your crime
You made unto me and,
In this life and the next,
Red will prove
The man you are.
The woman I am;
For, red hands I now know I can withstand.
A note from the author -
This poem is one in a thousand (in the sense it has been written a thours and times over) and is intended as a spoken word piece as the emotion of performance will always be incomparable in my opinion. Again and again, I've attempted to formulate poignant words, and, in all honesty, I'm not sure I've managed to do so here. But, I'm beginning to realise that I have a voice. I may not have used it in the past but for myself, and all other survivors of sexual assault out there, I want to now.
My experiences do not define me but they have shaped who I am today. Red Hands is my testement to my strength, two years on,
sad poetry
About the author
Wannabe writer, midnight adventurer, and lover of all things that transcend the typical.
Just a Content Editor trying to make it in the mixed-up world of fire breathing dragons, murderous courtesans, and wronged princes.
Reader insights
Be the first to share your insights about this piece.
Add your insights