Poetry for the Human Soul
By: Jonathan Hinternish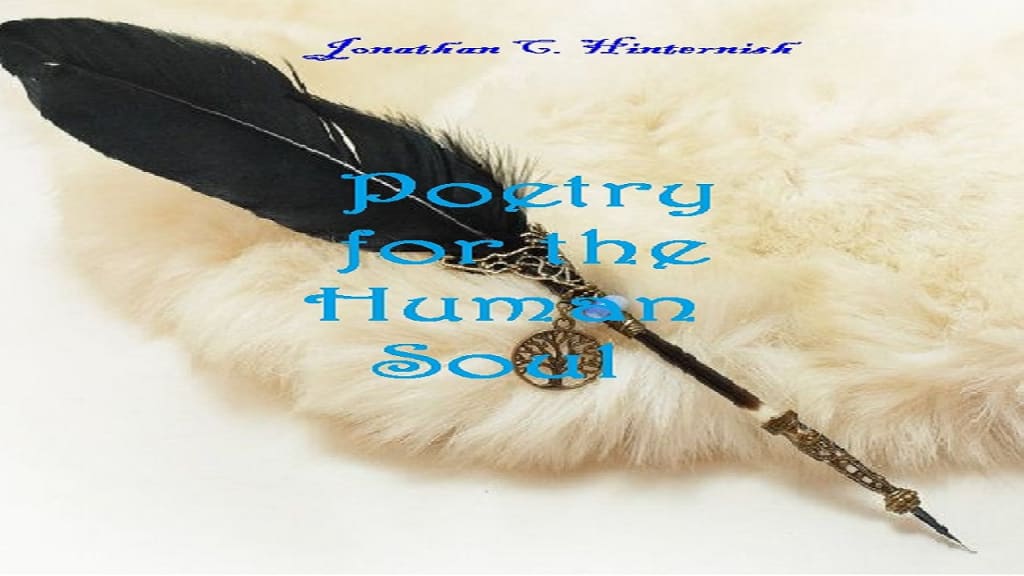 Jonathan C. Hinternish
Poetry
for the
Human
Soul
To my readers,
"May you find enjoyment in this book, and in life."
- Jonathan C. Hinternish
HOW I SPEND MY LIFE
By: Jonathan C. Hinternish
I spend my life taking care of others.
I spend my life making sure things are done.
Making sure that other people have what they need.
But sadly... the time that I never do get to take, is time for me.
I wake up every morning. Like clockwork right at six.
I wake up my little boy to get him dressed and all fixed.
I make sure all the animals are fed, and the clothes are all clean.
But the one that is taken for granted, seems to be always me.
My bones they ache, and my body hurts.
The feeling of always being in pain, never quits or deserts.
I feel warn down inside, I feel my days going by.
One day I'll be gone from this world. The day I finally get to rest, and die.
You can see it all over me.
I am very quite warn down.
I feel so old and frail.
It seems like no one will care when I go down.
How will it be at my funeral?
How will I be remembered?
Will I be shunned aside?
Or will I be praised for what I have earned?
This is how I spend my life.
Taking care of those who cannot take care of themselves.
Taking the time out of my day to make sure everything goes right.
And to be sure that everything is okay.
But I honestly don't mind everything I do.
As long as my loved ones are taken care of.
I'll see my duty through.
So this is where I bid farewell, to you.
Pen
By: Jonathan C. Hinternish
A pen is like a wand.
Magical and true.
It lets you create things.
And shows you beauty that is new.
Never take it for granted.
For it is a wise old tool.
So listen to these wise old words.
If you take care of it, it will take care of you.
Creatures
By: Jonathan C. Hinternish
Night time falls as the sun goes down.
In our quiet little town.
Creatures dwell from all around.
Howling and crying to the moon so sound.
Noises in the night we hear.
With our mortal in tuned ears.
For what do we have to fear?
What lurks in the night? What do we hear?
The moon is bright.
The night is young.
Dare I scream?
Or hold my tongue?
My doors are locked.
My window barred.
My nerves a mess.
I'm shaking hard.
I hear them now.
Outside they walk.
I'm afraid.
For all they do is want to stalk.
The night is waning fast and dim.
Time runs out.
The night wanes thin.
I hope and pray "they" don't get in.
Something Outside
By: Jonathan C. Hinternish
It's time for bed.
I lay my head.
I hear no sound at all.
The night is odd in its stillness now.
What's that I hear from out the door.
Is it just someone at my door?
There is something at my window now.
What is it?
No way! No how!
A hand I see at the window pane.
Coming for me again.
Is it my time for me to go?
Only time will surly show.
I know now I need to hide.
Under my covers I go inside.
I shake.
I quiver.
I tremble in tears.
I fear it's here to get me.
The one that's hunted me.
And stalked me for years.
Tap, Tap, Tap, goes the window pane.
Is it just the thunder?
Is it just the rain?
I get out of bed to see what it is.
Fearful I open the curtains.
It's okay, it's just the wind.
Protection
By: Jonathan C. Hinternish
In this night.
In this hour.
I call upon the Ancient Power.
Source of Love.
Source of Light.
Protect me on this very night.
I need your help here and now.
Hear my voice.
Hear my vow.
Protect my family.
Please help me do what's right.
To have protection day and night.
May We Never Forget
By: Jonathan C. Hinternish
It's morning.
9am.
I stare and watch.
I witness the end.
Smoke billows from the skies above.
The Angels are tasked.
By The Lord above.
To bring souls home with grace, and love.
At the end of the day.
Prayers are said.
But they will never bring back our dead.
Our loved ones forever stuck in our heads.
Sad we are when we lay down in our beds.
Thinking about the joy.
The gladness.
And not the dread.
It's been twenty years.
And I have to say.
I will never forget that awful day.
Or the loved ones, and the price that was paid.
In Your Absence
By: Jonathan C. Hinternish
I woke up one day to find you gone.
You did me very wrong.
I looked around and all I found.
Was nothing but empty ground.
Nowhere to be found were you.
You left town and took our son too.
You falsely reported to the police.
And left me for dead feeling defeat.
I never asked for such a divorce.
I never asked for it of course.
But all you do is apologize a lot.
Only to turn around and let me rot.
You say you are sorry time and time again.
I am not falling for it.
I will not bend.
Your lies and deception are at an end.
For you will never be able to hurt us again.
Go and flee.
Like you always do.
Our life has been much better without you.
Since you've been gone.
Your nowhere to be found.
No phone calls, no emails.
No communication at all.
You claim you cared.
You claimed you would help.
But all we got was disappointment.
And Hell.
We are doing fine.
To this day I know your no longer mine.
You went with someone else.
And forgot all about me, I can tell.
In your absence we are okay.
Here we will forever stay.
Until I am old and grey.
Here is where we will stay.
Promises
By: Jonathan C. Hinternish
Promises, Promises.
I hear them all the time.
Tales told by liars.
To cover up their crimes.
Promises, Promises.
So easy to make.
All that it takes.
Is one sleight of hand mistake.
Promises, Promises.
Nothing is set in stone.
Be careful what you do.
You may be burned before too long.
Samhain
By: Jonathan C. Hinternish
Samhain, Samhain.
So Silent and still.
Where ghosts and goblins roam in the cold nights chill.
Samhain, Samhain.
So jolly and spooky.
Trick-or-Treaters' are out acting very cooky.
Samhain, Samhain.
Kids dressed all a fright.
On this very chilly Samhain night.
Samhain, Samhain.
It's been a blast welcoming those who have long past.
But now we shall retire until next year when your loved ones come back with Samhain cheer.
Mom
By: Jonathan C. Hinternish
It's been twenty years.
And it still hurts me so.
To hear that you had to go.
I don't know why you had to go so soon.
But my heart still aches of the awful news.
I miss you mom so very much.
Your kindness my heart it did touch.
To know you, to see you, it was a blessing for sure.
Now your with the angels of the kindness and the pure.
I hope to see you again one day.
I miss you very much.
I miss you saying that you love me.
I miss your gentle touch.
I miss the way you smiled, and the way you looked at me.
But I know you are gone, so all I have to do, is close my eyes, and with you I know I'll be.
But I know that when I open them.
You won't be here with me.
But one day we will see each other again. I know this deep inside of me.
"I love you, mom."
Police Officer Tribute
By: Jonathan C. Hinternish
Red, Blue, made so true.
Sacrificing much.
Leaving behind your loved ones.
To offer up so much.
Days so long. Nights cold as can be.
Watching ever vigilantly.
Keeping the peace.
And risking it all.
You are forever in our hearts if or when you answer the call.
May you always be protected.
While wearing the shield of gold.
And may you live to see old age.
My Darling Wife
By: Jonathan C. Hinternish
I knew from the first day we met.
I knew you were the one.
You stole my heart.
You called me yours.
And my heart you've won.
You stand by me through thick and thin.
No complaints and no doubts.
You take care of me when I am down.
Your always right beside me.
With you I know I am loved, and with you I know my heart is won.
For you are my love.
You are my partner.
You are my special one.
For you I love you so much and for this I am proud to say.
I am happy that I call you my wife, each and every day.
My Darling Angel
By: Jonathan C. Hinternish
Every day when I wake up.
Every day when I put on my clothes.
Every day when I take my first breath.
I know your always there.
When I eat my first meal of the day.
When I give my family a hug.
Going on the big yellow bus when I say goodbye.
Hoping for a safe journey home after a long day of work.
You watch over me when I walk through the door and give my family a wonderful look.
Knowing I made it home.
With food on the table.
I give thanks to you, my guardian angel.
Essence of The Earth
By: Jonathan C. Hinternish
Waking up this morning.
I take a breath of fresh air.
Knowing it's a brand new day.
My thoughts and mind are clear.
I take in the sunshine.
I take in the light.
I take in the smell.
Of flowers so delight.
The smell of lilac.
The smell of daisies.
The look of the sky so blue.
All of this you made for me, and I have faith in you.
You are my creator.
You are my caretaker.
You gave me life upon one night.
In you I am devoted.
For you are my mother.
You are my grandmother.
You are everything to me.
And to many you are The One.
Life here would not exist.
If it were not for you.
I would not be here on this earth.
Alive to enjoy the dew.
Each day starts with one simple act.
The one you know I'm sure.
Of one simple breath of life.
From you we call The Earth.
Yule
By: Jonathan C. Hinternish
Yule time is here.
The snow on the ground.
The crisp feeling of the air.
I know thee all so well.
The candles all alight.
The carolers singing with glee.
I know my true love is smiling.
As I kneel to the knee.
The pudding is put out.
For all to enjoy.
The time of Yule is upon us.
So light the Yule log with joy.
Lovers
By: Jonathan C. Hinternish
If someone loves you with all their heart.
Never take them for granted.
Never part.
A love is strong.
A love is kind.
A love is devotional, and a forever bind.
When you find the one you love.
Cherish the time.
Always be kind.
Help one another.
Always be there.
Because some day they may not be near.
So take the time that thou has been given.
Make love.
And not a prison.
Burning Love
By: Jonathan C. Hinternish
They look into each others' eyes.
Passion ignites.
And the love let rise.
The soft feeling of the skin.
The warm breath of each other from within.
The feeling of goose bumps onto the skin.
The nightly excitement is about to begin.
Passions flow while candles are lit.
The closeness of the bodies, the warm from within.
As the dawn begins to rise.
Both lovers embrace the deed of the night.
And so let it be known from two comes three, for a baby is born from nine months you see.
Asshole at Heart
By: Jonathan C. Hinternish
I'm a asshole at heart.
I don't give a damn.
I will tell you the truth, because I can.
For years I've been told what to do.
What to say.
I'm here to say I'm done with your verbal decay.
I may be young.
I may be stout.
But I'm done, I cast your evil out.
I'm a asshole at heart.
I'm proud of what I am.
At least I know deep down, I am not a sham.
Failure, Success
By: Jonathan C. Hinternish
I look at the wall time and time again.
I see rejection.
I see the end.
The odds feel against me.
I feel so alone.
The walls are growing thicker.
What can I do?
How can I get through?
How can I win?
I know how you can win.
Don't get up, try again.
If you get knocked down, get back up.
For failure is only a door.
To the glow of success.
Trust me, you'll be impressed.
In The Time Unseen
By: Jonathan C. Hinternish
When the sun shines.
And the sky is blue.
Remember that a loved one thinks of you.
Even though the loved one may be gone.
The love and power.
Do live on.
For one day you will meet again.
And be able to laugh, and cry.
And see your friends.
Death is not the end.
Only the in between.
You'll see each other again in the time unseen.
Neglected
By: Jonathan C. Hinternish
Living where we are today.
Is there another way?
Dare I say…
The ceiling leaks.
Floors are cracked.
Drug heads are hiding in the attic just to get a fix for that.
The landlord don't sure give a damn.
She thinks everyone is below her.
She is just a shady sham.
We live in fear every day.
Of losing our homes.
And having to find somewhere to stay.
Oh why does it have to be this way.
To be mistreated.
To be… neglected.
The landlord says she is busy.
She has things to do.
She's basically just giving us all a big screw you.
The landlord sits in her car as much as she can.
Smoking cigarettes.
And not giving a damn.
There has got to be a better place to live than this.
A place that is better.
A place that is bliss.
I miss the land I use to roam.
The land of ice and snow.
The land called, home.
Time Taken
By: Jonathan C. Hinternish
Enjoy the time you have.
For it will never come again.
Love the person your with.
For every start, has a end.
You'll never know when it will come.
You'll be caught off guard.
It will pull at your heart strings.
And make emotions run.
Love the person your with.
For time is a precious one.
Make time for loved ones.
Before that time will come.
The Most Dangerous Thing
By: Jonathan C. Hinternish
"The most dangerous thing on this earth is the
human mind. For Those who carry hate in their
hearts never care about what is going on around
them. In their minds their objectives are the only
things that matter to them, and they will go to
great heights to see their missions fulfilled; no
matter what the cost."
Dream
By: Jonathan C. Hinternish
A thousand images flood my head.
I feel them all around.
Am I alive? Or am I dead?
That's the one mystery.
As flashes of memories fly by.
I see old places, faces, that made me happy in life.
To live again is to live forever.
To live in eternal grace never wanting to wake again.
Morning's Light
By: Jonathan C. Hinternish
Do I dare open my eyes?
What awaits me this new day?
Am I willing to get up?
No….
As the dawn comes closer.
Peeking into my window.
I shut my eyes tighter, and tighter.
But the call to get up calls louder!
I stagger to my coffee maker.
Eyes barely open, but more open than before.
The sunlight then shows more.
Good morning greets the day with energy now within my core.
A Life Short Lived
By: Jonathan C. Hinternish
Sounds of children playing.
Laughter in the air.
No scent of evil anywhere.
Peace is in the land.
Evil lurks.
Time ticks.
And in one moment.
A life is gone forever.
How did this happen?
By no gun this was done.
But by one.
By the Hand of Man.
A Secret Affair
By: Jonathan C. Hinternish.
You thought I would not know?
You thought you might be safe?
Oh how wrong you are!
For there is no place!
No place to run!
No place to hide!
No place to pray!
And all you can do is cry.
For I know what you did.
And this is why.
Come soon is your time.
Your eternal demise.
No lie can save you.
No secret will be kept.
No dirt will be hiding that you had swept.
I know what you did and this is why we my love must now say, goodbye.
Come morning you'll sleep far down below.
While I stay warm above, safe from the frozen winter snow.
Rest now my darling for the light will be here soon.
And all my dreams will come true.
They will never find you.
They will never catch me.
For my plan is perfect my love.
And soon they will all see….
Camping Bliss
By: Jonathan C. Hinternish
As I sit here calmly in the night.
Stars shine ever so bright.
Not a care in the world is felt this night.
Everything just feels right.
How do I count the ways I feel?
For I cannot, for my happiness is real.
No worries to think of.
No drama to spare, I feel I have not a care.
With a fire going all through the night. Roasting marsh mellows with wonder and delight.
The fire crackling.
The stars so bright.
I never want this night to end. For everything feels right.
The One Whom I Adore
By: Jonathan C. Hinternish
Have I ever said the words, I love you?
Have I ever taken any time with you?
Have I cherished the time we had spent together?
The answer to that would be, yes.
For you mean everything to me, and more.
You are my rock, my core.
You hold me up when I feel down.
You make my sadness turn upside down.
You are my rock, you are my core.
For this my darling, I love you.
And I shall love you forever.
My rock, my core, the one whom I adore.
Time
By: Jonathan C. Hinternish
The dawn cometh up.
Like a flower ready in bloom.
Will today be the day of peace?
Or the day of sealed doom?
Much has been cut down.
Like a blade to the grass.
The time for planting is near.
Fear is in the past.
A new dawn cometh.
What it brings I do not know.
For time is a unknown creature.
And precious to the last.
Cherish Life
By: Jonathan C. Hinternish
Cherish life.
For it only comes once.
Take in the fresh air.
Tell those around you that you love them.
Treat everyone, and every day with love, and respect.
You are on borrowed time that is true.
But it doesn't have to be treated that way.
You have all the time in the world.
Make the best of every moment.
Cherish every day as a gift.
Cherish Life.
Sweet Dreams
By: Jonathan C. Hinternish.
As I lay me down to sleep.
I pray my life for me to keep.
Silent is the dead of night.
I hope I get to stay alive.
Sleeping in my bed I fear.
The time for my end may draw ever near.
I hear the front door open so quiet, almost still.
Is it him? Has he come to kill?
I take a breath not to make a sound.
I fear I shall soon be found.
My bedroom door I do hear creek.
I try not to scream, I try not to peek.
I hear the sound of deep breathing come near.
It is now the time I fear.
With footsteps growing ever so close.
Will anyone find me? I fear I may never know.
The Old Days
By: Jonathan C. Hinternish
I remember when the bus use to run.
Where children would go to learn.
Go to have fun.
Now those days feel like they have come and gone.
For what is life with without learning?
Is there any point?
I wonder if there will be a day when kids will be back outside to play?
When we can all come together as one.
And live life to the fullest until our time is done.
Tyrant
By: Jonathan C. Hinternish.
He rules without mercy.
His heart is unkind.
The People that follow him are blind.
Are we soon out of time?
Who will save us from The Tyrants grasp?
The evil within the White Walls that glares and makes a point to harass?
Are we forever victims of a tyrant?
Or are we more? Can we set ourselves free?
For so long we have been under lock and key.
Made fun of, spit at, we're tired of it.
We're tired of the tyranny.
We're tired of being bullied, being victims, all we ask is for our country back!
The American Soul
By: JonathanC. Hinternish
Many years ago we saw a nation in birth.
Not knowing true of her worth.
As many came from miles around.
To hear the ring of freedom's sound.
I lay my hand on my heart.
And feel within the pride so true.
That America doesn't just belong to one man.
It belongs to me, and you.
We fought for her, and we fight for her still.
To be free from tyranny, the grasp of evil's will.
In 1776 we obtained one thing.
To always know the sound of Freedom's Ring.
We are Democracy!
We are The Soul!
We are America!
We are slaves no more!
Let it be known throughout the world.
That Freedom's flag is unfurled….
President 45
By: Jonathan C. Hinternish
He knew before time grew near.
Keeping secrets to cause mistrust and fear.
Now, many die each day.
He has no emotion in any kind of way.
And makes false allegations of victory.
There will come a day our freedom will be.
Be from his iron fist of hatred and tyranny!
But at what cost?
At what price?
The more of the fact he refuses defeat.
The more of us die!
Due to his childish behavior, more of us die.
Death knocks at our doors to come claim our lives.
How many of us will survive his childish behavior?
Can any of the family be trusted?
No!
Because of what he did to us.
They all let their true sides show!
A Dark Day
January - 6th - 2021
By: Jonathan C. Hinternish
On a morning amid the dawn.
Chaos was stirring.
Hatred was crowned.
Trump had a plan to take Democracy down.
Terror happened.
Bravery of great men came through.
Arrests were made.
And Democracy pulled through.
We are America.
And Justice is due.
Trump's time will come.
And freedom will reign again!
Founding Fathers
By: Jonathan C. Hinternish
We have made it though the hardest times.
Deep, Dark, Unstable Crimes.
War, Terror none could last.
The time as long from their past.
We preserve, and we prevail.
What we endure tells the tale.
We shall overcome and lift the veil.
Our Democracy will overall survive.
Our founding fathers guide us to this day.
Guiding us in our way.
Let them never leave us or part.
Let's hold Democracy closely to our hearts.
Purification
By: Jonathan C. Hinternish
As the fresh air fills my soul.
I feel the earth replenish in the fold.
Rivers clear up.
Seas are calm.
Life comes back as the poison is gone.
You can see fish swim in the water.
You can feel the breeze of fresh air's desire.
Life comes back and feels great to the heart.
It's time for purification to finally start.
Living Soul
By: Jonathan C. Hinternish
Everything has a soul.
Everything has a heart.
If you damage it blood is what you'll see.
Be it blood, or sap, it is the fluid of life.
The water, the trees, animals, you, and me.
We are all living things.
We move with nature.
We move with time.
Everything has a reason for being.
Because everything has a soul.
A living, breathing, soul.
Silver Hearts
By: Jonathan C. Hinternish
Silver.
It's pure.
It's honest.
It stands for the good in the world.
Those pure of heart will be honest, straight, and true.
Those born with silver hearts will always come through.
Beauty Awaits
By: Jonathan C. Hinternish
As I close my eyes I think of the days long gone.
Days long ago.
Days I use to know, and days I use to see.
They I hold dear in my heart for only me.
I miss the days of when I was so very young and strong.
I miss the days of fresh air, laughter and joy.
To me I can no longer hear.
Time is a fleeting thing that has come and gone.
But memories will stay with me.
All through the days so long.
So as I close my eyes and wait for my demise.
I know that I am heading to a better place. A place filled with joy and surprise.
Paw of a Friend
By: Jonathan C. Hinternish
Friends are something special.
Friends are something dear.
Friends will always have your back.
When no one else is near.
A friend will help you see things that you may not at the time.
Friends will help you even when you do not have a dime.
Friends will give you strength.
Friends will give you their all.
And some friends may not give you a hand.
But they might just lend a paw.
Elder
By: Jonathan C. Hinternish
Always cherish your elders.
For they have been around more than you.
They have seen the sky turn many colors.
They have seen the days of blue.
They have seen the terrors of war.
They have seen the creation of life.
Elders are old for a reason.
Elders know much about life.
If you ever have a problem.
Or just want someone to talk with.
Remember you always have a friend in a Elder even in Heavenly Bliss.
Kindness
By: Jonathan C. Hinternish
Kindness gets you everywhere.
Kindness gets you anywhere.
Kindness is the key to life.
For it is the way of the heart.
And defeats the way of the stabbing knife.
When you use kindness, you make the sun shine.
All the days are then beautiful.
And also feel divine.
We are America!
By: Jonathan C. Hinternish
As I wake in the morn
I am filled with anticipation.
I am filled with pride.
Our nation once again thrives!
It thrives in all of us!
From our Founding Fathers.
To the generations that have kept her spirit alive!
We have worked and we have strived!
Our hands have sacrificed all.
Through the pain of hard labor we have endured!
We have overcome!
We have lived! And continue to do so!
For we are Freedom!
We are Liberty!
We are America!
Life is….
By: Jonathan C. Hinternish
Life is…. precious.
Life is something that needs to be cherished.
Life is a gift from The Great Spirit.
To take life for granted is to take yourself for granted.
To take breathing, seeing, and feeling for granted.
Never end life on a bad note.
Always find a way to make peace.
Show Respect!
By: Jonathan C. Hinternish
Always show respect.
Show respect to the water.
Show respect to the air.
Show respect to the trees.
Show respect to the fire.
Show respect to the spirit of Life.
Show respect to your elders.
Because in the end…
You respect yourself!
Honesty
By: Jonathan C. Hinternish
Honesty should always come from the heart.
Be honest with loved ones.
Be honest with those around you.
Because in the end, honesty has a great reward.
The more your honest, the more you will get anywhere you want to be in life.
Unite, America! Unite!
By: Jonathan C. Hinternish
When words become a crime.
The crime of passion.
The crime of insight.
The crime of one's words can have a massive effect upon us all.
But where does it end?
Where do we fall?
I looked at tragedy all of my life.
Never figuring that one day I would live through one, and it would feel like a knife.
A tragedy so big it would hurt all the same.
Casting doubt, casting blame.
What I am talking about is the crime of a lifetime.
The crime that has hit us all hard through the years and brought us all to many of tears!
The crime is so despicable that I dare have the guts to say.
It's about all the crap that has come our way.
Massive election fraud claims were debunked as a joke.
And rightfully so, because they only came from one throat!
The voice of one man carried throughout the land.
One man who had a mission to bring our country to it's knees with his god forsaken plan!
Now all that people can do is follow in his steps.
Ignoring what they really stand for, for Justice and Respect!
All of that is gone now in one party that is to blame!
They carry no honor!
They carry just shame!
Stop the lies!
Stop the crap!
Let's all just get together and forget about all of that!
We use to be a nation.
One people!
One nation under God!
With Liberty and Justice for all!
Do you, can you recall?
I am tired of all the fighting let's just come together as one.
As it was a long time ago when we had no nation against anyone.
We had peace.
We had love.
We had joy that's for sure.
Let's all come back to that please.
Let's all be American's once more.
For many days and nights I weep.
And I shall weep them more.
Until the day we are united.
Upon this God Fearing shore.
We are all in his image.
We are all his sons, sisters, brothers, family to the last.
Don't let our future become damned by the choices we make today that will also be our past.
We are much better than this.
I hope we find a way to unite before it may be too late.
The future is ours.
The future is ours to make.
We can mold it, fold it, or destroy it.
It's all up to us.
What say you in this time?
Will you unite for a better tomorrow?
Will there be a better tomorrow?
Now… it is all up to you!
Spring Of Life
By: Jonathan C. Hinternish
Remember, remember the early days that slept with slumber.
The days of a carefree time.
Unknown to us we could not trust a man with a fake hair some would call a wig.
Secrets were kept.
Lies were made.
A country was lied to and betrayed.
A disease came upon our shore.
Killing lots forever more.
And fear and suffering took to the streets.
A vaccine was made.
Yes we were betrayed.
But the light has yet to shine.
And when that light shines.
The days will be fine.
And life shall spring up again once more!
Good Morning
By: Jonathan C. Hinternish
The sun rises over the trees.
A clear, crisp breeze enters the lungs with magnificent ease.
The smell of coffee smells delight.
As it wakes me from the long slumberous night.
Birds start to chirp.
The dog starts to whine.
I guess it's going to be feeding time.
As energy starts to gather.
I feel the day start with no matter.
No matter what at any time.
It's going to be a great day I can tell.
This day so sublime.
Stars of Night
By: Jonathan C. Hinternish
How beautiful the stars look at night.
Like little shining twinkling lights.
How are they up there does anyone know?
When we die, is that where we go?
I love how they are in the night sky above.
It's so romantic to look at them while making love.
The twinkle in the sky reminds me of joy.
To know that a better tomorrow will come which fills me with pride.
Now off I go to sleep in my bed to dream sweet dreams that are all in my head.
Justice Prevails
By: Jonathan C. Hinternish
I see the face of justice.
And it's shining like the morn.
I think of all the people, and of their first born.
I see all the smiling faces in such great joy.
When justice goes marching on.
So much has already happened.
Fear has already hit our streets.
Fear has hit our schools.
And even at our feet.
Let justice prevail this day.
And let it shine of glee.
For I will never let any fear take control of me!
Rules to Live By
By: Jonathan C. Hinternish
Do not judge others!
For you too are being judged by HIM every day by your actions!
Actions speak louder than words!
Actions have consequences!
Words have consequences!
Always treat others how you want to be treated.
When someone hands you something, say thank you.
When you need something, ask for it.
If you want something, work for it.
Only say you're sorry if you're serious about it.
Never hurt others.
What you send forth in life be it good, or bad, will always find its way back to you in some form or another. So be careful of what you do.
And… if you make a promise, keep it!
All in due crime!
By: Jonathan C. Hinternish
Words are weapons.
Time is linked to fate.
They can try to run.
They can try to hide.
But sooner or later they will get caught.
It won't matter how much they fought.
No honest person of the law will ever be bought.
The law makes it clear.
As clear as this rhyme.
If you do the crime.
You will do the time.
To forgive, or not to forgive.
By: Jonathan C. Hinternish
Forgiveness.
It's something that is earned.
It is something that is demonstrated through actions.
It is something to be kept sacred.
When you say you're sorry, mean it!
Don't treat it like a tool.
Or you will look like the biggest failure.
The one that will look the fool.
Forgiveness is earned.
It is not given for free.
You have not earned forgiveness.
Until you pay a fee.
The fee is not much.
One thing is asked in time.
It's trust, and honesty.
To make up for the awful crime.
But if that is broken.
For if that can't be mended.
The time on earth you had with that person will let you know it ended.
Speak Carefully
By: Jonathan C. Hinternish
Words are kind.
Words are rude.
Words make the world go round in tune.
Be careful of what you say.
Your words can have a outcome of good or bad one someone's day.
Words are weapons or made for peace.
They are like wielding the wild hand of fate.
So use them wisely with ease!
The Divorce
By: Jonathan C. Hinternish
One day their was a woman.
She looked so kind and true.
A young man noticed her.
He didn't know what to do.
He went over to say hi with great tremble in his voice.
They looked at each other and felt they had made the right choice.
They dated for a while.
And everything went just fine.
But then came the day that it all came crashing down.
After their wedding so divine.
The bride groom were married and now it had been some time.
But the bride had other plans in mind.
She lied and cheated the entire way through in a relationship that she had formed just made for two.
The husband had no idea what was really going on.
For you see, he was being played for a fool while the fun was going on!
Night turned into day, and day turned into night.
The bride had left the groom and went far out of sight.
Unable to reach her, and his own son.
He wondered where they had went to.
He wondered what he had done!
Was it his fault? This thought going through his head.
Were they alive? Or were they he feared dead.
He didn't know. How could he tell?
He felt like the entire world was spinning and he was in Hell!
How could this be happening?
How could this be so?
How could she have left him, and not tell him where she would go?
And why take their son? Why no word at all?
His heart fell and sank.
His hand hit the wall!
He didn't know what to believe.
He didn't know where to turn.
All that he knew was she was gone.
What was there to learn?
Days went by and still no word.
No one had seen a thing.
The groom looked down crying and upset at his gold shining wedding ring.
Then, a message came over his screen. Maybe this was the answer he had been looking for! He was happy by what he'd seen!
The grooms father was worried, wondering why he would do all the awful crimes his bride had mentioned to him. He needed answers, and most importantly the question needed answering most of all was why.
Why did she do it? He was not a bad man. The groom had no evil in his soul. No evil plan.
What was her intent?
What was his crime?
What did she say that he had done all in the past of time?
Then the truth came out.
He was shocked as could be.
His beloved bride tried to frame him because she wanted him out of the picture immediately!
The bride had placed a restraining order against him for this made his heart sink.
He didn't know what to feel. He didn't know what to think.
Five months would go by, slowly as it would seem.
The divorce would soon come. It felt more like a awful dream.
Is this really what she wanted?
Is this really what she seemed?
Was the woman he married only meant to plot and scheme?
His bride had no soul.
His bride had no heart.
The groom saw no reason they should stay together anymore.
He thought it would just be best to part.
In the court room he cried and was upset at what she had done.
The love he had for her was gone.
Their marriage was undone.
Not by his hand, but hers, and it was sad.
His bride had cheated on him with another woman who drove her really mad.
Years would pass and peace would reign because of her absence since.
She cared not to visit, or write. She cared nothing at all for him.
Their son lived happily with his father after so many years.
All the disaster and the pain were gone.
Gone those many years.
Thoughts would still race through his mind.
To that he could not help.
The former groom remembered the days of old.
The days he thought he knew his bride well.
Moral of this story is be careful who you trust.
They may just take your heart and turn it straight to dust.
But if you are lucky to find true love's desire.
You will be blessed throughout all of your life.
To kiss the lips of your love whom you admire.
Feel No Woe
By: Jonathan C. Hinternish
How lovely are your lips.
So soft and so secure.
I feel their warm welcoming pleasure when we say hello.
Is it love?
Is it lust?
Who knows?
All I know is that I love the touches from your lips to your toes.
We make sweet love together.
Feeling the embrace.
I love to see your smile.
When your eyes are a glow.
My darling I love you.
With you I feel no woe.
My Precious Little Flower
By: Jonathan C. Hinternish
I remember oh so well when your eyes met mine.
The closer we got we began to intertwine.
Feeling your skin so soft and sweet.
We laid upon the sofa to rest our tired feet.
But resting was not all we did.
For this was quite the tale.
Your hands met mine.
And soon we were together.
Your eyes met mine again, and this time it seemed there was more.
More you wanted to do.
You wanted to explore.
Your hand went from my shoulders right to my chest.
I remember how good it felt.
It felt the very best.
Then you lifted up my shirt as our lips came together.
I thought that it must be getting hot in here.
Or maybe it's just the weather?
You rubbed my bare chest and kissed me.
We started to moan.
You let your hand meet mine and said not to worry, we're alone.
Your hand went closer to the south you grabbed me by surprise.
You guided my hand towards you rubbing your warm thighs.
We kissed more and more.
We could not hold it in.
We made passionate love that night.
That's where our story was about to begin.
The night it went on and by mornings light came through.
We stayed in bed all evening and made love again until the evening through the midnight hour.
From then you had my heart
My precious little flower.
Life's Teachings
Life's Teachings #1
"To cherish life is to cherish one's true self. And to cherish one's true self is to master the universe."
Life's Teachings#2
"If you see someone who needs help, don't hesitate to help them. For the reward may have good luck in the long run."
Life's Teachings #3
"Always respect your elders, for you someday will be elderly, and our offspring will take our place one day."
Life's Teachings #4
"If ever you feel the need to cheat, on anything, or anyone. Don't. The outcome will not be a good one. It never is. Cheaters never prosper."
Life's Teachings #5
"What you send forth in life will come back to you be it good or bad. So be careful what you send out in life. For you may, or may not, like what comes back!"
Life's Teachings #6
"It's better to tell the truth than a lie. The more you lie the more of a hole you have to dig yourself out of."
Life's Teachings #7
"Money does not grow on trees. If you want it, you have to earn it."
Life's Teachings #8
"Never believe what you hear. Lies can form in words. The truth can always been seen with the eyes. Always believe what you see."
Life's Teachings #9
"If something is usually sounding to good to be true, it usually is. Go with your gut."
Life's Teachings #10
"Money doesn't just fall from trees. Or given freely for a fee. If they say it's free, but want money in return, it isn't free. It's a scam."
Life's Teachings #11
"If someone close to you is acting shady and seems like he or she is covering things up for a reason. There is usually a reason for their actions. Sometimes good, sometimes bad. Best to be on your guard."
Life's Teachings #12
"Be careful in life of who you trust. Sometimes the right person is hard to find for the right reason. It's the easy catches you have to watch out for. Sometimes you have to go through Hell to get to Heaven."
Life's Teachings #13
"Just because you have the money, doesn't mean you have to use it. Sometimes it's meant to be saved for something more, like a rainy day. Because when it rains, and it pours, it's always good to have a little extra money on hand."
Life's Teachings #14
"Always remain a good person, no matter what. It's the kindness in the human heart that makes the world go round, not money. If we help people that actually need help such as the homeless, and we make this world a better place, we will make ourselves better, as well as the world. What effects one effects all. That is why they call it the Universe."
In memory of friends and family that have been lost.
"Thank you for reading my work of poetry. I look forward to more coming out and I hope that you do too. And I want to say thank you to my family and friends for all the inspiration, time, love, caring, sharing, and amazing life that I have been given."
surreal poetry
About the author
Hello! My name is Jonathan. I welcome everyone to my page. I'm a people person at heart. And I always welcome making new friends. All comments on my poetry is always welcome as well. Please, come in, make yourselves at home. (hugs) :)
Reader insights
Be the first to share your insights about this piece.
Add your insights