Offering
A poem in free verse style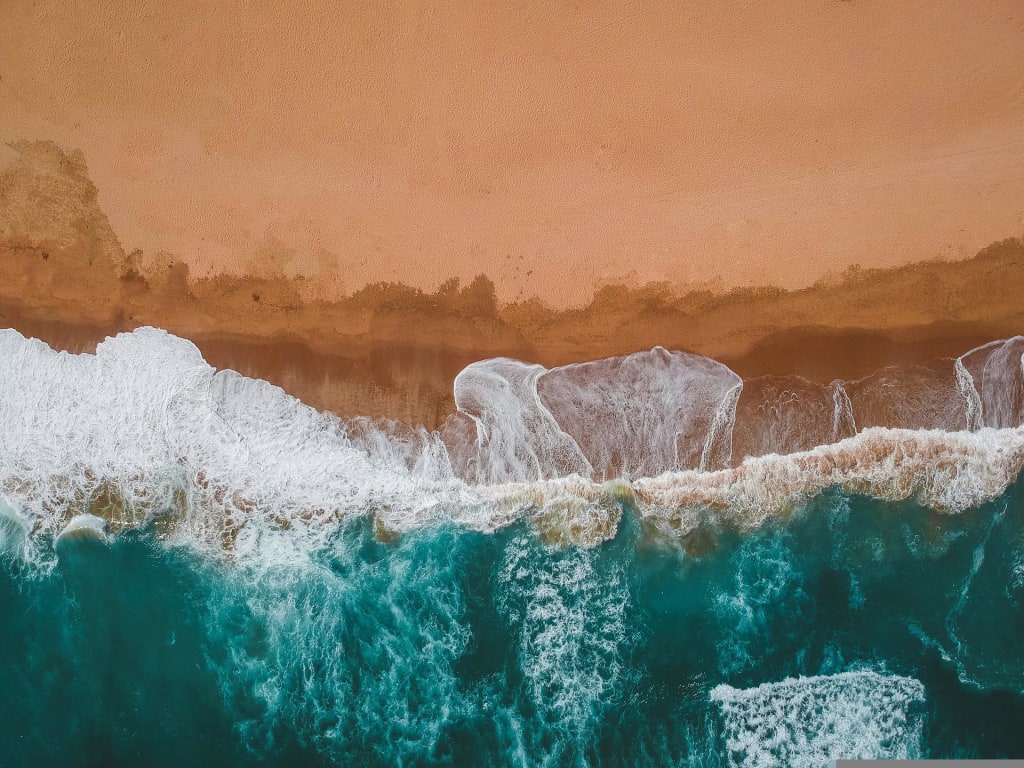 Image by Mücahit Duman from Pixabay
Offering, a modern, American poem in free verse style, by poet Christina M. Ward
The waters are cool and unusually calm.
I don't know where my tears end and hers begin.
She cradles my head, gently rocking me.
I float in her embrace, a babe at her breast,
My thirst so deep it churns within me.
She and I are moved, together, a lunar pull to dance.
She places her salts upon my lips
And I loosen my limbs to move upon her.
***
There's a purple mist along the horizon
And if I squint my eyes at it, bobbing,
Holding my focus there, far beyond
Where that line of liquid greets the sky
I can almost imagine myself there; aboard, afloat.
Knowing words like bow and stern, a rope
Casually looped in one hand, the other hoisting
Some thing of some name I'd know,
Raising my flag upon the seas,
Announcing that finally, I am here.
***
The waves pull at my feet as I withdraw
From the vision, from her cradle, tearing myself away,
Turning my back to that horizon,
Finally knowing, I'd return here
Again and again. That knowledge
Brings the sting of tears.
I don't have to bid farewell, even as
She pulls at me to stay.
***
I walk amongst grains of sand,
Remnants of sandcastle joys
Drifting back out to sea.
It is not they which comforts me.
In the distance, a string of brown pelicans
Lace the horizon with their glide.
Shoreline – willets, sanderling, sandpiper
Graze, pluck, and flee. I study the whir of their legs.
Alert, they move, quick! – as if to float away on a dream.
Yet, it is not them which comforts me.
***
I dust the soles of my bare feet,
Climbing each step, carefully.
The boards stretch me farther out
A seaward glide of my own.
In my windblown sarong I am a vision
Of salt and peace. I feel the sway of my hips
Seducing the wind, marrying me
To this moment. This chosen birth the antithesis
Of one's natural birth – when one goes screaming
From comfort to the bright white light
Of sensory consciousness fueled by hunger and need.
I don't want to need anymore.
No, this is very different, indeed.
***
A fisherman spears a baitfish, rod glimmering
Against a slice of the sun. He sets line to water.
The little baitfish, clinging to life, writhes at the end
Of a line. Home, yet so far from free.
I almost lose my nerve. My feet, still as my heart, as I watch
The wisps of silver in the sea, each at the end of a line.
I decide, no, I declare – I shall never again
Cling to life as a baitfish.
***
I have always been a baitfish.
It has taken this day at the sea
To teach me this.
***
I feel the gentle roll of the sea below.
I can almost smell the barnacles,
See their stalwart cling to pilings froth with life.
I walk to the edge of where the wood ends
And the endless face of her begins.
The railing is white with salt and scale and
The remnants of ring-billed gulls, of boat-tailed grackles,
Both poised in my periphery, eyeing me.
But I have not come to consort with these,
With their glass-eyed hunger, feathers a-shift in the breeze.
***
No, this hunger is more like a birth, in me.
Above me, the American flag rages in the wind,
A cracking sound, sharp against the cries of gulls.
At this end, I begin, where she, below,
Mouths her salty poem to me.
At long last, she welcomes me.
***
I am a gentle pearl of a most gracious sea.
Tiny grains, wrenched from the lips
Of pain, tiny shards of seed in my heart,
Churned by the sink and stir of time,
Trapped in the endless flap and wriggle
At the end of my line.
It is a pitiful offering I bring.
***
I am white with rage, yet she, alone,
Comforts me, calms me, calcifies me whole.
I am wrapped in thee. I, daughter
Of the endless sea.
*************************************************************
Poet Christina M Ward lives near the coast of North Carolina, where the sea whispers to her, poems wrapped in conchs, laid at her feet. She gathers them, as any dutiful poet would do. Thank you for reading.
surreal poetry
About the author
Just another writer...out here making money with my words.
And it's the best life ever.
Reader insights
Be the first to share your insights about this piece.
Add your insights