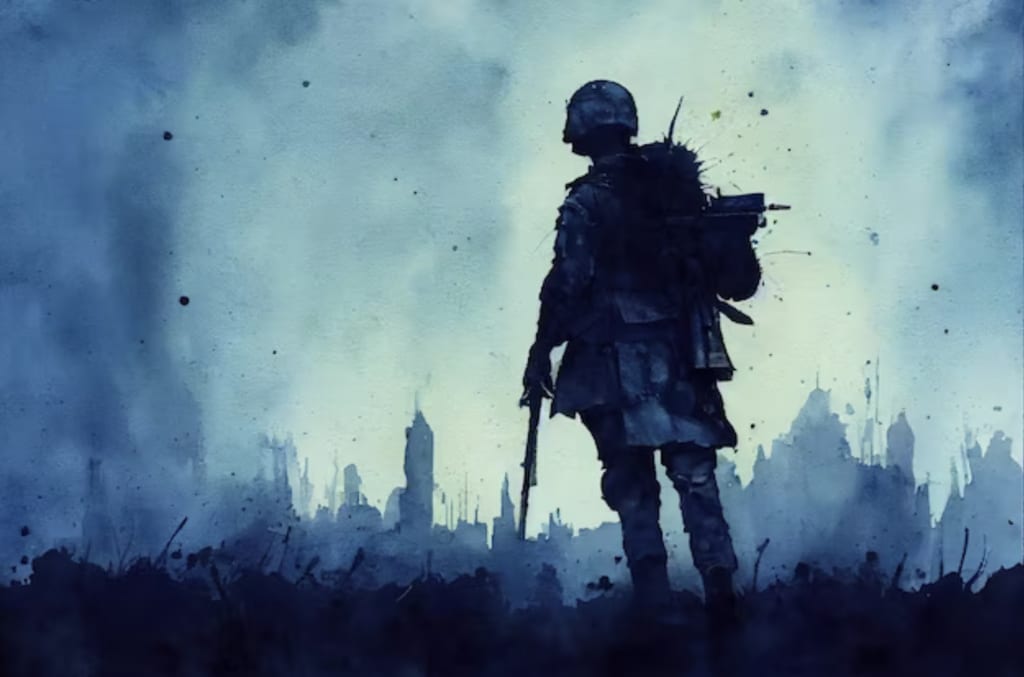 I
What we think we taste, we mostly smell
I learned that one day on the high road to Hell
That old man had warned me
But I knew no fear
I'd listened politely, but I didn't hear
Don't trust what you see but can't touch
The old man had told me as much
II
The taste of adventure
The smell of the fight
A touch of revenge, our God-given right!
Revenge, revenge, clouding our sight
Now I hear the screams at night
III
We're here to help
Why are they fighting?
We're here to help
Have they forgotten?
We're also fighting
Something smells rotten
Worse, biting
Bolder, colder
Orders are orders.
You hearin' me, soldier? 
To see or not to see?
Good question
Eyes shut, squeezed
Tasting fumes, disease
More I won't mention
Pay attention!
A hand touches my shoulder
IV
A day so hot you could smell the sun
He wasn't much older than my son
(Who's never even seen a gun)
He touched his tiny hand to his tiny scarred face
Asking, Why do the berries I pick have no taste?
The old man sat up, gently shaking his head
That time I heard what he said
V
I hear hand-touched-my-shoulder's voice
Come fight with me bro, we'll taste victory tonight
I see what he can't now. But I've got no choice
Didn't I follow the smell of the fight
VI
The old man sat up, gently shaking his head
He smiled at the boy with the berries and said
Listen, child, and hear me well
They took it from you, the night the bombs fell
What we think we taste, we mostly smell
But they took your nose with the shrapnel of shells
Lessons learned on the high road to Hell
But you do not see, he cried turning to me
To be touched by a giant is to be crushed like a pea
VII
Hand-touched-my-shoulder is dead.
His uniform now is dark red
I hear bombs
I smell flesh
I see wrongs
I taste death
I stare at what's left of his head
VIII
Once I told that old man
You don't understand
You didn't hear the sirens shriek
They said we'd be here a few weeks
You didn't smell the wreck of the towers
They said we'd be greeted with hugs and with flowers
Virtue. Valor. Victory.
They painted a picture, clear as can be
Don't trust what you see but can't touch
The old man had told me as much
Reader insights
Be the first to share your insights about this piece.
Add your insights