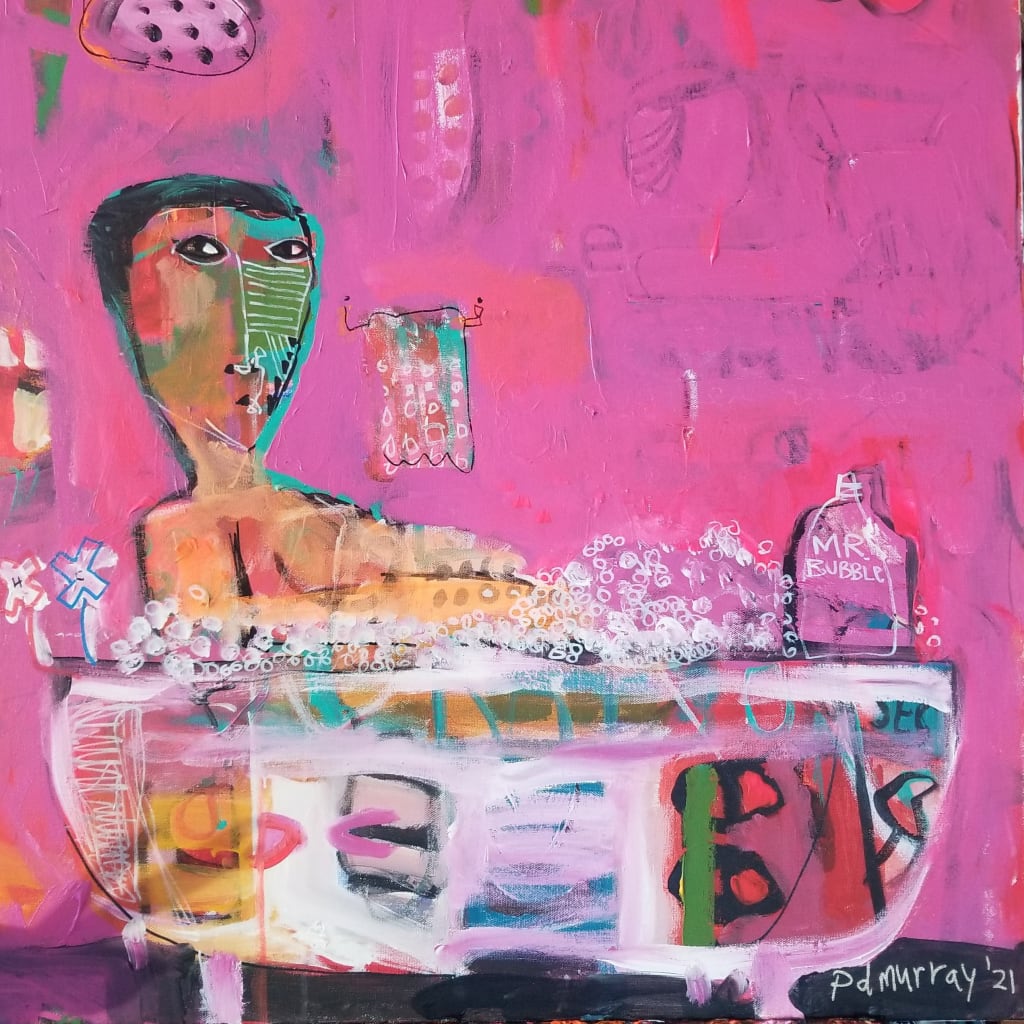 "Boomer in Bathtub" Mixed media by P.D. Murray 2021
my home is where the keurig is.
my home is where the k-cups are.
my home is where the la-z-boy is shredded
by a cat named otis.
my home is this very second:
where the fullest moon illuminates
my lover's prize dahlias, all
named liked racehorses:
daddy's girl,
peekaboo,
beats me,
mardi gras.
my home is the mattress
imprinted with our body's weight, the sleepers' converse bas relief.
my home is home is home like love is love is love.
i bet you've heard it all before: the homehold, the houseland, the homing hearth of earthy hearts, sacredly etcetera.
but do not be jaded. my home is real.
it's big enough for you and me and me and you,
for snowflakes and trumpish antivaxers,
for huddled guatemalan masses yearning,
for riverboat rogues and blackguards cheating,
for e-coin sinners and ethel merman on lsd,
for red and blue and glittery saints.
my home is a real home in a real america
found only on google's blue marble
and my children who live here do not die here
and my ghosts who die here do not live here
and my dead and my unborn ancestors drink green tea
and the circus clown car is parked in the driveway
where all my memories spill out with slapsticky shoes,
comically large and ungainly.
my home is where i wake up
after the dream of kissing an eagle or cheetah on the mouth
or doing a wet tango with you in an orphanage
and i say: wait, wait, dammit, this isn't my home
but then it is and it isn't and i can't remember
where my home really is.
About the Creator
Murray is an accomplished painter and writer.
Through 2010, he was shown exclusively by Treehouse Studio Galleries. His work hangs in private collections around the world. He's also published 5 books. You can see more at www.pdmurray.art
Reader insights
Be the first to share your insights about this piece.
Add your insights