Musical mestizaje is not something new something new, it proliferates in the world
Kiko Veneno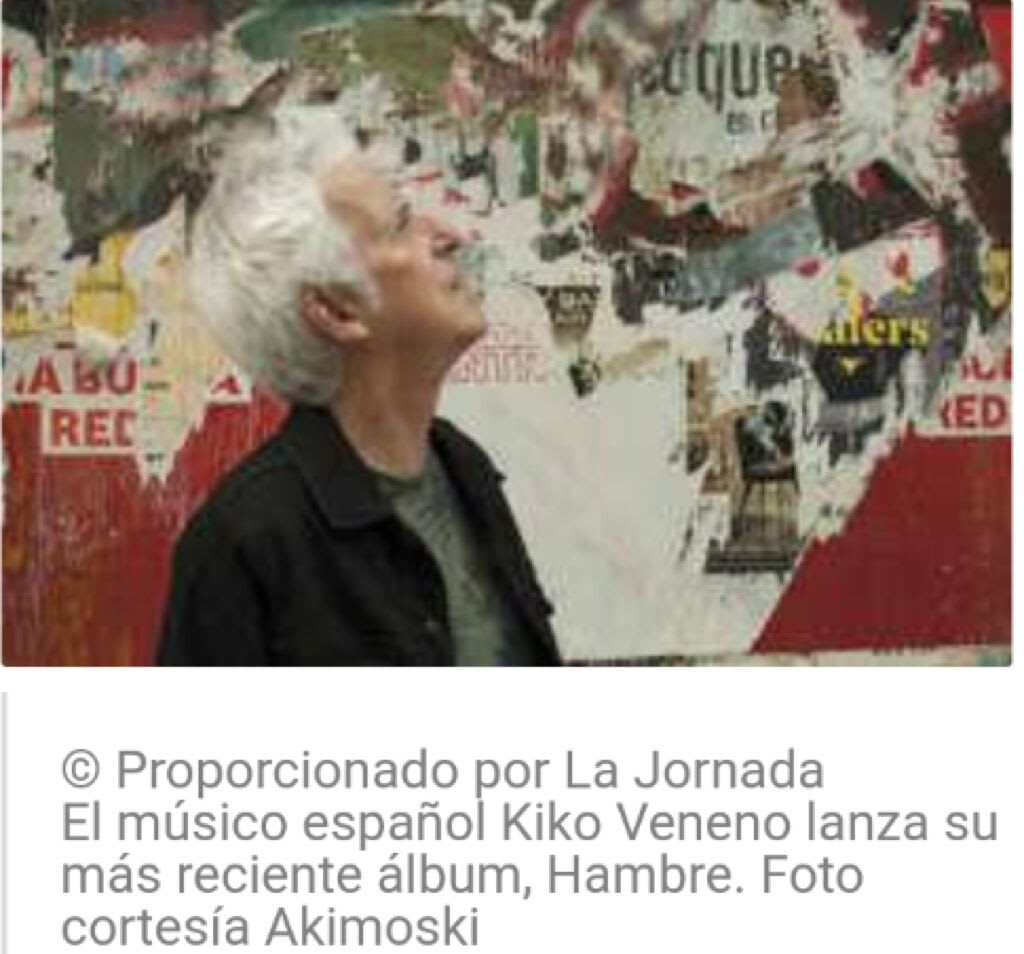 Mexico City. Before thinking about melodies, harmonies or rhythms, Kiko Veneno, the musician who has spent more than 40 years mixing flamenco mixing flamenco with blues, pop and rock, thinks about sounds. That's where the Andalusian Andalusian composes his songs, that's how the his songs, that's also how Hambre, his Hambre, his most recent album.The first thing you are left with from the music is a sonorous impression. So I have learned to modulate all that so that what I want to I want to express, I always do it through a very important dedication to sound creation sound creation, so that the sounds really correspond really correspond to what you want to express. you want to express. And the sounds are a search as well, it is as important as important to look for the sounds as a letter, described the Spaniard in an interview.
That is why part of his work consists of introducing all these elements harmoniously in his songs. I am very concerned about the creation of sounds, for me it is very important that the sounds are also in the environment and that they are individualized, that they are not the same ones I use later, explained Kiko Veneno.
Having started from experimentation and the mixture of genres to create his songs, the composer does not see as something new the musical crossbreeding that seems to proliferate all over the world. He even points out that the basis of his music, flamenco, has origins of this kind. The evolution of flamenco is a fusion of Andalusian and Arab elements; then lately it is contaminated a lot by North American or South American components, apart from the African and Oriental ones that it has always had, the musician explained.
Kiko is also concerned that the current way of producing music is heading towards homogenization. While the musician finds communication between colleagues positive, I also believe that it is not positive that we renounce our local, individual forms of creation. It is these local forms that we have to put at the service of a more global communication, Veneno said.
I am more interested in the difference, in what people have to do from their local point of view, admitted the Andalusian.
For Veneno, the tendency of the heterogeneous to disappear is equivalent to what is happening in nature due to human overexploitation. Animals disappear and we also lose the poetics, songs, local attitudes that we are very interested in preserving because they have the greatness of the human spirit and we have left everything in the hands of an algorithm that takes us forward by a machine, he criticized.
In order to preserve his essence as a musician, Kiko Veneno has chosen to be true to himself. I always start from a very personal concept, the music for me is what goes through my head, and I try very hard to conform to that, not to ask to be something else, because I think it is original enough, he said.
So I'm not so interested in getting to know all the music from all over the world to appropriate it, no. I want to develop the music with which I've been working. I want to develop the music I grew up with, the environments and musical stimuli that have been blues, rock, flamenco, African music, experimental music, all of that. Give my version and pass it through my experience and my inspiration, explained the Andalusian.
Although Veneno has already begun to perform again on stages in Spain, he still regrets not being able to do so as before the pandemic. The reduced capacity, the separation of people and the risk of contagion greatly reduced the work of flamenco musicians, however, Kiko is also aware that people need music regardless of the format.
These are bad times, times of crisis in which so many things are rethought, as in the pandemic, and then you see that within your humility and your confinement, you have the opportunity to continue creating, to make music, to be able to help people to carry this forward. So they have been really nice, interesting moments; apart from tragic times as well, like the epidemic, because of people's deaths, and because it has been very cruel, the musician pointed out.
His current album Hambre is, in part, the result of the health crisis. After releasing Sombrero roto, his previous album, Veneno was left with several songs he couldn't finish, so he spent time trying to get those songs in place. While working on that, the confinement began, and seeing how it was dragging on, he made the decision to take advantage of his time to expand his work and include new compositions such as Hambre and Días raros, which came out of this stage.
In addition to Hambre, Kiko Veneno recently collaborated with C. Tangana, the viral phenomenon that has brought together figures such as Andrés Calamaro, Jorge Drexler and José Feliciano, among others, in a successful album. The flamenco musician said he was happy to be considered by the rapper as part of those classic patterns. He would also like to take advantage of this opportunity to bring his music to Latin America.