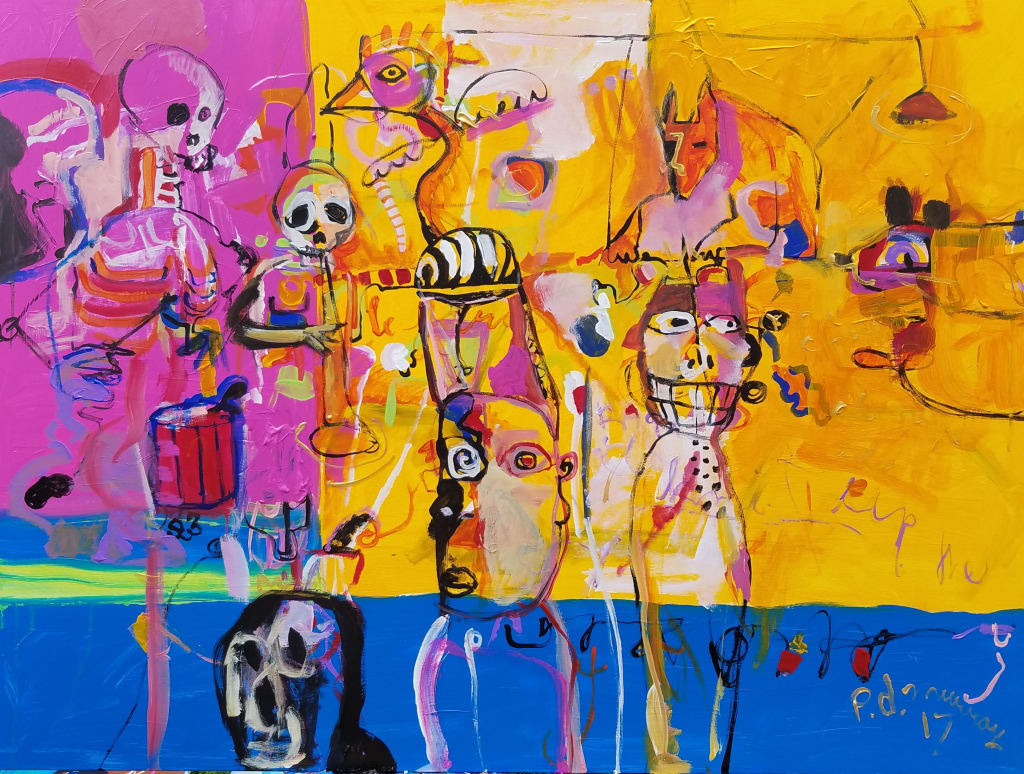 "The Comic Book of the Dead" Mixed media by P.D. Murray 2017
Dear Mom,
I wish you would die.
I wish you would run away from home.
I wish you would return.
Born in the county of Blue Earth, MN,
Named only: Baby Girl Adams
On the first certificate, but raised
To be Ruth and want
Only your own room,
Whatever homes you made or rued
Or dreamed of since are clearly not here.
Where you are now
Is no home, nurses or not.
Where you are now blue veins
Pulse like the Congo seen from space
Under the veil of oxygen.
Your winding sheets are thin and over-washed,
Bluish. The air smells like syringes and feces;
The wan sunlight creeps over faded photos,
And fights with Fox News.
Dear Mom,
Beloved,
Iconoclast,
Rebel,
I remember how right before the beginning of the end,
Days before Thanksgiving and the first stroke, you said:
Maybe when we die we go to other planets.
This place isn't your home planet.
It's where the waiting dead congregate on Jupiter.
Dear Mom,
I wish you would die.
I wish you would leave home
Like a hermit crab bought as a pet in a beach town,
Now with a shell too small, a discomforting confinement,
And find many houses, many rooms, new homes.
I wish you'd shudder off your broken
Broca's area, and the aphasia that splinters
All wit and words;
Elope from your walker, your bed, the weary fragments
Of the half-memory, the artificial hip,
The sad grilled cheese before the gloaming.
Dear Mom,
I wish you were still unnamed
In Blue Earth County, MN.
Still Baby Girl Adams.
Please go home now.
Please come home now.
Dear Life,
Please release my mom. Release her.
About the Creator
Murray is an accomplished painter and writer.
Through 2010, he was shown exclusively by Treehouse Studio Galleries. His work hangs in private collections around the world. He's also published 5 books. You can see more at www.pdmurray.art
Reader insights
Be the first to share your insights about this piece.
Add your insights