The snow goes wild here around my house
The snow goes wild here around my house
But that's the only thing here
I collected them for you
I shaped them for you
I colored them for you
I covered them for you
I sprinkled them all around your dress
all around your hair
I glued them
To make you a flute
l cleared them for you to move free
I cherished them cause l wanna give you all
Everything I made l thought I couldn't
Now my house feels comfortable, looks just fine
They are all real, snowy friends of mine
Now l await you, my treasure
l wish you can find the best pleasure
And a good night sleep
Next the journey awaits us as we seek
You came and passed by
Didn't bother stopping by
It's so not true that it didn't hurt
But believe me it's alright
l move on but have a clumsy habit of stopping by
Some people open the doors and their smile, anger, hatred, fears, love and every drop of
tears fly around me
l feel like crying, I feel like laughing
l feel like moving
I feel like melting
Sometimes l want to walk on water
Sometimes l want to drown in it
Sometimes l want to dive deep
Sometimes l want to float in it
Sometimes l'm just happy thinking the air surrounds me with love
Sometimes l'm so sad that I want the air to be thick and hide me
Most of the time l don't feel nothing
No, that's wrong
I feel the air so smooth
feel like bubble and wanna fly around
feel like l could melt in the air
get absorbed in the water
the absolute peace
But they never let me be
They do their best to confine me
Whenever l take a step forward
or lift my legs
feel light in the air
they say I'm ignoring responsibility
They say I'm being a bad girl
they say I don't care
Then I won't care
Absorb me oh water!
Accept me oh air!
Let me melt, free my heart to everywhere
Let me cry with you oh brother!
Let me carry on with you oh love!
Nets of weather can't i be your pray?
Capture my old self and memory
I'll come back for it later I promise
l wanna move around then die, little time
I'll spend to stay
Hide me, oh forest! So deep
hurt me then spread me
I want you to touch my wings
Bind me for a little time only to set me free
My heart so wants to be free
Find your best elsewhere
I also move on, I wanna go everywhere
My journey don't have to include you
My life longing to be
But I'll try to remember our frozen friendship
And spread my wish in the air "Hey, youngsters wanna spread those damn broken wings
It's head or death
Who wants to take it?
The only chance to be free.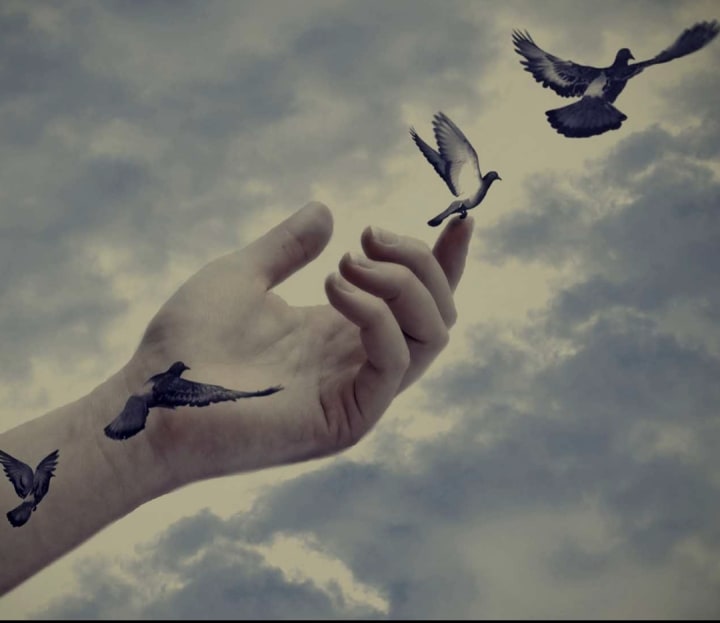 Reader insights
Be the first to share your insights about this piece.
Add your insights