liminal space
a poem in three parts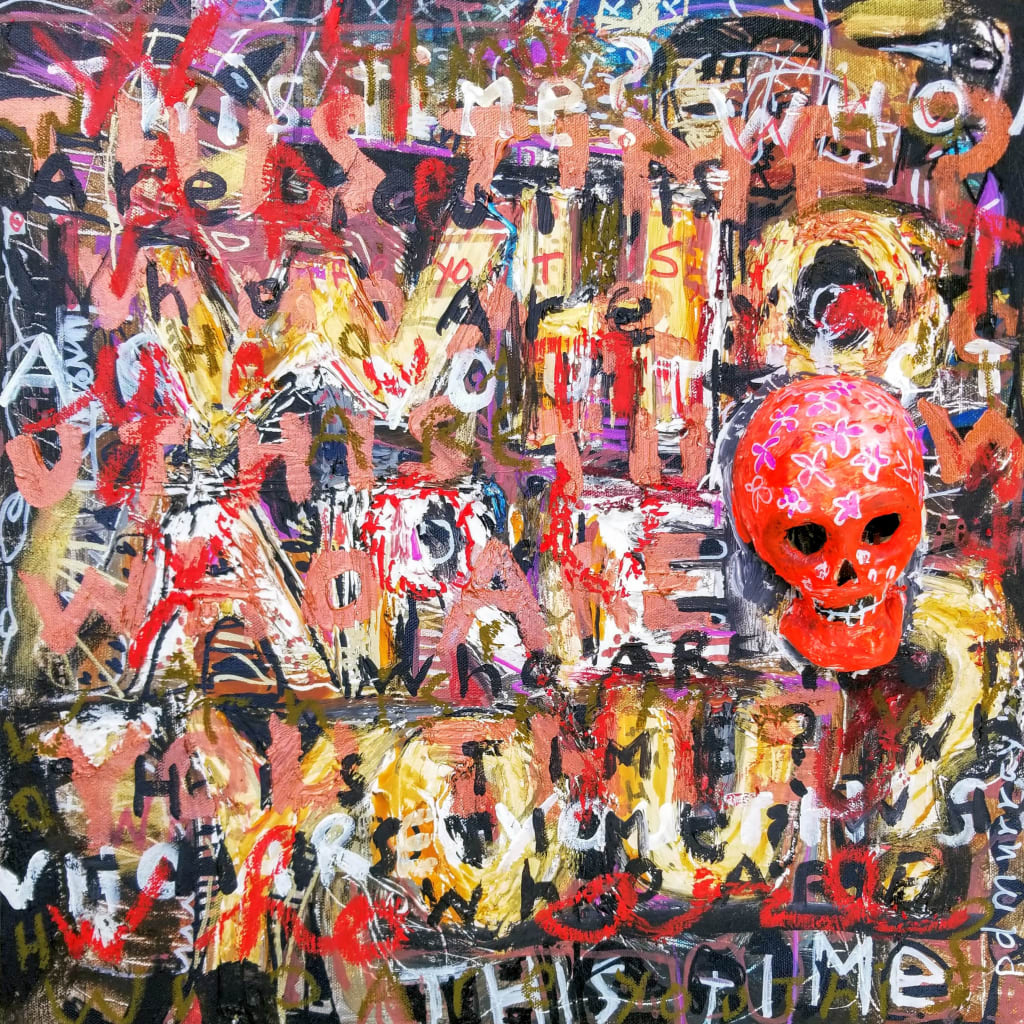 "Who Are You This Time?" Mixed media by P.D. Murray 2020
i.
(found poetry from the definition of home at https://en.wikipedia.org/wiki/Home#Occupants)
space for instance space for virtual space space of the psyche
liminal space
contested space
the home has appropriated new meanings
the home blurs boundaries
the home expands beyond petroglyphs carnivores giants burials
simple nomadic complex fixed
humans
everyone has the right to himself on a more or less random basis
with no place no address close to the heart
one moves away from that point, but it can trigger self-reflection, thoughts about who someone is or used to be or who they might become
ii.
Then there was the year I slept in a tent.
Moths ate every thread in sight and
I pillowed on a rattler.
Stinkbugs gathered
On the ecumenical altar
Of my flashlight.
All night, the long weeds
Devil-danced until a murder
And murmuration of ravens
Opened my eyes to each new old day.
You'd be surprised just how swiftly
Things can fall apart.
Just how lickety-split trouble
Can own you.
Until you're there you'll never know
How life can make you wonder
Why these fardels bear,
Under the grunt and sweat,
And, wearily wear the crownless head
Until the dead of dawn
Seeps into your dreading marrow.
That far down,
You can see up to worms
And root balls. That sunken,
You can see the blood of archangels
Run on rivers. That blinded,
You can hear night's cupola
Yawn wide to swallow memory
And tomorrow both.
This pilgrim, this peregrine,
Old hobo philosopher
Is lucky though. I rose from the rag and ruin
To drink martinis at the Rainbow Room
And clink with the well-heeled
Always at home
In their Côte d'Azur skins.
Not all fouled phoenixes
Rekindle so.
Not all homeless
Cry olley-olley-oxen free.
Now I am home
Everywhere
Having lived less
Than anywhere once.
iii.
(found poetry from the lyrics of Sweet Home Alabama)
one, two, three carry me home i miss the skies
where the (oh yeah) lord has so much pick me up
About the Creator
Murray is an accomplished painter and writer.
Through 2010, he was shown exclusively by Treehouse Studio Galleries. His work hangs in private collections around the world. He's also published 5 books. You can see more at www.pdmurray.art
Reader insights
Be the first to share your insights about this piece.
Add your insights