Light in the Window
I Hear You Calling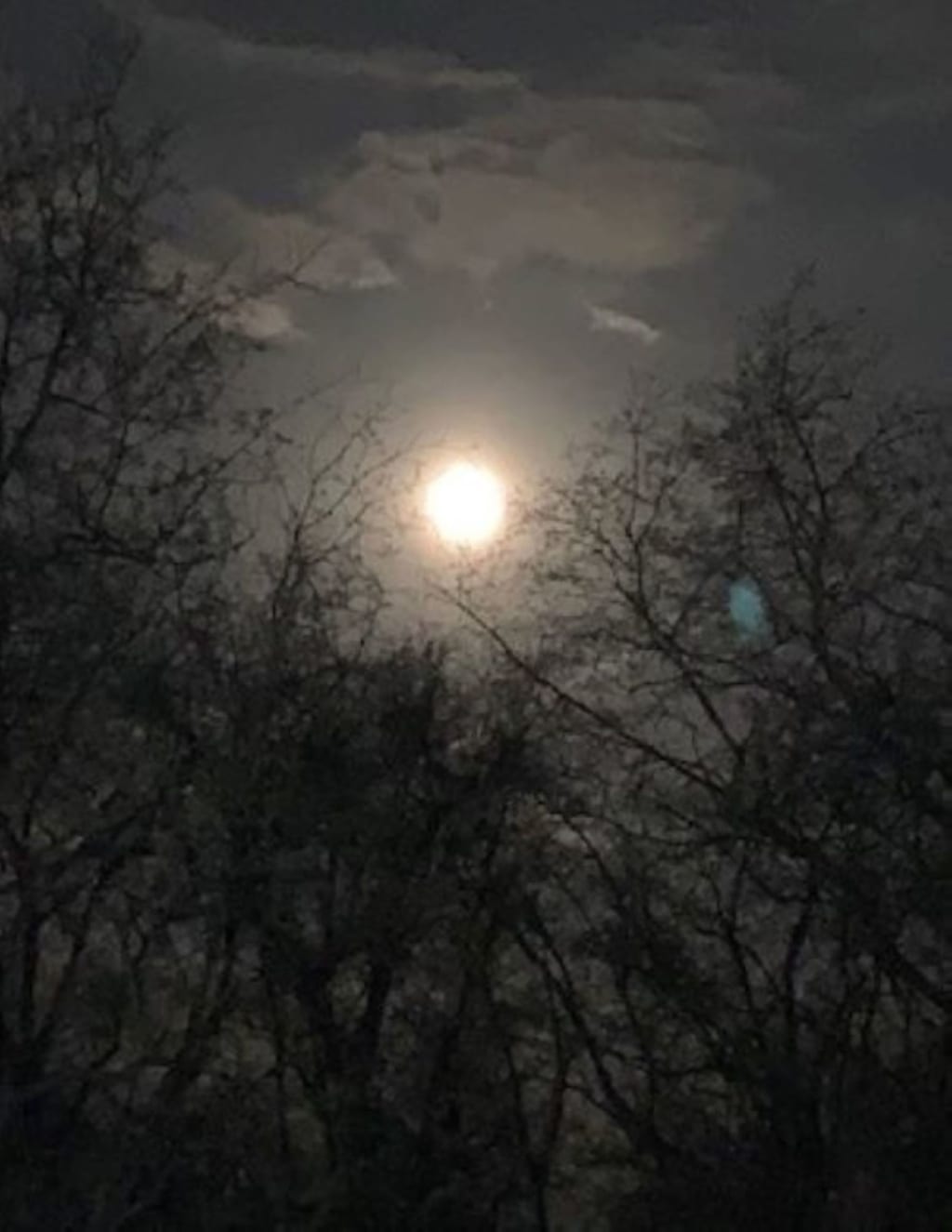 Photo by M Jones
A strange light appears through my window, I am scrutinized by the full moon. I see you taunting me, I hear you begging me to come out. You peer into my room, looking around for somewhere to rest.
As I gaze into your eyes, I feel sorry for myself, wishing I could trade places with you, knowing that isn't possible. You beckon to me again, come out, play with me. My eyes shift to the door, if only I could, but it just isn't possible.
Everything you touch glows with a beauty that I cannot put into words. My small bed transforms before my eyes into a lavish retreat complete with satin sheets and decorative pillows. It's like being a celebrity. I imagine myself having all the amenities I could ever want. I wait to be pampered.
Come out and play with me you teased. Your friends are here waiting for you. We can take a walk in the woods, build a fire by the clearing, and perhaps go for a swim. I'll be there for you. I look out my window into the emptiness. My friends aren't here, they never were. It's just me and the moon, shining down at me and smiling.
The dew on the grass sparkles in your light. Again, you speak to me, begging me to come play with you. I look in the mirror, you follow me. You turn the ordinary into the extraordinary. You give life to my tiny room making it grand, fit for royalty.
Come out and play with me Kenzie. I am waiting for you. You shine your beams on me, giving life to my face, grace to my movements, beauty to my body.
Turning from the window, I shed a tear. Outside the rain begins to fall. You call me again, pleading with me to come out and play with you in the rain. We'll have so much fun. You love being with me in the rain. You shine on me once more and I gaze out the window, seeing your beauty reflected in the rain.
You fill my head with the beauty of the outdoors and my breath catches. You look at me, you call to me. I hear the rain patting softly on the leaves. I see it falling. The droplets reflect your beauty. You plead with me to come out and be with you.
Why won't you come out and play with me, Kenzie, I hear you ask. Am I not good enough for you? Are you embarrassed to be seen with me? Do you not love me anymore? I am here, waiting for you.
Tears fall freely down my face. I scream at you. How can you ask me that? You know I'd come out, but I can't. I'm not that person anymore, I just can't. Why won't you leave me alone?
You call to me one last time, hoping I will change my mind. You shine inside my room, on my door, lighting the way. I look out the window at you and shout, I'm coming!
You smile at me, beaming light into my room. I try to make myself get up to go out, but I miss my chair and fall to the floor, unable to move, tears streaming down my face.
I see your beam reflecting off my chair. I feel your pity. You know I am stuck here in this prison of my own making, paralyzed from the accident that killed my friends. I yell for help – only you hear me. You smile down at me, then quietly disappear.
sad poetry
About the author
Michele Jones is an author whose work explores the darker side of a character's psyche.
When she isn't working, she enjoys spending time with her family, cooking, and doing charity work.
Reader insights
Be the first to share your insights about this piece.
Add your insights