Lament of a Bartender
Ekphrasis Poem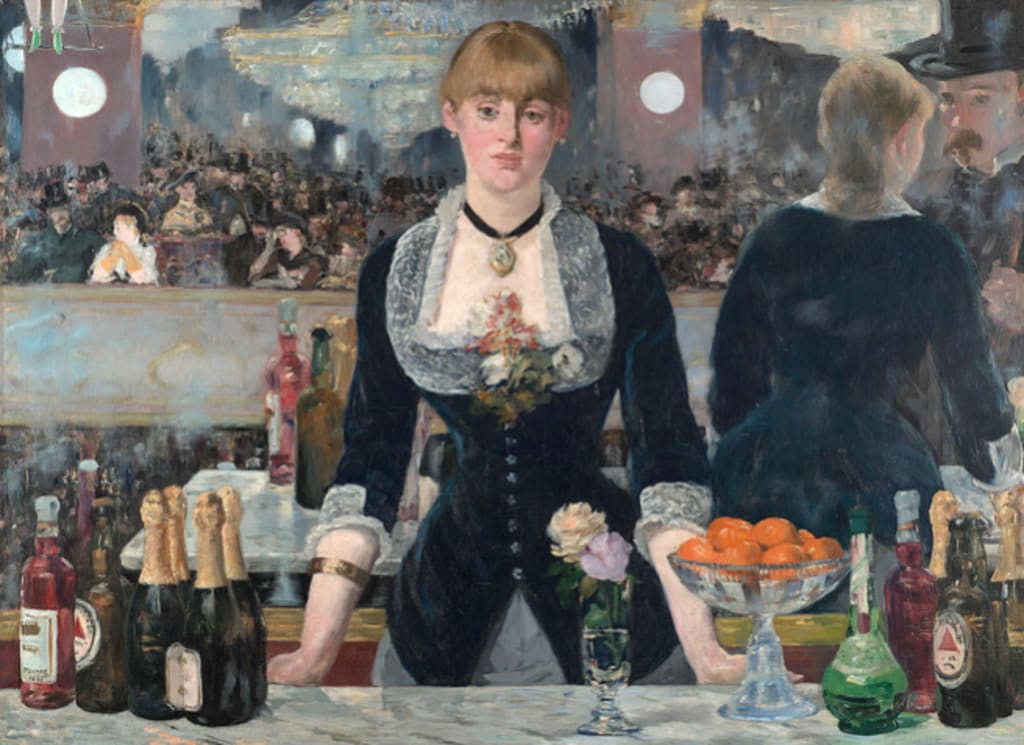 "Bar at the Folies-Bergere" by Edouard Manet
"Yes, I am the tender here. Now, will you be my savior?"
To the lack-luster gentleman in green,
just met and just thought,
I have only the alcohol on my shelves.
To the bar, congested with unknowable wealth and old perfume
these aisles of wine pop on command like the
gunshots in my head to breakout of this profession.
i have a pale complexion but my cheeks are rosy,
Rosé is as pink of the blood in my face.
Tangerines are the only fruit here and they are a deafening orange and not like the sunset outside.
a black button-down dress and white lace,
That white lace has not purged me of losing innocence,
and i have skin showing that a lady would never reveal to their own mother.
That gentleman in the corner wants more than a glass of brandy,
My manager of the bar thinks I am more than handy,
My tears roll down my cheek in private, the dryness in my throat leaves my esophagus feeling sandy.
I haven't tasted anything sweeter than my tears that melt like candy.
I wear a bundle of flowers on my chest for decor,
hoping the same will grow in my ribs and out my pores
but the work I have sacrificed has squandered my dreams of blossoming.
The mirror behind me everyday reflects a sizzling game of the French crowds
I am terrified, very terrified but that mirror is like a painting of Paris
that one one has seen before.
At least the lucky ones.