In Review: 'Frenetic Lines'
Jensen's work is both cheeky and anguished.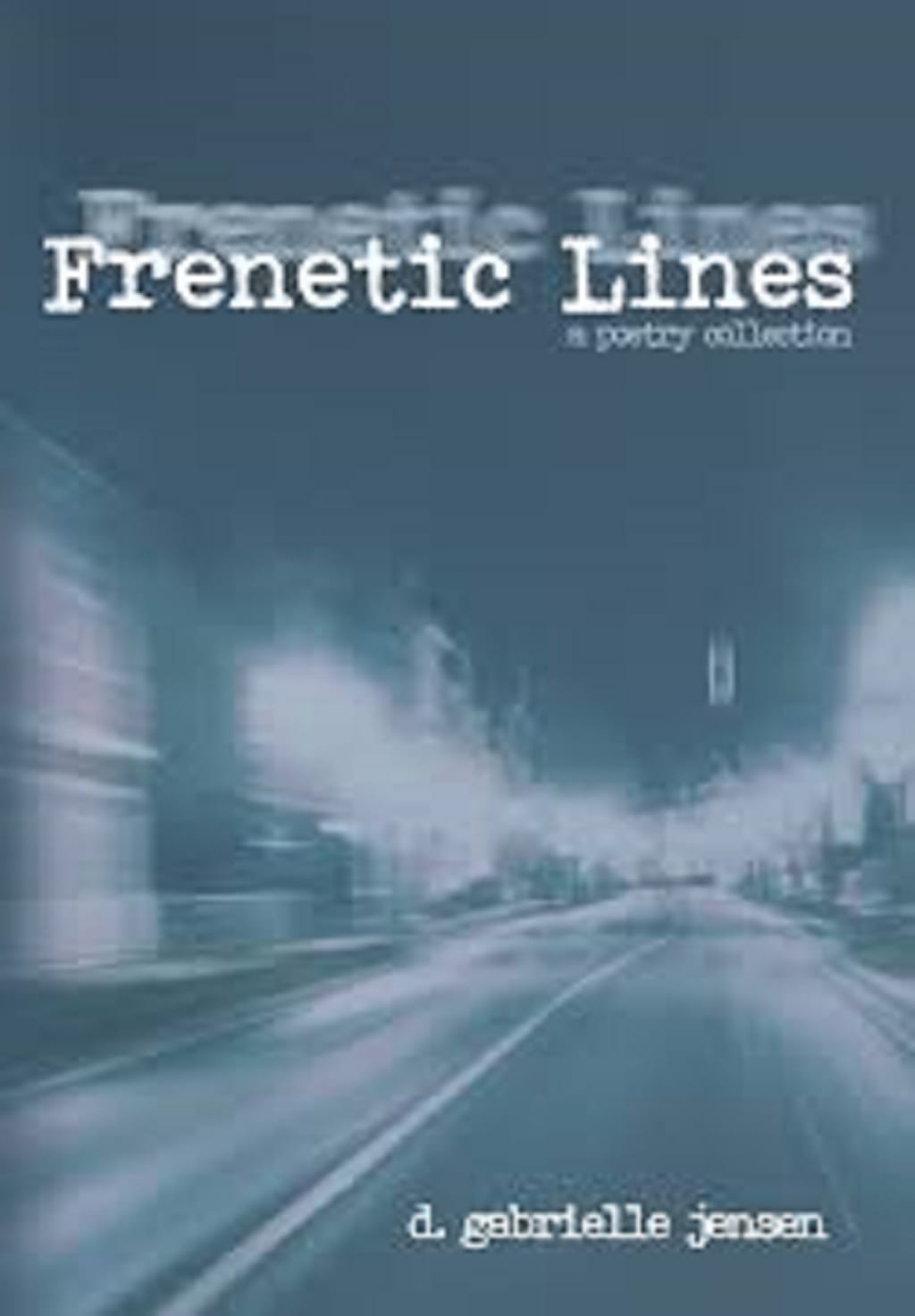 D. Gabrielle Jensen's 2018 poetry collection, Frenetic Lines, reads as a youthful artistic creation; it is not that the work is childlike, but rather similar to an adolescent red-tailed hawk. The text is well on its way to becoming an elegant predator, but it is still working out how its wings operate, how to properly sink each talon into its kill, learning when it is best to let loose that wind cracking screech.
None of the poems in the collection are titled. They are only numbered, which makes for an interesting change of pace, and the collection does open quite cheekily with "I.": "Honestly, / I am a little vain. / And I really do like, / To talk about myself." These mischievous lines will wriggle a smile onto the readers' faces.
But then there is the piece "XI." This poem of Jensen's will no doubt provide a bit of a challenge to the readers due to its dualism. It could be interpreted as the speaker struggling with internalized misogyny in a "I am not like other girls" sort of way, or as a critique on the wider Western society's grooming expectations for women. Perhaps it is both; this is what the readers will have to grapple with as they make their way through the piece. The poem does break into the mantra, "And her hair is perfect. / And her makeup is perfect. / And your heart breaks a little. / Because you are not perfect," which carries with it not only the speaker's appreciation for her romantic rival's beauty, but also the intense competition that is often sowed between Western women when it comes to physical attributes.
And yet, this internal wrestling, this grappling match of desperate longing to be like "other girls," while finding satisfaction with one's self and remembering that any woman can dress or decorate themselves in any fashion they want, and it has nothing to do with anyone else is part of growing up as a female and finding inner confidence even though, "...one minute you are beautiful. / Until the light changes. / And highlights a flaw that you hate. / And you want to cover the mirror / With a bedsheet."
Jensen's poems "II.," "V.," "IX.," "XIV.," and "XVIII." are all intriguing in their own unique ways. In "II.," the lines that chronicle the development of romantic love from early childhood explorations into this new found frontier to a mature, fuller understanding of this state are inspired. The speakers sighs, "It was just as simple as / Sharing a dessert / And dissecting plant life. / But now, / My name dances in your voice..." It is a delightful and lovely piece, well worth spending time with.
Music fans will find a home in "V." This piece explores music's almost magical ability to tap into the psyche of the listener. Anyone who loves music will connect and understand when the speaker states, "I turn on the music, / And let it play. / Repeating over and over again. / Each time, I hear something a little / different." "IX." is quite a fascinating poem as Jensen has created almost a study of history over top of a city plan. "Unused signs / Tell fractured tales / Of what used to be." The crushing wheel of time that churns on over the civilizations of humanity is captured in the death and rebirth of their cities.
Jensen does manage to bring her signature cheekiness back into play with "XIV." Everyone who has ever taken part in an open mic night will find themselves grinning and shaking their heads as they read:
"His words are rapturous / Beautiful not an adjective / Strong enough. / Amazing. / And arrogant. / And a bastard. / But amazing all the same."
This vignette of a poetry reading is fabulous, not only in its ability to capture that one smug poet all the other participants love to hate, but also in the wonderful painting of the environment.
In "XVIII.," Jensen's tone is anything but cheeky. She reminds her audience to be gentle with their fellow humans as they wander on this mortal coil. The speaker comments, "Because, sometimes, the blows / Don't come from a fist, / But from a mouth..." The poem continues on with a warning for the readers that they should care for the invisible wounds of others. "Because just because you can't always see it / On the outside / Doesn't mean it isn't there."
Frenetic Lines is a one of a kind poetry book filled with both anguish and mischief, and it is also D. Gabrielle Jensen's first full publication. She has since released the collection Battle Magic: Punk Rock Poetry.
About the Creator
Welcome! I provide free book reviews for modern poets! At the end of the year, 10% of all earnings and donations will be given to a non profit organization. This year you will all be helping Lambda Literary! Thank you!
Twitter: @poetryberry
Reader insights
Be the first to share your insights about this piece.
Add your insights