How I construct a poem
The process I go to write a poem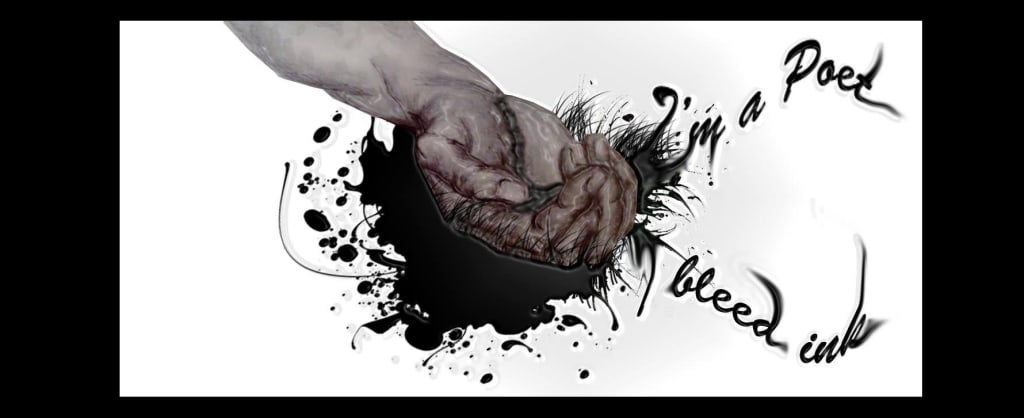 I am a poet I bleed ink
The process I use to construct a poem.
I come up with an interesting line or title. I have been told to write about what inspires you. I have written a poem about being a superhero.
It could be from a news story a title you saw on a book front cover. A phrase you or someone else invented.
People ask me what subjects I write about Could be anything that inspires me.
I developed this idea of "poets against humanity" that explores poetry poets write that breaks conventions and subject matter and challenges the negative sides of humanity.
I have created characters in my poetry and I have written from their imagined perspective. One was a hell fire preacher called Manimal Lectern. For all of you who don't know what a lectern it's a a tall stand with a sloping top to hold a book or notes, from which someone, typically a preacher or Lecturer can read while standing up. Obviously his name is a play on words with Hannibal Lecter.
Poets write in your style or voice about things that inspire you.
I use a technique called stream of consciousness, go with it. Write what ever comes into your head while thinking about the line or title.
I use rhyme but you could construct free verse poetry prose poetry create one succinct poem or redraft or edit from your stream of consciousness.
Read back lines as you construct the poem from beginning to where you've got to. This keeps the rhythm correct and makes sure it makes sense.
Read it all through at the end and try to find a ending that satisfies the reader or yourself a naturally conclusion or punchy rhetorical question that makes you think.
This article was inspired by an artist talking about the process of how you made your finished piece of art.
If you have any thoughts please leave a comment in the comments section.
www.alienpoet.com
I am alienpoet I write because it's my addiction.
About the Creator
A poet, activist and story teller who currently battles with a severe mental health problem.
Facebook Alienpoet
Reader insights
Be the first to share your insights about this piece.
Add your insights