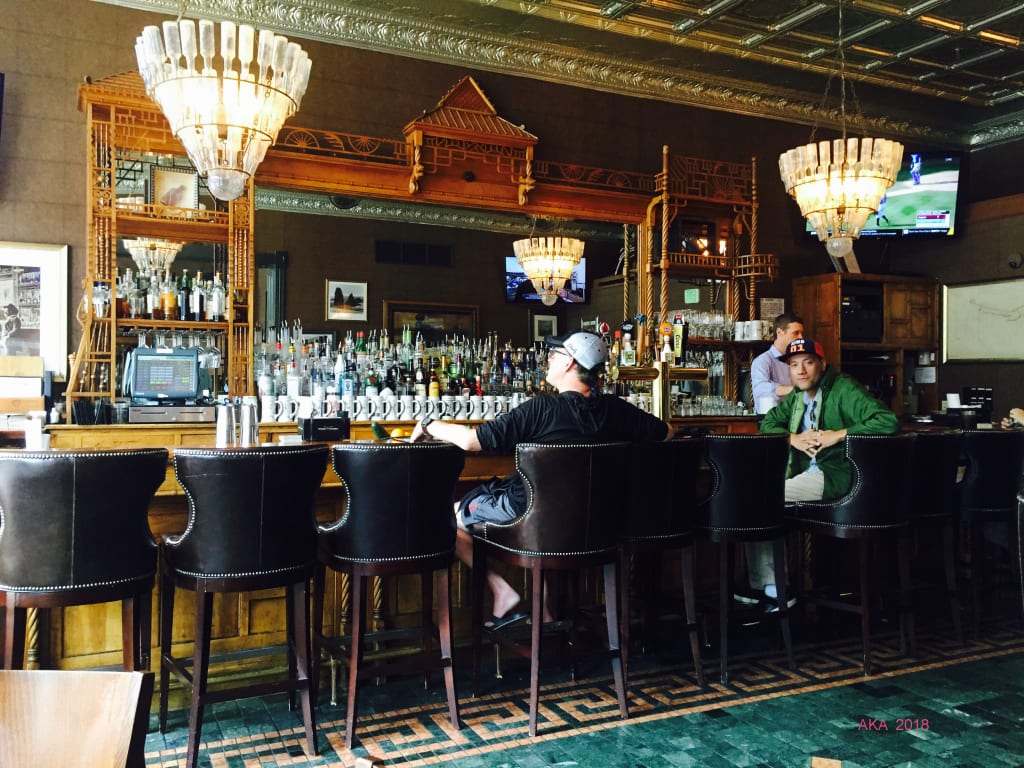 Hotel Jerome's J-Bar, Aspen, CO © 2018 Andrew Arnett
We walked through the lobby of the Hotel Jerome.
a ram's head was mounted on the wall. it stared at us
as we made our way to the J-bar.
a photo of Hunter from the cover of The Rum Diary hung over
the bar.
Sophie and I sat down at the bar and ordered a
round of beers.
"Didn't Hunter S. Thompson drink here?" Sophie asked
the bartender.
"Back in 1970, Hunter used this bar as his campaign headquarters,"
the bartender told us.
"That was when he was running for Sheriff," I said.
"Yeah," he said. "Everyday, he would bring in a stack of mail. He'd divide it into three piles - newspapers, bills and personal. Then he'd sort through them with his meals. Bloody Mary for breakfast. Beer for lunch and red wine for dinner. With food of course."
"Excellent," I said. "Just the kind of details a celebrity writer stalker, such as myself, is looking for."
"You want details?" he asked. "Go down the hall to the pool. That's where Hunter duck-taped Bill Murray to a lounge chair and threw him into the water. Poor bastard almost drowned."
"Hot damn," I said. "I'll drink to that. Give us another round. Make it Wild Turkey."
"Just what the doctor ordered," he said, as he poured
the shot glasses.
Reader insights
Be the first to share your insights about this piece.
Add your insights