Five-Fifty in Bed
Poems from Journal Titled, Black and Blue (2018 - 2019)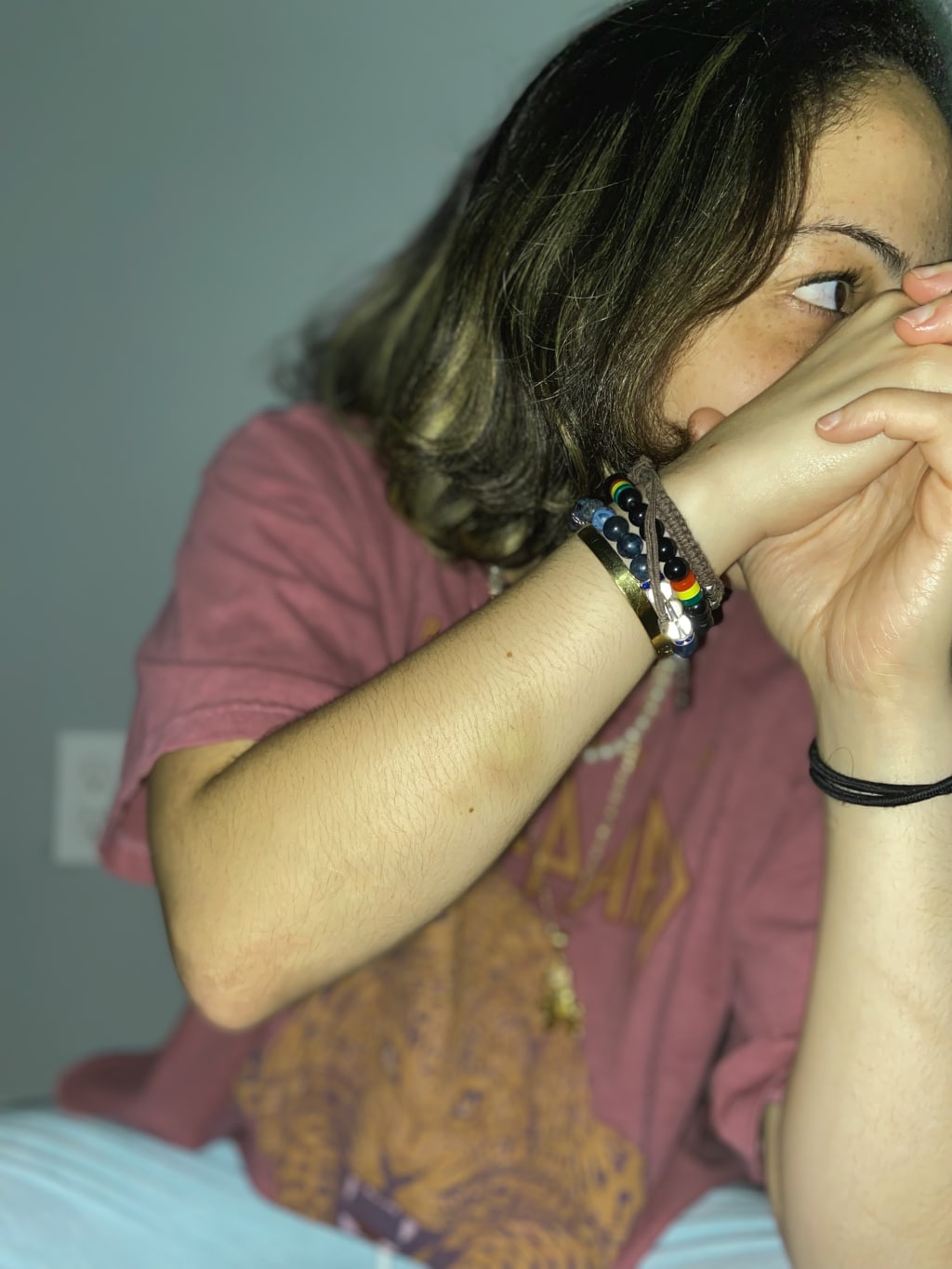 A bruise always changes color before it heals.
"FIVE-FIFTY IN BED"
Poem derived from my first completed journal, Black and Blue (2018-2019). Written May 23rd 2018.
~~~~~~~
THEY ARE NOT SOCIAL SECURITY NUMBERS,
MR. PRESIDENT:
THEY ARE MUCH MORE THAN THAT.
THEY ARE NOT "UNIDENTIFIED 17-YEAR OLD
BLACK MALE WITH A HOODIE"
*OR*
"UNIDENTIFIED WHITE HISPANIC 15-YEAR OLD
FEMALE WITH HOOPS EARRINGS WENT MISSING ON MAY 23RD FROM EAST TREMONT" MISS NEWS REPORTER.
THEY ARE MUCH MORE THAN THAT.
HE'S NOT "YOUNG BLACK TEEN KILLED FOR BULLYING"
AND HE'S CERTAINLY NOT
"BULLIED GAY TEEN"
INSTAGRAM TROLL.
THEY ARE SO
MUCH
MORE
THAN THAT.
THEY'RE NOT
ONE
TWO
THREE DEDUCTIONS
DEMERITS
DETENTIONS
SUSPENSIONS.
THEY'RE NOT "GLOWS" AND "GROWS" AND MISSING BELTS
AND "UNPROFESSIONAL HAIR,"
MISS PRINCIPAL.
THEY ARE SO. MUCH. MORE. THAN. THAT.
THEY ARE YOU.
THEY ARE ME.
WHO WE WERE,
WHO WE WISH WE COULD STILL BE.
THEY ARE THE ANSWER TO THE FUTURE PROBLEMS
WE CAN'T FORSEE.
THEY ARE THE REASON I CAN SIT HERE AND DREAM,
AND RHYME,
WASTE NO TIME,
BECAUSE I KNOW DEEP DOWN
IN MY HEART,
I'D STOP EVERYTHING I'M DOING
AT THE DROP OF A DIME
TO WIPE ONE OF THEIR TEARS
TELL THEM TO ERASE THEIR IMAGINARY FEARS
THAT FACEBOOK, THEIR TEACHERS, THE NEWS,
THAT GUY STANDING ACROSS THE STREET FROM THEIR SCHOOL
PUTS IN THEIR HEARTS,
JUST TO CONVINCE THEM THAT MAYBE,
just maybe,
THEY DESERVE TO BE TRAPPED IN A CYCLICAL,
NEVE-ENDING CYCLE OF POVERTY,
BECAUSE SOCIETY TRIES TO MAKE THEM BELIEVE
THEY ARE NOTHING MORE THAN A PRODUCT
OF THE STRUGGLE THEIR PARENTS CAME FROM,
WHICH BROUGHT THEM TO THIS START.
AND HERE WE ARE
CREATING ART,
WITH A PURPOSE,
TO GIVE PURPOSE TO THE LIVES
OF MY BEAUTIFUL BLACK AND BROWN
KINGS AND QUEENS,
THAT I SPEND 10 HOURS A DAY WITH
EXCHANGING KNOWLEDGE
AND LOVE.
I HOPE THAT ONE DAY
THEIR POWER,
REGALITY
BECOMES SOMETHING THEY TOO
can see.
social commentary
About the author
28 year-old NuYoRican from Spanish Harlem who has a passion for writing, learning, achieving peace, faith, and empowering others. I've established a career as an educator and career counselor for over five years. Instagram: @alyssaleftyp
Reader insights
Be the first to share your insights about this piece.
Add your insights