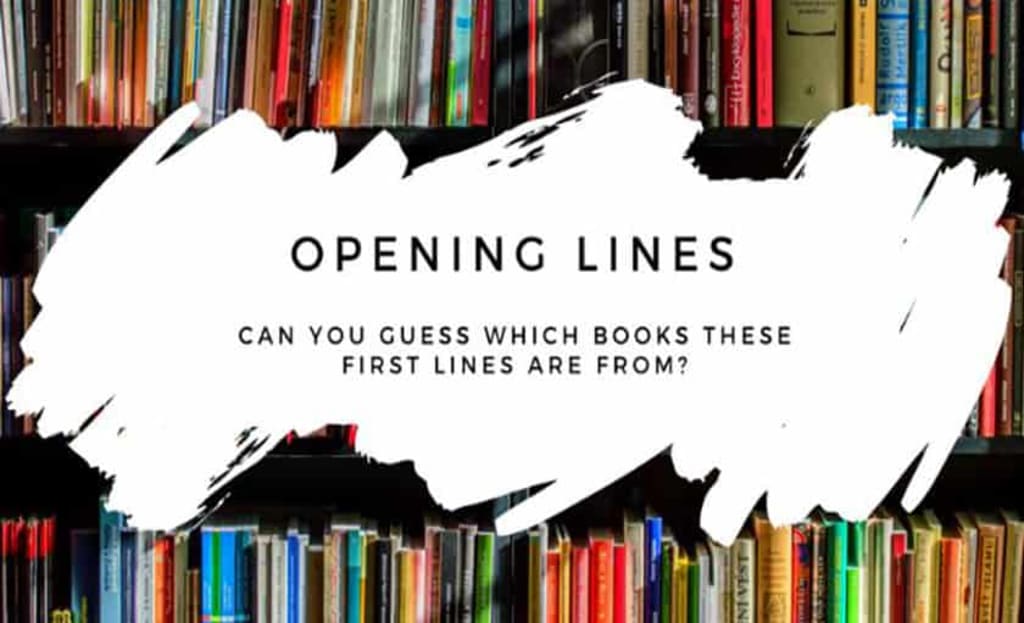 All this happened, more or less.
Call me Ishmael. Mother died today.
I begin with writing the first sentence—
and trusting almighty God for the second.
Whether I shall turn out to be
the hero of my own life,
or whether that station will be held
by someone else,
these pages must show.
I am an American, Chicago born—
Chicago, that somber city
and go at things as I have taught myself.
Happy families are all alike,
every unhappy family is unhappy
in its own way.
It was like so, but it wasn't.
The past is a foreign country,
they do things differently there.
In my younger and more vulnerable years,
my father gave me some advice
that I've been turning over in my head
ever since.
One never knows when the blow may fall.
The sun shone,
having no alternative ,
on the nothing new.
In the beginning,
sometimes
I left messages in the street.
You'd better not never tell nobody but God.
The most common disaster,
I've come to learn,
is women.
A single man in possession of a good fortune,
must be in search of a wife
Miss Brooke had that kind of beauty
which seems to be thrown into relief
by poor dress.
It was a wrong number that started it.
It's hard being left behind.
Where now? Who now? When now?
(Quotes taken in order from:
Slaughter-Five by Kurt Vonnegut
Moby Dick by Herman Melville
The Stranger by Albert Camus
The Life and Opinions of Tristam Shandy, Gentleman by Laurence Stern
David Copperfield by Charles Dickens
The Adventures of Augie March by Saul Bellow
Anna Karenina by Leo Tolstoy
Galatea 2.2 by Richard Powers
The Go-Between by L.P. Hartly
The Great Gatsby by F. Scott Fitzgerald
The Third Man by Graham Greene
Murphy by Samuel Beckett
Wittgenstein's Mistress by David Markson
Middle Passage by Charles R. Johnson
Pride and Prejudice by Jane Austen
Middlemarch by George Eliot
The Color Purple by Alice Walker
City of Glass by Douglas Coupland
Pride and Prejudice by Jane Austen
Time Traveler's Wife by Audrey Niffenegger
The Unnameable by Samuel Beckett)