Fallen Temple, Ancient Way
Before him, she existed. Without him, she persists. Invocation to Hera.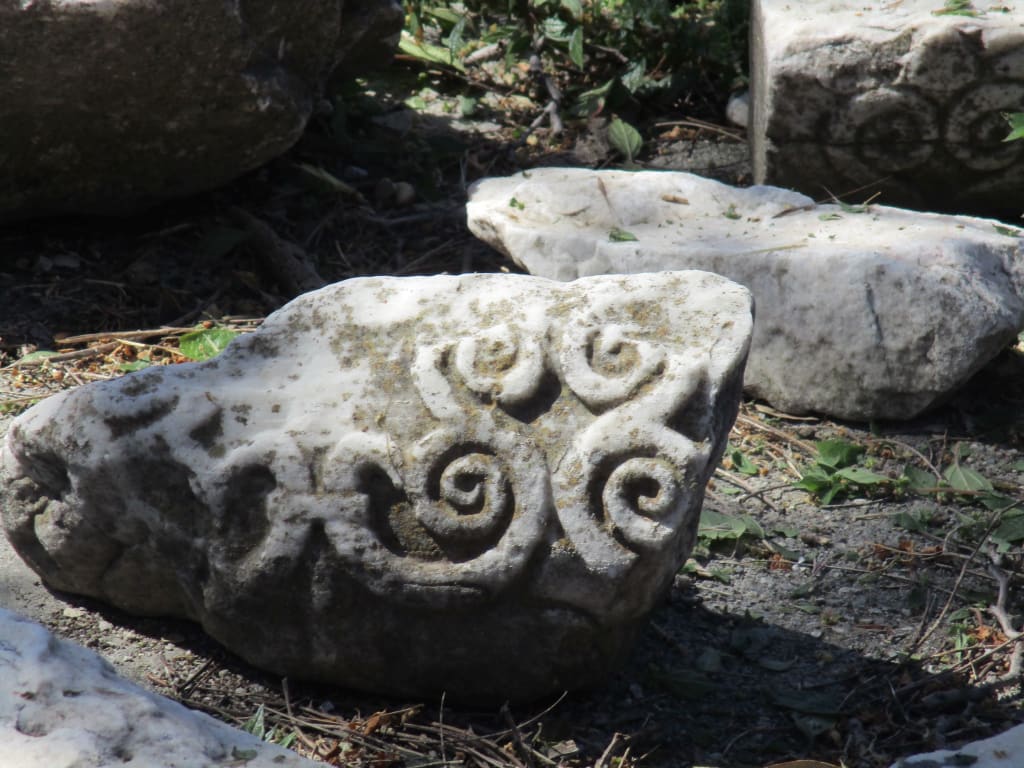 Hera's Temple, Samos, Greece, 2015.
Walk me to the sea, the source of my namesake, and remind me of my mortal mother who invoked Atlantic blue waters.
Take me across the sacred way where the ancients' path pierced the mountaintop and walked Hera's worshipers to the edge of Aegean waters.
Let me run my fingers over the spiral networks of lost knowledge, thoughtfully carved and skillfully caressed.
I am grateful you demand no further sacrifice as I let go whom I loved, of the union you blessed along Samos' shore.
Restore me to my full potential, Great Mother. Let your fallen pillars rise once more in testament to your wonder.
Goddess of matrimony depicted in rubble; how ironic the current state of affairs.
Your Heraion: formerly a mecca, a beacon for all who sought Grecian justice, that stood tallest and most bold against sky that matched water. Your Olympian marvel.
Tell me once more whose daughter am I, wife of Zeus.
Your husband was a transformative whore; do you feel sympathy for my sorrow? Or does your battle cry rise up from the decapitated head of his ancient statue?
Do you brandish your shield and sword? Do you urge me to pick up my ire?
O Great Mother, sing me again the lullaby of love. Come into my heart and dwell there, not like Leto cast upon the stones.
The pain I feel refuses to subside and in love's absence, I am numb.
Come again, Mother. Tell me the story of tragedy, of whorish men who take women outside the marital bed. I am no better than he in my vengeful wrath.
Let our pain be equal.
Mother, he calls me the whore now, and I dare not dispute him. I am weak and I am sad.
And in my shame, I remember my roots, of the sacred way, of the tall marble tower, of the Egyptian likeness of your face, and I find:
A stone.
Be her like Leto? Shall I curse her footfalls?
I rise. I turn. And I throw.
vintage
About the author
Before I ever aspired to be an academic, I breathed words. In them, I found worlds of possibility and solace. Alongside conversation, I have imagination.
Reader insights
Be the first to share your insights about this piece.
Add your insights