Extraterrestrial
My Pleasure to Meet You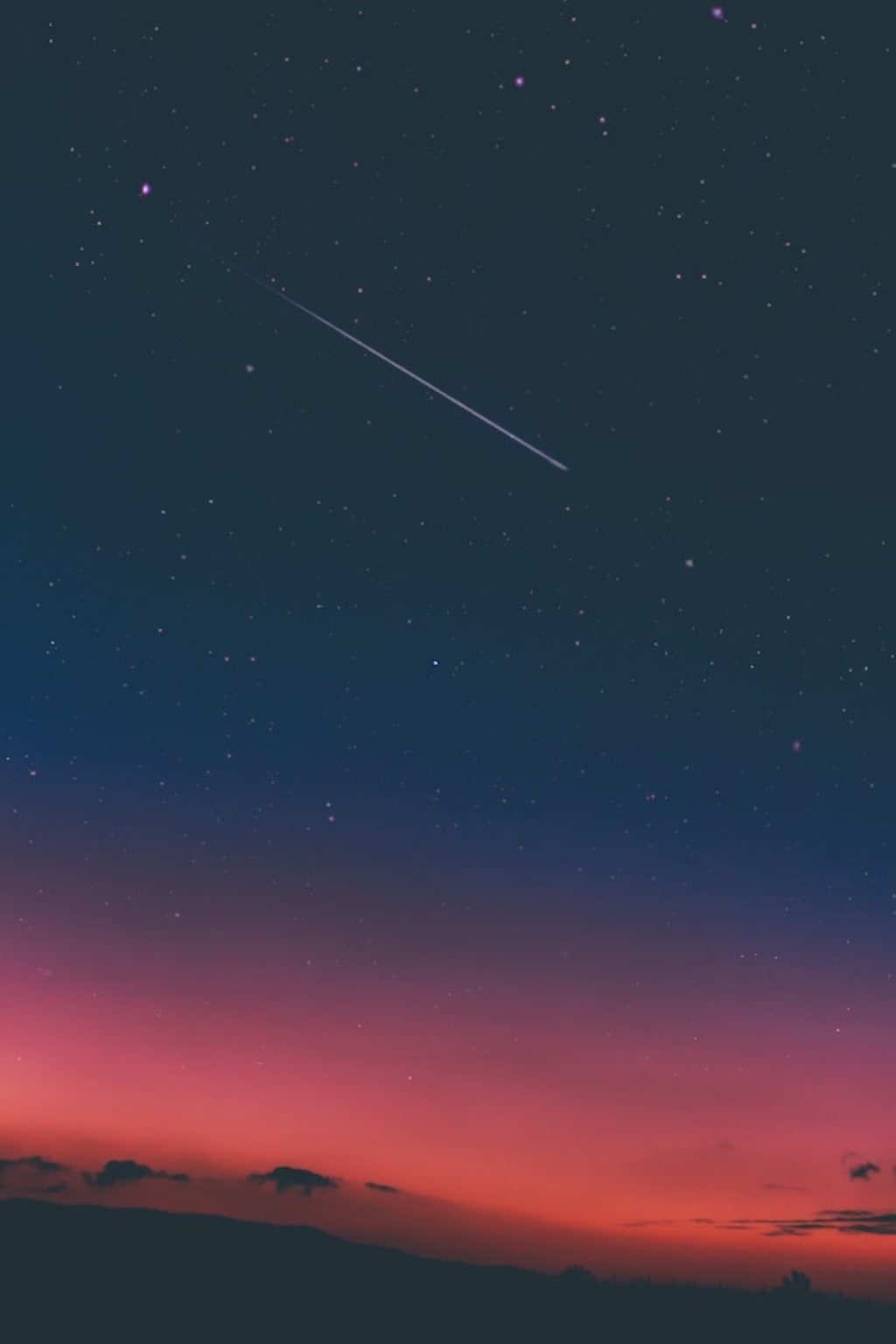 Photo by Diego PH on Unsplash
He/She/They appear in my backyard as the sunset gleams pink.
I jump to my feet, heart pounding in my throat, and see the alien wink!
***
Eyes shaped like chicken eggs, lashes curling upward,
I take a step back but then two forward.
***
Songbirds flit from the trees to the feeders,
Sunflower chips stuck to beaks, such voracious eaters.
***
"Who are you?" I inquire and
the answer was wired,
telepathically nudging my brain.
***
The alien replies, "I am called Frain."
***
Aloud, I respond, "Hello, Frain,
are you familiar with what we call rain?"
The mist turns to larger drops;
my feet are wet in my flip-flops.
***
Frain nods slowly, reaching out a hand,
then touches my damp hair, curling a strand.
***
"Do you have a pronoun I should use?"
***
"We are simple and do not abuse,
so I tell you it is He, I won't be abstruse."
(Abstruse? Frain is busting my brain!)
***
A Finch pecks Frain's shoulder,
as the Downy Woodpecker observes from a small boulder.
Frain bends to touch the Downy, but it zips away.
His lashes curl downward in a sad convey.
***
"It's OK, Frain," I say aloud, "look at the hummingbird."
His lashes roll upward, and aloud, he utters one word.
"Oh."
I smile and point to the fountain; we watch the water spilling,
and Frain's lashes curl upward as a wind chime begins trilling.
Next, a green Giant Darner Dragonfly catches the alien's eye.
It hovers, and his face splits to smile, their stares a definite tie.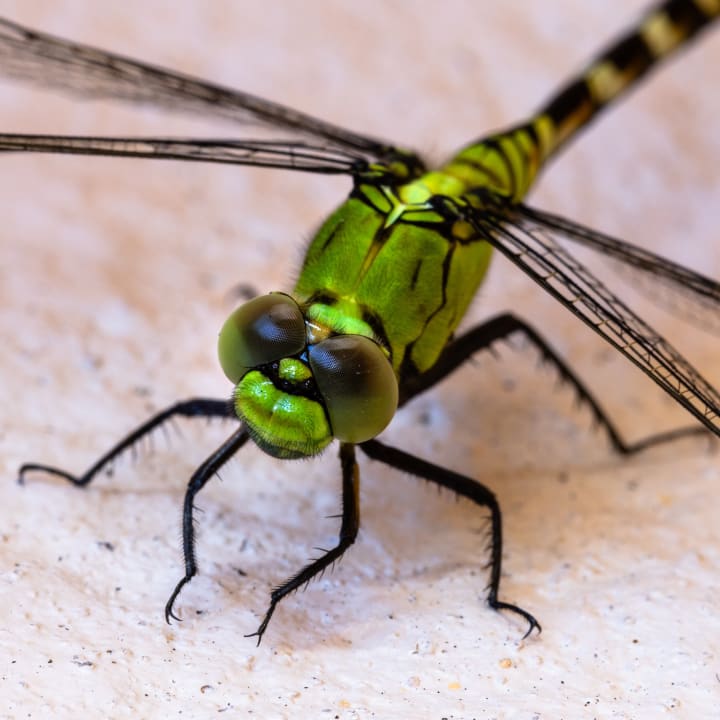 "Frain, you don't have a mouth, and your face splits to smile."
"That is because our race doesn't want to rile."
***
That last said aloud, in low tones of vibration,
instantly absorbed with a full sensation.
He looks overhead as Venus rises in the sky.
"Terra Two," he remarks, pointing high.
***
"We call it Venus; look over there," turning.
"That is Jupiter with many moons," affirming.
***
He replies, "I live beyond your stars, traveling
to explore more creatures, unraveling
visions like your gallery, dazzling."
***
"Ha, ha," I chuckle. "This is my backyard,
full of wonders, but it is a postage card
for your travels."
***
Overhead, the Milky Way
arcs, and a meteor shoots a display.
***
"I will return each season to see the changes
of your gallery, the bright and vivid ranges."
***
"Oh, Frain, I cannot wait for you to see Spring,
with the colors of the rainbow, it brings.
Different colors in Autumn are stunning
to the eye and soul, changing, becoming
the season of rest -
Winter at its best."
***
"Give me a hint, send me signs
when you and I will again spend time."
***
"My dear Willa, what a fitting name for the girl
who showcases nature, so easy for her to unfurl.
My visit has been unique and our secret it will be,
until Spring brings me here to see."
***
Frain disappears in the midnight ether
and the Horned Owl calls to nightly creatures.
Suddenly, I spot a shooting star and my brain
is flooded with another message from Frain.
***
"Thank you, Willa, for our lovely adventure,
I especially enjoyed my dragonfly venture.
The shooting star was me, heading abroad
and I know you will applaud
that I sent you a sign to hold in your heart
until my return to wonders you impart."
About the Creator
🐘Wildlife
🌳 Environment
🍫 Dark Chocolate
Sci-fi, horror, fiction & fact, poetry - share the colors of life with me. Carefully edited pieces, fussing before posting!
Instagram @andicorwin
Threads @andicorwin
X - no holds barred! @andiralph
Reader insights
Nice work
Very well written. Keep up the good work!
Top insights
Compelling and original writing

Creative use of language & vocab

Excellent storytelling

Original narrative & well developed characters

Heartfelt and relatable

The story invoked strong personal emotions
Add your insights