Enjambment
A poem in three steps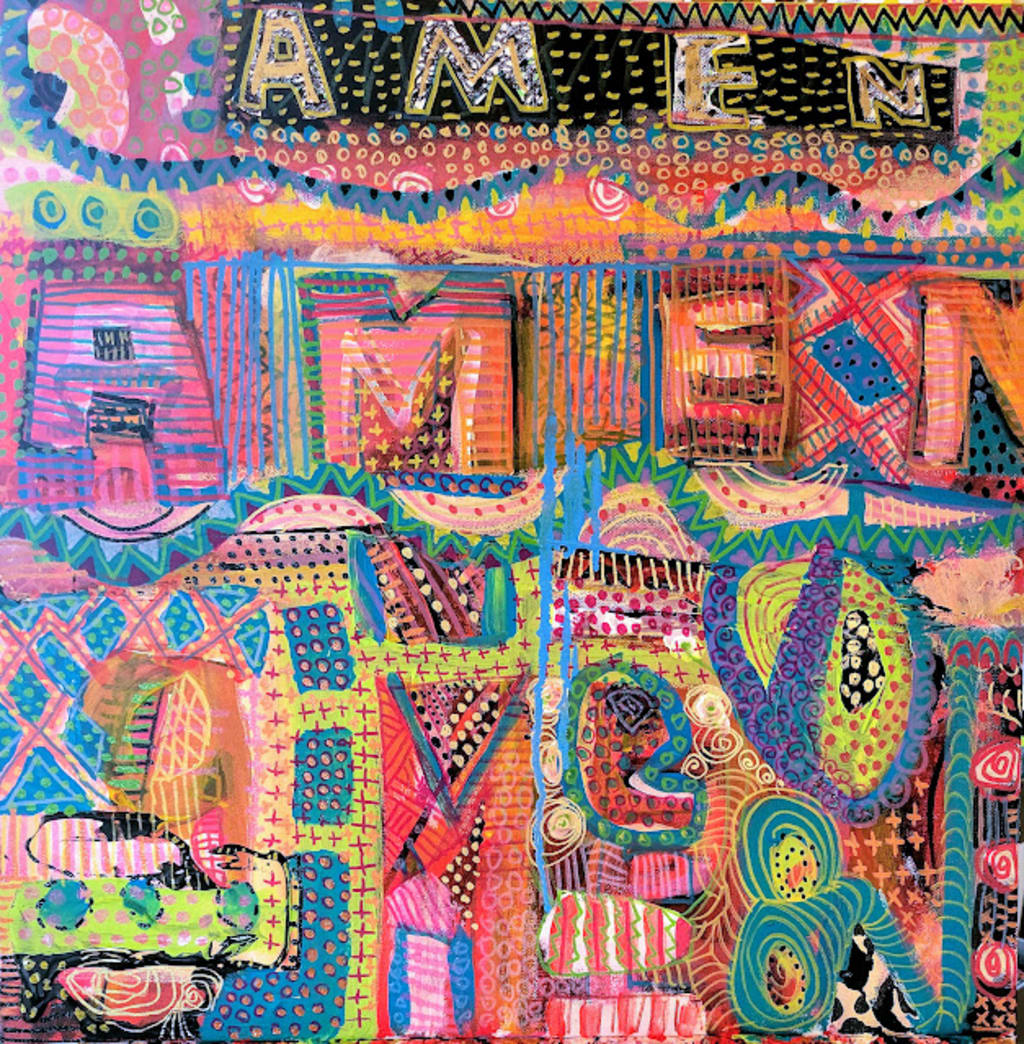 "amenamenamen" Mixed media 2021 P.D. Murray
i.
It's funny (or
Not) how rarely
The Poem
Is read.
I'm not talking about
The poem; the one,
Idly perused over latte,
Dog-eared by the student,
Or looked up as an example
Of a villanelle.
I mean:
The Poem, the one
Capitalized at
Wakes, weddings,
Chosen for
Wooing or swearing in.
It's as if we forget
In the relentless punctuation
Of Taco Tuesday or Hump Day
That the Poem is waiting.
ii.
At T.'s celebration of life
In Austin, her husband
Had hired a NOLA-style band.
We marched around the block,
Boogying to When The Saints,
And stopping in shade for His Eye
Is On the Sparrow.
And I heard her Poem,
Keeping the beat,
Playing the 'bone,
As is only befitting
When the living parade
After the gone-before
Into Texan dusk.
iii.
The Poem is as everyday
As washcloths but as winged
As cherubim.
The Poem is both the ascent
Of a bluesy sax on Lonesome Street
And a goofily-tuned Sunday cartoon.
It's the resting of Bedouins
After a long desert night trek
And the red-eye joe served
As a wake-up at the truckers'
Chapel on wheels.
The Poem is in our blood
At the second the heart
Switches its tides
From indigo to crimson.
It's in our wild birth yawp.
Our lifelong howl.
It's at our last gasp
When our breath
Is purified by our beseeching.
When the party winds down;
When we arrive in Selma,
Nashville, or Nirvana;
When July shrugs at Pride;
When the red carpet rolls up,
The Poem still abides.
About the Creator
Murray is an accomplished painter and writer.
Through 2010, he was shown exclusively by Treehouse Studio Galleries. His work hangs in private collections around the world. He's also published 5 books. You can see more at www.pdmurray.art
Reader insights
Be the first to share your insights about this piece.
Add your insights