Endless Colors
The Shades of Me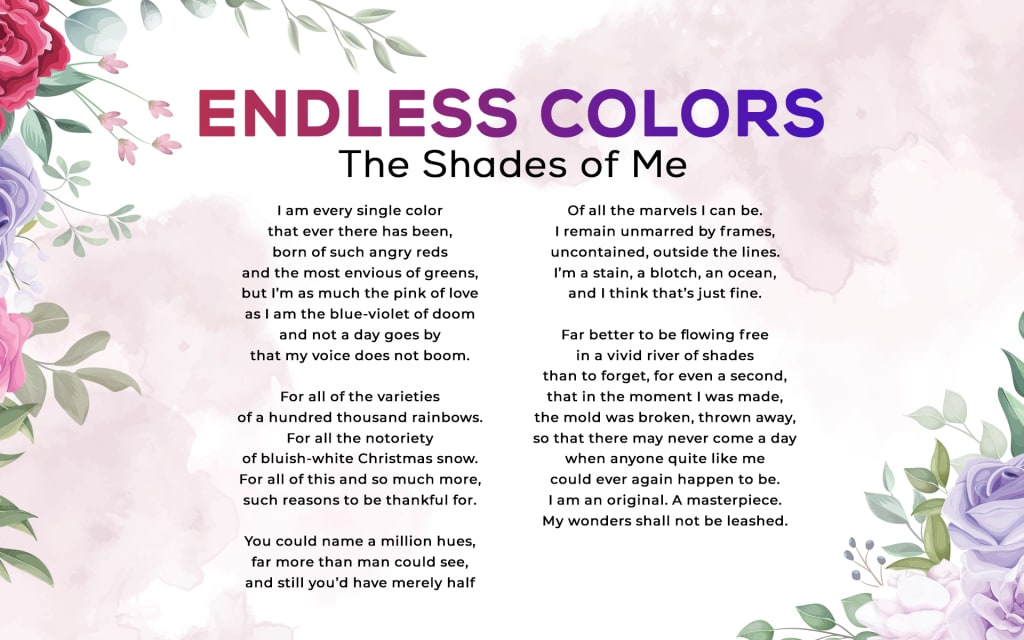 I am every single color
that ever there has been,
born of such angry reds
and the most envious of greens,
but I'm as much the pink of love
as I am the blue-violet of doom
and not a day goes by
that my voice does not boom.
For all of the varieties
of a hundred thousand rainbows.
For all the notoriety
of bluish-white Christmas snow.
For all of this and so much more,
such reasons to be thankful for.
You could name a million hues,
far more than man could see,
and still you'd have merely half
of all the marvels I can be.
I remain unmarred by frames,
uncontained, outside the lines.
I'm a stain, a blotch, an ocean,
and I think that's just fine.
Far better to be flowing free
in a vivid river of shades
than to forget, for even a second,
that in the moment I was made,
the mold was broken, thrown away,
so that there may never come a day
when anyone quite like me
could ever again happen to be.
I am an original. A masterpiece.
My wonders shall not be leashed.
inspirational
About the author
An open minded, highly motivated, hardworking, safety conscious, polite and caring person.
Reader insights
Be the first to share your insights about this piece.
Add your insights