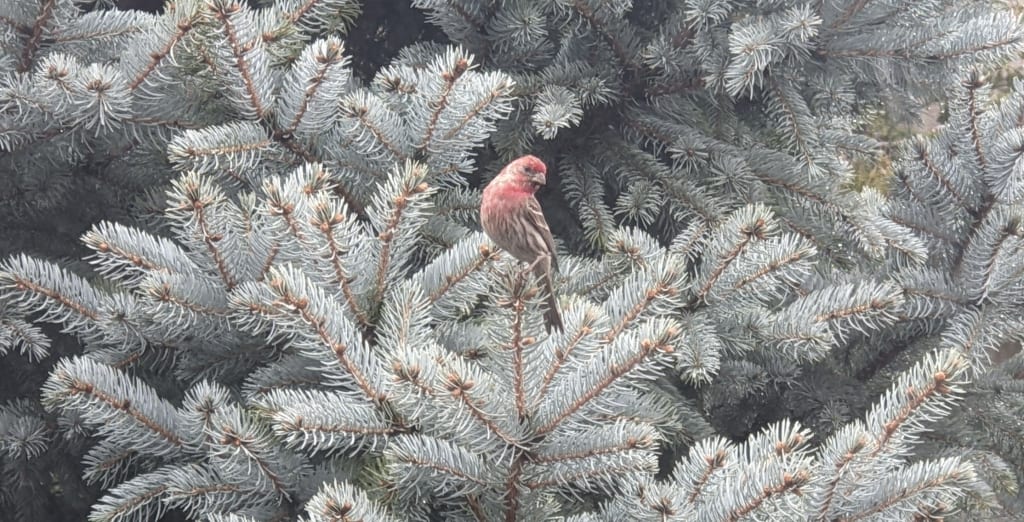 On the smooth surface of an afternoon
I carve a gentle routine with you
Bay windows open, glittering breaths
to cool our heated inner landscapes
and a finch within the quivering ivy
A voice so buoyant, spilling patterns
of complex tones to turn my head in gratitude
I'm inside the song, each bright pulse
reaches me even in the dark locations
where my thoughts sometimes hide,
a shadowy divide, a fault line mended with
crystalline filaments - a protective sphere, inside which
all the emotional luxuries of comfort
can envelope me, draw me back
to the precious present moment
and coalesce in mindful stillness
A vital pause that brings rest and
the rest that births such profound exuberance
Here, with the careful critters whose existence endures
in such isolated severalty from my own, occupying
some entirely different sphere
and yet we habitually meet, and I can gather
these songs,
these intricate treasures that I hold in my heart
The sunny forces of delight always draw my eye
to a glimpse of red feathers in the pine needles
And we greet - a sigh of relief
We bravely faced another day, and prevailed
against all mundane anxieties
to rejoin in our warm, contented connections
and enjoy
About the Creator
The written word is everything. I love to read, and I love to write - primarily fiction and poetry, but I'm also psyched to learn about pretty much any topic and to share my expertise in music and music business.
Reader insights
Be the first to share your insights about this piece.
Add your insights