Creatively Re-use And Re-cycle
To restore my inner peace
When the stresses in my life start to get too much
I need relief and thats when I get my creative on,
To make something that's both physical and mental
Either pleasing to the eye or useful to someone.
***
I begin to look around my environment
To see if there's anything that can be re-used,
Things that are no longer of use as they are
Or are broken and heading for the refuse.
***
It's important to me and I believe to our world
That we make an effort to re-use and re-cycle,
It usually just takes a little creative thinking
So many possibilities with a little effort and trial.
***
So I will write and explain to you in great detail
A couple of pieces I created to restore my inner peace,
Where possible I have creatively re-used and re-cycled
To gain for myself and the world some pressure release.
***
Creative example Number One, a quilt for my son
This come about when I quit my job due to burnout,
Which left me with a cupboard full of corporate clothes
And with winter coming, my son would be cold without.
***
So Day One of being gainfully unemployed has arrived
I was up bright and early, excited to start the day,
My thinking cap was on, I need to plan this out
So here is my creative process that I'd like to convey.
***
My obsolete corporate clothes are taking up space
When they could be re-cycled and re-used,
I'm strictly opposed to anything going to waste
And my favourite fabrics can be recut and renewed.
Maybe a patchwork quilt of memories interlaced.
I then proceeded to spend many an hour and a day
Cutting up my clothing using scissors by hand,
Until I had literally hundreds of fabric squares laid
In the style of the bedroom quilt I had planned.
Moving squares until I was pleased with the display.
I decided this quilt would be a gift for my son
A colourful surprise for his bedroom,
I'd secretly hand sew each tiny stitch, until done
Hoping it would become a family heirloom.
Eventually passed down to my grandson.
Many, many nights sitting in front of a show
A labour of love, sweat and tears,
Slowly the quilt continued to grow
Ensuring the quality would last through the years.
Suddenly all that's left is the border to sew.
I loved every minute putting this quilt together
As it satisfied my creative urge,
Perfect timing as here comes the cold weather
And my son climbed underneath fully submerged.
Promising to keep his gift forever and ever.
Creative example Number Two, a piece of wall art
An idea that popped into my head one weekend,
As I was cleaning and found objects not longer useful
Could they be made into a piece of art, well that depends.
***
What do I have to start with?
A piece of wood from an old bed
Some faded fabric and leftover nails,
Cotton from an embroidery project
And lastly a drawing my son unveiled.
***
The tools I have at hand?
A hammer
Some glue,
My trusty scissors
Yes they'll do.
***
I gaze over the materials
And suddenly inspiration comes to mind,
I'll glue the fabric to the wood
Lay over the drawing and tack the outline.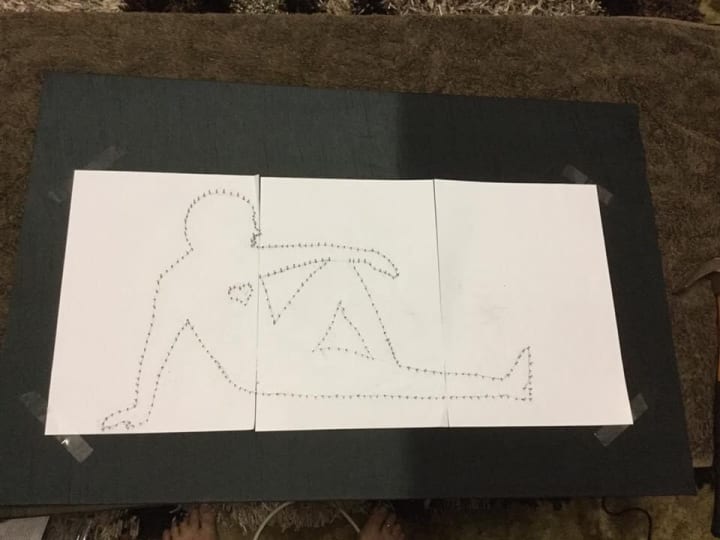 I use my trusty scissors next
To cut away the drawing,
We now have a silhouette
As a result of our exploring.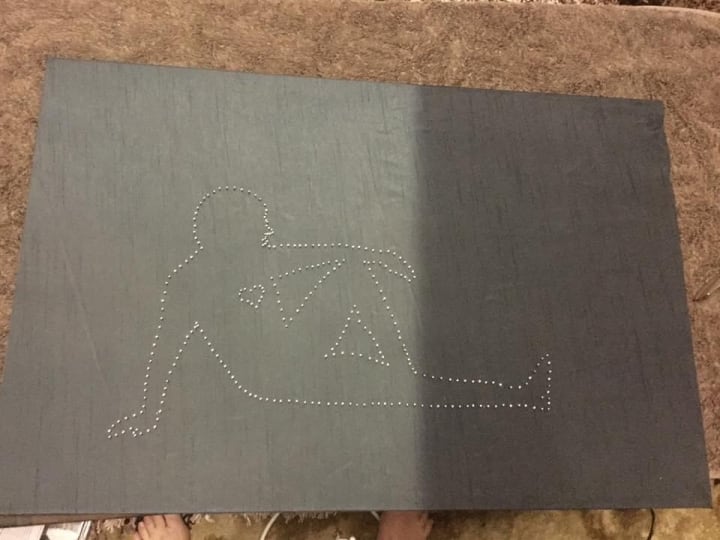 Mmmmmmm where to go from here
Oh I know, we still have the string on hand,
Along with some leftover nails
To be tacked randomly around the man.
***
The string and nails can now become
"Spotlights" in string art,
Highlighting the silhouette
Along with a pink string heart.
I was extremely pleased in how both of these
The quilt for my son and the piece of wall art,
Turned out, once I had fully completed them
Especially as they were to be rubbish at the start.
***
I have restored both my inner peace and my pride
In being able to help our environment too,
I finished with a real sense of accomplishment
And both my mental and creative streaks pursued.
***********************************************
If you liked my writing, please click on the small heart underneath, near my name. Or send me a tip and let me know you enjoyed it.
****
Please click the link below my name to read more of my work. I would also like to thank you for taking the time to read this today and for all your support.
If you enjoy this piece, you may enjoy this one too.