COSMOSis
who are you, stranger?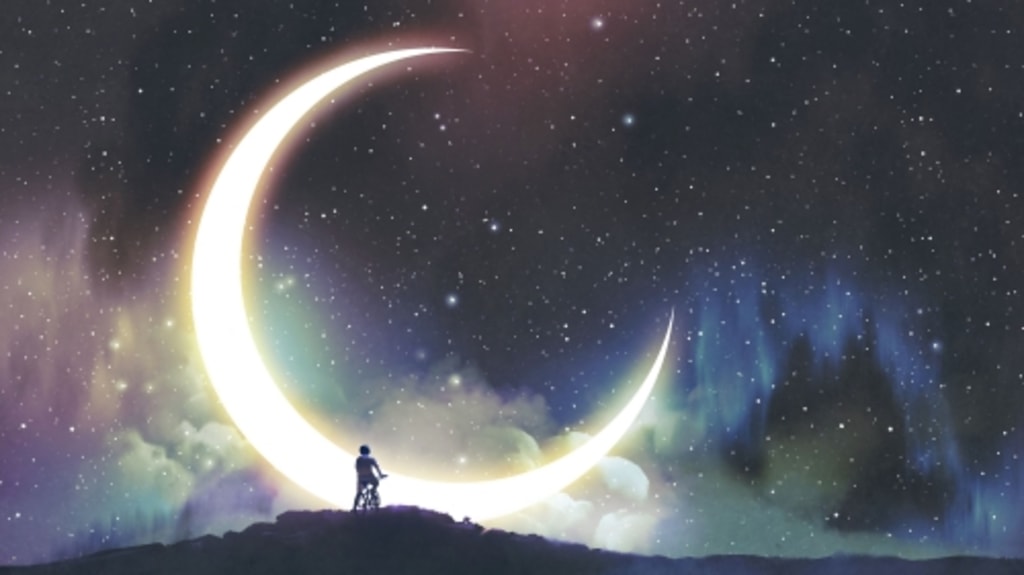 Do you not see?
Who are you, stranger?
Are you the one watching over me when the day ends?
When the sun hides and you magically appear just around the bend?
Your imperfections make you perfect. Full, crescent, new, waxing and waning.
Wistfully, I try to fathom your whole being.
What beauty is she?
Glittery light shining from her face, the Moon turns in a steady pace.
Looking down at the end of the hustle of our daily race.
Silver dust gathered over her face - beguiling, charming, mesmerizing.
Constant, calm, silent, full of wonder to me. She is changed but unchanging.
When do you come out?
When she hears the cheerful sound of children playing hide-and-seek laughing in the Twilight
A gentle melody of owls and wolves and crickets and frogs at night.
When she sees the bonfire, and the aimless wandering of lovers out of plain sight.
In my dreams, the good ones and bad, and when I hug the one who tucks me in and reads me bedtime stories tonight.
Where do you live?
Where the moonbeam falls between mountains and valleys, and on the horses' stables,
In the sand and waves crashing in the sea, influencing ebbs and flows and tides alike
Where glass is carefully shaped when lighting strikes
And the soul and spirit in your eyes sparkle.
How are you, Moon?
Has anyone ever asked you that?
Not only do you look and listen to everyone's happiness and joy, misery and woes about life
But you pause, think, and reflect, and show no interest to engage in idle chat.
Sometimes you remind me of a noble, polite and lovely wife.
Why do you do what you do?
Do you know, she said, who knows you and loves you anyways?
Look out your window and look up.
I can, I will keep your secret, says the Moon, her heart in full display.
I know all of them. Now sleep, my child, rest and stop.
But do you not get tired of all the stories that you keep?
Are you not bound to burst from all the worry of all the troubles you bear?
Yes, I do, says the Moon. I cry too and let out tears, heart on my sleeve I wear.
Don't you see them all around you, up in the Sky with me, and count them like sheep?
Do you not call them Stars?
And that's when we became reflections of you… We became you.
Your light, your darkness, your ambiguity, your constancy.
Your love, your passion, your life, your inspiration. Little glimmers of hope in you, of you.
Distant, yet near. Alone, but never really lonely.
Do you not see?
The sky is our perpetual backdrop, our home, in splendid deep shades and hues of pink, purple and blue.
The clouds form your thoughts, bubbles of ideas which are your mind's fruits.
Madness, and explosions, and little triumphs, and evolution, and truth.
All of it. Plus you.
Do you not hear? Do you not know? Do you not understand signs when stars align?
We're joined in this time-bound thread we call night.
Yet night turns into day, when the sun wakes you from your dream.
Life, made of night and day, sun and moon, stars and clouds, and everything in the universe, tell I might.
Life, this link, this connection, is timeless.. it all makes sense, or so it seems.
So, for now, Goodnight.
**********************************************************************
if you enjoyed this, please click on the love button. you can also send a tip to show you loved it. thanks heaps :)
performance poetry
About the author
Anna is a Filipino-Aussie based in Perth, Western Australia. Her writing is unique and interesting, a paradox filled with (thought) bubbles, (word) balloons and (fairy) dust of doodles --- inspiring creativity and sparking the imagination.
Reader insights
Be the first to share your insights about this piece.
Add your insights