Color Commentary on the Game of Life
Harris Expresses the Beauty and Dismay of Life's Late Innings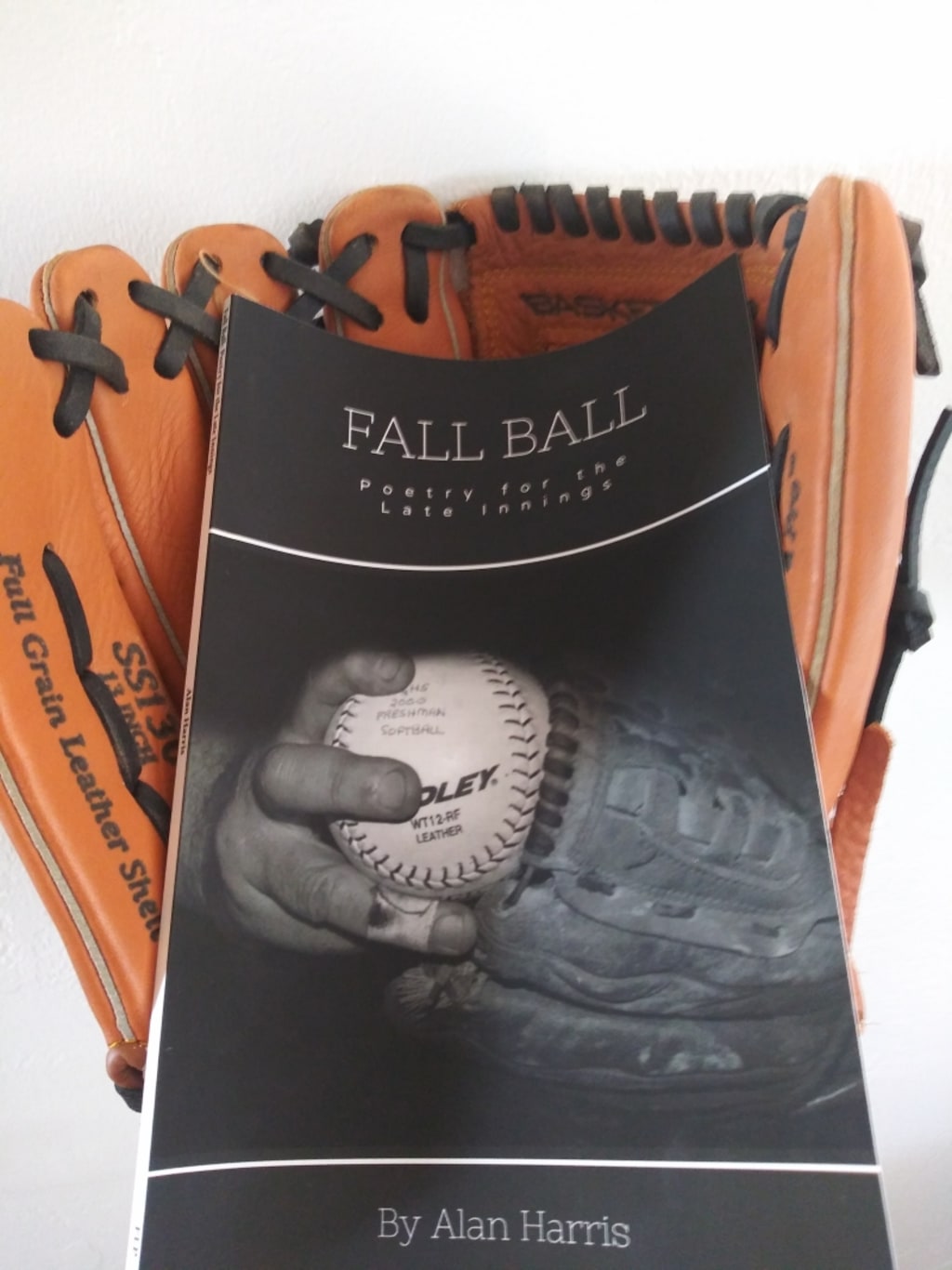 Baseball has long been admonished for being too slow, too boring form of entertainment. Alan Harris proves those critiques to be wrong. He uses this sport has a vehicle to talk about life, death and the moments in between. His writing perfectly depicts those players and spectators who are quite ready to go home by the game's end and those who want to play just one more round of catch, just watch one more game. Harris' collection Fall Ball is chock full of a powerful somberness, a sardonic wit, mournful stanzas and the inevitability of death. In short, it is a beautiful work of poetry.
Each of Harris' verses carries a sense of urgency and calmness, of bleakness and joy. There is no time at all, but then again there are years of life stretched out, days painstakingly inching by. Inning, after inning, after inning - until at last the game comes to a close. Life, death - these concepts are inseparable; there is no hope of having one without the other.
At times the absurdity of human existence can seem so overwhelming that it is easier to close one's eyes and scream than to spend time pondering it. But Harris' emotive writing distills this natural process in order to create a poetry collection that is constructed of tombstones glistening in an emerald field. His work is able to travel along the lines of uplifting and harrowing.
In "Whisper" he rattles his readers' bones by stating, "but the child is undeterred / persistent / and quite possibly / rhetorical / asking me once more / ....is that all there is?" The sudden crush of facing their own inner child, who once had heady, grand visions for the future, will rock readers to the core. Yet, Harris does not let his readers descend into despair.
He picks them up and brushes the dirt of existential crisis off their clothes, explaining that, "...everything has an expiration date / including life / and only a fool / needs to read it on a sign". This is the nature of things, and it's better to appreciate the sunlight that makes the game possible rather than waste it. Harris also makes the point that growing older doesn't result in the complete loss of your inner child: "Thankfully the winter / freed the child within me / Together we try on old mittens / and await the final snowfall". This bittersweet beauty is a staple of Harris' collection.
Fall Ball is broken up into four movements, the two most impactful being Lucid Moments and Hospice Bed Confessions. In these sections of the text, he gives a voice to the elders of humanity, those who are treated "...like a shadow in the shade...", and seen as "...substantially sub-par...". Though society may try to impose confinement upon them and "...keep children away / making us and death / less visible...", these older people are still a vital part of humanity.
They should not be kept silent or ignored, and the integration of young and old is actually quite healthy for both parties as the loving poem "The Gift of Young Visitors" argues. The speaker makes a simple, heart wrenching appeal to the readers, "that's the main reason / to allow children to / mingle with the dying / so much for us to learn from each other". There is such loneliness and heartbreak in those verses that readers will "....take turns / crying in silence..." Harris' work begs his readers to remember that "...both patient / and wood had stood tall / through thunder and rain / sunrises and sunsets" when they interact with the elderly.
Fall Ball was published by Finishing Line Press in 2018; it is a moving collection which seeks to educate its readers on the struggles of the dying and also urges them to not waste their time on this spinning stage. Like the elderly, this assembly of poems is worthy of your time and respect.
_______________________________________________________________________
Interested in sponsoring a free review for a poet? Donate Here!
If you're a poet who would like a free review, click here!
About the Creator
Welcome! I provide free book reviews for modern poets! At the end of the year, 10% of all earnings and donations will be given to a non profit organization. This year you will all be helping Lambda Literary! Thank you!
Twitter: @poetryberry
Reader insights
Be the first to share your insights about this piece.
Add your insights