Bring it home
a tribute to sacred brokennes
My Beloved One,
you taste your sweetest wine
from my tears tonight. I see you
gather each drop in your
sacred chalice as I fall asleep.
You place you ear in the center
of my chest now to hear
the sweetest melody as
my heart is beating in awe
of this sacred brokenness.
"Every thing ...seen as 'good or bad'
is sacred before these eyes,"
you whisper in my dreaming space.
"You know I am being created
and re-created over again
in myriads of ways".
And I hear you...and I know that
when I wake up each morning,
again and again...it is
my enduring task
to bless this sacred
brokenness,
to bring it
Home.
***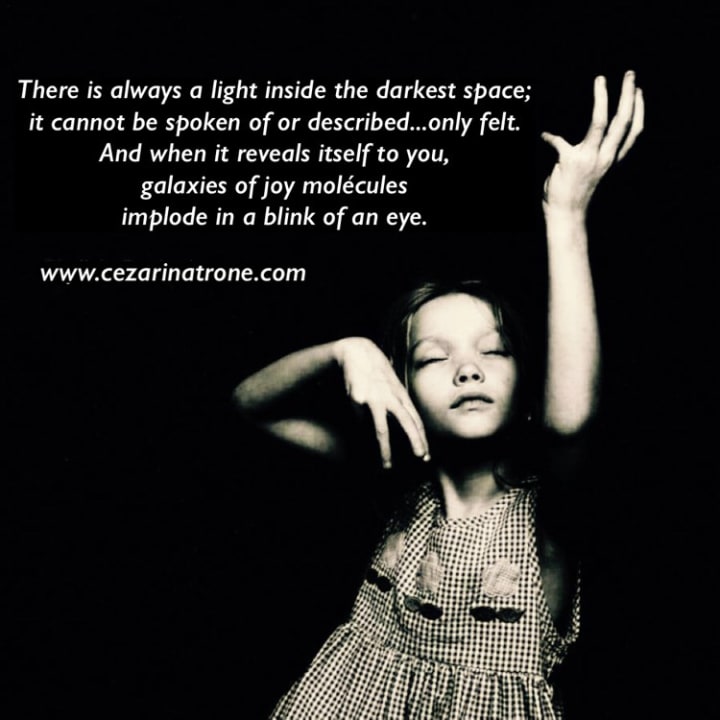 My beloved readers, I offer you this poem to soothe any emotional pain and remind you that you are never alone. There is always light in the darkest moments. Reach out for that light, feel through the depth of the pain to reveal the root of love within your Being.
IG handle @cezarinatrone
inspirational
In my native Romanian Village I wrote Poetry in the night fragrant gardens as a child. These days I bring Magic, Ease & Flow to others in each moment 'to make them light up inside'.
Book an Energy Session anytime: www.cezarinatrone.com
Receive stories by Cezarina Trone in

your feed