BREATHING OUT VIOLENCE
Masked men who scared the hell out in thuggery and robbery, Are now outnumbered by all of us with our masks of unintended snobbery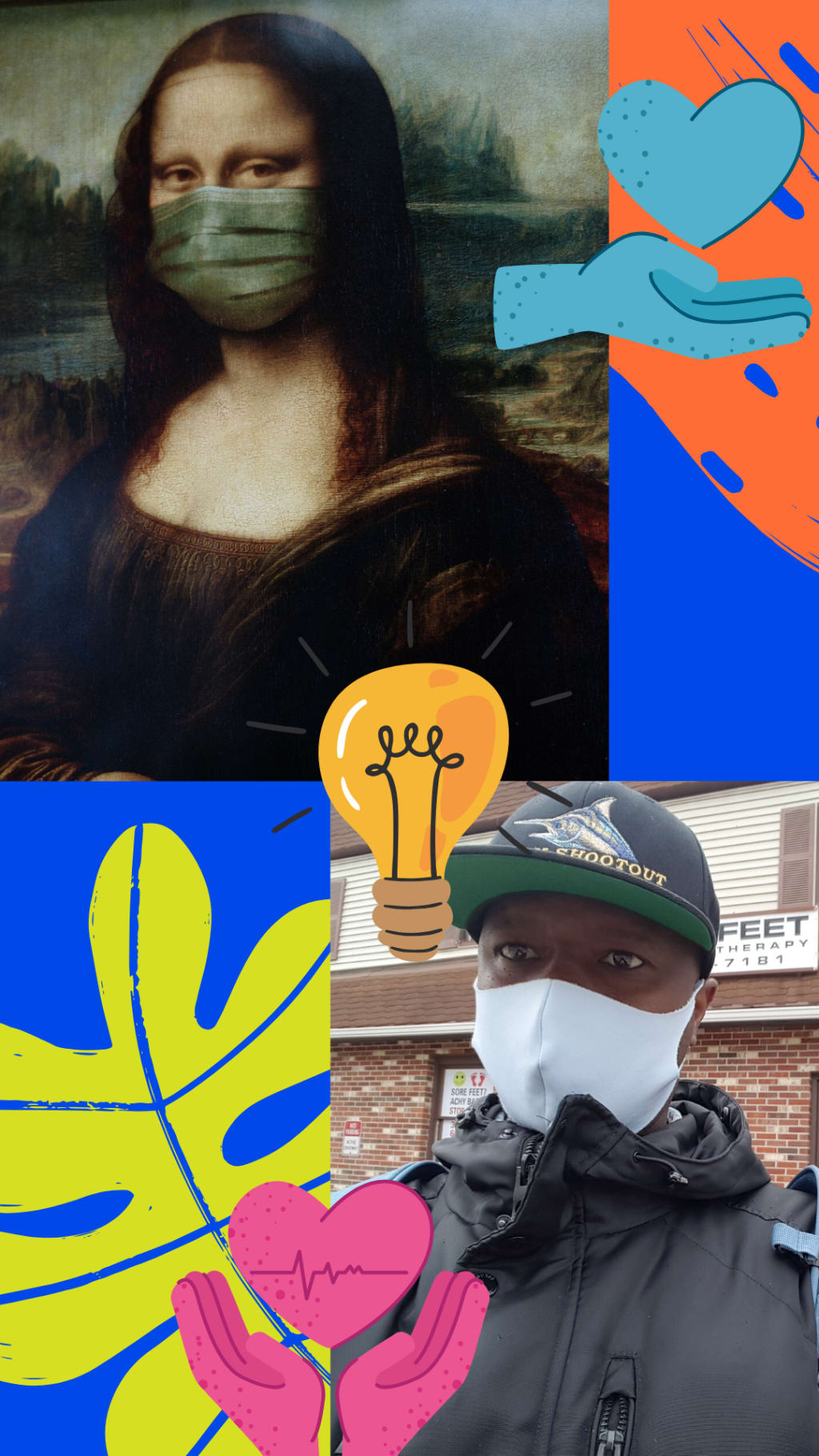 By Andrew Benson Greene ©written on May 6th 2020
That's the worst coronation,
You brought upon our generation. That's one of the most brutal sovereignty, Our world has ever seen.
It slowly started in twenty-nineteen. Superseding the very worst of monarchies. From the onset, you deployed the most destructive anarchy, By dispatching the most ferocious and invisible viral army, which you sent out, to invade every country.
Forcing the world to watch the scenes of horror Of this your shear rage and reign of terror. - We watched with timidity from a distance, As borders and boundaries of countries, put up limited resistance.
We watched on TV and on the internet, Sometimes with interest or disinterest As though to corroborate your reign of terror. Bearing witness to all your inhumane horror.
You quietly kept on spreading Discreetly plundering Moving quickly with a deadly sneeze.
Worming your way at a fierce ease,
Breathing out violence.
You brought an unusual strife, Quickly weeding humanity of its way of life
You forced us to obey a creed of a prolong lock-down
Mandated by your mysterious and deadly crown.
From the head of your crown,
To your furrowed face and frowns,
From your wicked silence,
Breathing out violence.
And just as we thought the spread could ease
The numbers suddenly increased.
You flew too quickly without notice of your baleful intent,
Breathing out violence,
Causing visible fear and resentment,
From Wuhan to the world and Italy,
Causing deaths that were untimely.
Now, when one part of the world sneezes,
We all might catch the cold, fever and chill.
A sign that for better or for worst
We are a connected world.
And so, the world must collectively fight and stand tall
Against the momentary viral conquest,
For if we stay aloof, we are weakest
To a virus that has put to test,
The wisdom of scientists,
Defying modern science even as doctors persist,
As they scurry and hurry
To invent and test the best vaccines,
To cure a virus that caused so many deaths, pain and grin,
The worst wages of sin
The world has ever seen.
In your silent terrorism,
You sneezed and coughed out blatant pessimism.
Breathing out violence.
You infected the lungs of the five continents
With your virus bloated with inconvenience.
Quickly blemishing our way of life
Breathing out violence,
Making an entire world walk in masquerades
Or else your virus could raid.
Masked men who scared the hell out in thuggery and robbery,
Are now outnumbered by all of us with our masks of unintended snobbery.
And in the very heat of the corona virus,
Mask come in various surplus
As though an unsolicited vogue
To keep away this viral virus rogue.
You surreptitiously walked the earth in vengeance,
Breathing out violence.
And so, your wicked crown mandated all to wear face masks
Which were once prohibited
But now publicly exhibited.
And now, it's our daily task
To adorn and exhibit Face masks
That were once exclusively won by those in the medical field
To help doctors protect and shield
Patients as they endure
As doctors perform surgical procedures.
And the once familiar 'bless you'
That accompanies a sneeze
Has suddenly ceased,
For this is not your normal flu,
that affects only the unfortunate few
And so, in its place, 'bless you'
Has suddenly been replaced
by sudden bursts of scorns or rebuke
Or to some, a terrifying look.
Those brave health workers, too brave and smart in the medical field
Too bold to hold sway and yield,
They do not budge to the mantra to 'stay home, stay safe';
They came out in their numbers to stand the fight without a fright.
All the heroes; the front-line workers who will not budge-
They do not stay home but clocked the time and went to work,
And their examples could urge us not to dodge,
Our sense of duty but to be selfless and become our best,
To do our work with passion and zest,
To stay through without fright or flight.
For they do not go sleeping all night.
Restaurant workers, clocked in on time,
Took orders through drive-through all day and night.
Fire fighters and first-responders could be seen on sight
They could dash to the spot to answer to a call
they did not stay home when a person is sick or falls.
And quick-witted teachers kept on zooming
As Covid19 kept looming
They were quickly transitioning
And revolutionizing
The way they teach thereby encouraging their students in online learning,
Even as the corona virus kept roaming.
Now, Covid19,
You will never win,
Even as you detested our affection for social gathering,
Decreeing that we must abide by social distancing.
You calculated a six feet proximity,
So that we might forgo and loose our social affinity.
We will resist your vengeance
So that the world will stop breathing out violence.
Andrew Benson Greene
About the Creator
Andrew was a Sauve Scholar at McGill Canada, a UN ITU Telecom World Digital Innovation Fellow in Geneva, a Masters of Science in Law student at Francis King Carey School of Law. He earned his BA from Fourah Bay College, Sierra Leone in 1998
Reader insights
Be the first to share your insights about this piece.
Add your insights