Bountiful Beauty
Northern Maine Life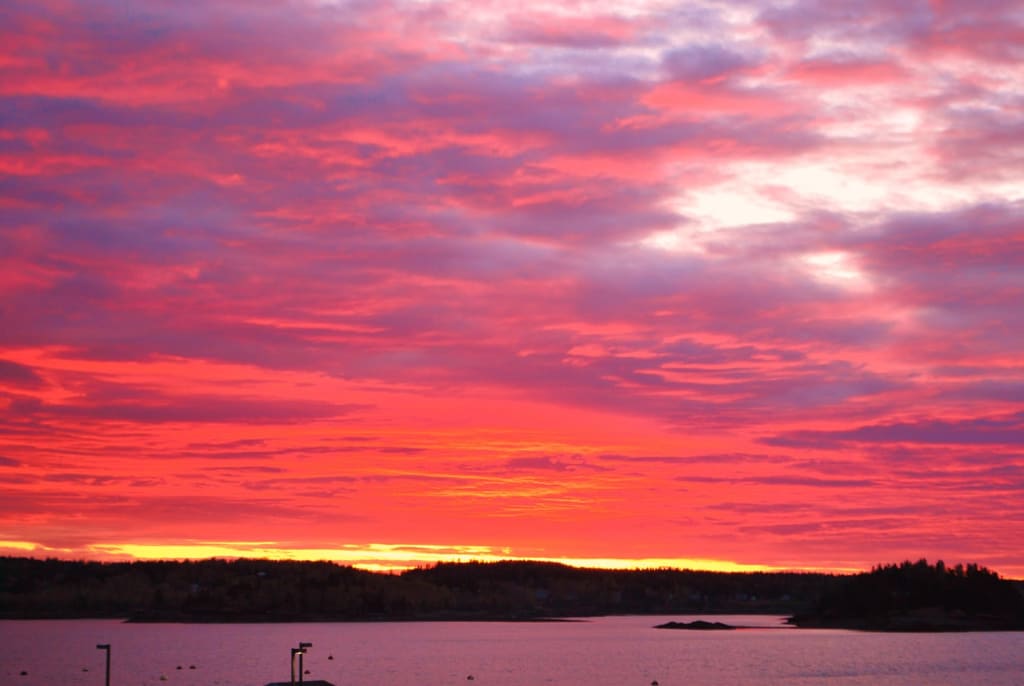 Northern Maine's Beauty
Red, White, and Blue stripes make up the American Flag, a place that will forever be my home. The flag blows ever so gently in the midsummer breeze, as it sways from side to side it symbolizes America, our Freedom, and all those who help to keep our land safe, where families come together united as one in time of need, where I am free and proud to raise my family. The bright blue skies above me remind me of the big blue sea. As I lay on the cool grass that gently tickle my bare feet, I reach over to hold onto my little girl's hand. I glance over only to see such excitement on her face as she looks above to the heavenly skies.
As I watch her I can't help but feel free, for the first time in a very long time all my worries and troubles have been set free. I smile as I watch her eyes light up watching the puffy white clouds flow across the skies; I can't help but laugh at times as my daughter and I both use our creative and fun imaginations to make up cloud creations in the sky as they gently flow by us. This precise moment in time as I lay here relaxing, laughing, and having fun I will always treasure times like this, holding on tightly to the special memories made together where I will cherish every moment shared together forever. Its moments like these that I long to have, ones that will never be forgotten, memories shared that hold stories to be told to future generations, where I can call home and know in my heart that this is where I belong.
The next morning, I awakened to trees all around me blowing gently in the Midsummer Day with birds all around chirping a soothing and gentle song, skies all around are as blue as a newborns eye with the smell of my mother's home cooking calling my name. Rivers flow so gently all around, many filled with plenty of fish waiting to be caught as school bus's drive down the road with sounds of local farm tractors and farmers tending to their fields. Many beautiful valley hills with curved, old, back roads, led to lots of fun destinations and some hidden fishing spots that I would take my daughter too, it always made the trip extra special. Some nights driving the long, back roads were just for fun, while other nights we would be on the lookout for deer. My daughter always kept her eyes wide open, making sure that she was on the lookout for anything moving that had a white tail or antlers.
The dreams, the memories forever to be cherished hold dear to my heart. Like a dream one has as a young child, my dream of living in a free world is one that makes me happy. Like a child I too had lots of dreams, goals, even ambitions. Many have failed me in time, while others I forgot about or never even tried to pursue as I grew older. It seems that no matter how hard I tried each day, life seems to be passing by all the time quicker and quicker with each and every passing New Year.
People come; people go every day in our lives. Those we love pass away, move away or sometimes become nothing but a distant memory. Things are always changing all around us, nothing anyone does can stop it or even change the path laid out before each one of us. It is our duty, our job to take this one life we are given to make nothing but the very best of it, no matter how challenging or though things may get from time to time.
inspirational
I'm a Single, Disabled Mom and Devoted Christian. I'm also Working Online from Home Trying to Earn an Income for My Family Selling Gorgeous Nail Set's Made By Color Street. My Direct Online Site to Order is colorstreet.com/AmyWilcox39
Receive stories by Amy Sprague (Wilcox) in

your feed