Awaiting a Facón In the Back
Paranoia and Paradise Both Reside In Stephen Page's Newest Collection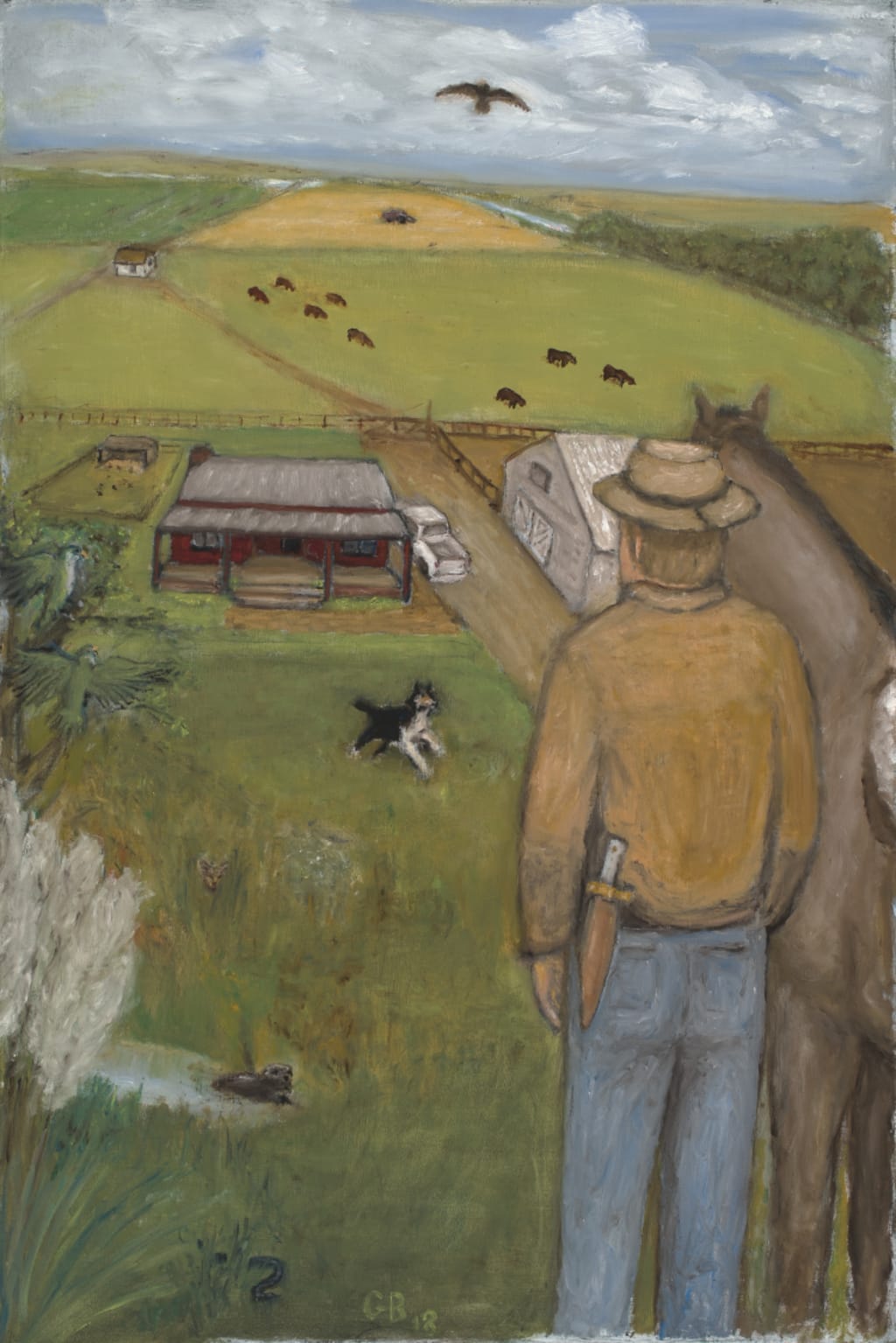 Stephen Page's tall tale inspired poetry is back with more dream like language and tension than ever in The Salty River Bleeds. It is full of descriptions of hard farm life, daydreams and countless moments of human failings. Although this most recent collection, which will be released later this year, is a continuation of Jonathan the rancher's story, the poetry also sows new characters into the readers' imaginations and harvests tantalizing, rich details about old familiar faces.
One such new character actually emerges at the onset of the book. His name is Obligation. And although the poem is only four lines long, Page uses each word to the fullest. The end result of this skillful word carving is quite a captivating silhouette of this fellow. Readers will be able to envision Obligation in the corner of their eye as they gaze upon his description and learn that his "... hair is black, as are his eyes, beard, suit, and tie." They will nearly feel his body heat in the room, standing there with "... a folded newspaper under his arm. / He smiles at the Beauty of Ranch." This is one of the highlights of Page's writing throughout the collection: his ability to distill a human essence upon the page.
And of course, Jonathan is still engaged in his favorite activity, myth hunting, as the second poem in the collection, "Jonathan Goes to Search for It at Sunset," informs its readers. He is once again out in the wood, away from the ranch with all its malcontents and dragging responsibilities which dig at him like a hangnail. "The Myth he searches for must certainly be there, / in puddles swimming with tadpoles and larvae," and yet, it once again evades him.
There are many interesting turns of phrase to be found in Page's work, but "His Name is Pac-Man" is the most spirited, exuberant and, to be frank, the most fun piece to read. Pac Man the stallion "...has found life in the vision / of ranch and eats it voraciously." Who can not feel a longing to live as this animal? This "Man of War, a king in his own world" seemingly has more agency and more fully engages with life itself than any other character in the collection.
Pac Man doesn't wander aimlessly seeking out myths. Instead, the "moon haloes his mane / as he learns the phases of grass" and "...leaps fence in search of rain." Pac Man is interested in what is present, in what is attainable, in what is real. Pac Man even has a spot in the book's dedication. That is how vibrant this character is. His poem is full of pumping blood and affirmations of living. Current readers of Page's work and fresh eyes would be remiss if they failed to allow this poem some time in their lives.
Those readers who are familiar with Page's first work in the series, A Ranch Bordering the Salty River, may find themselves asking where is Teresa? Unlike Pac Man, Teresa continues to avoid taking corporeal form. She does deliver a condemnation upon Cattle Rustler, but that is the only time she rises to the surface as a character. Forgetting her existence is easy. We know more of Tattler, Obligation (who turns out to be Teresa's deceased husband) and Pac Man the horse than this woman who apparently shares in the story of the ranch.
Even more present than Teresa is the sense of paranoia that rises with each poem, ever more putrid. The idyllic nature of the ranch rots away throughout the collection. With every passing day, Jonathan believes more and more that a knife, literal or metaphorical, will be planted in his back.
There is thievery, cattle rustling, and Teresa's son, Damien, attempts to claim ownership of the ranch as if he were a prince too eager for the crown-bearers to die. Jonathan pictures himself as Lear, calling Damien's wife Goneril. There is a steady draining of his joy throughout the collection; he proclaims with agony, "I never wanted this job."
The trouble in paradise is boiling over.
Page once again breathes life into his poetic universe, this time adding even more detail. The Salty River Bleeds is an interesting and unique work; those interested into diving into it will find it is available for preorder through Finish Line Press.
________________________________________________________________________
Interested in sponsoring a free review for a poet? Donate Here!
If you're a poet who would like a free review,
click here!
About the Creator
Welcome! I provide free book reviews for modern poets! At the end of the year, 10% of all earnings and donations will be given to a non profit organization. This year you will all be helping Lambda Literary! Thank you!
Twitter: @poetryberry
Reader insights
Be the first to share your insights about this piece.
Add your insights