Arthur Rimbaud: "To a Reason" and "Lives" (1886)
New Translations by Tom Baker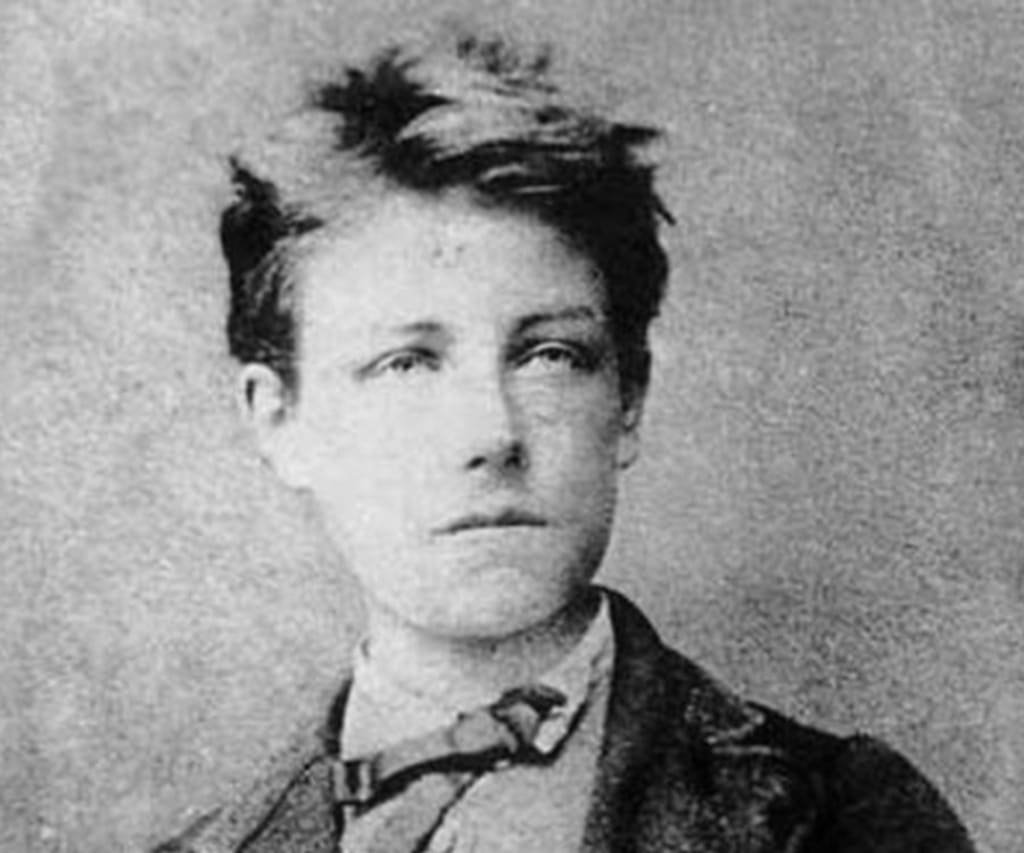 To a Reason
A tap of your finger on the drum releases all the sounds, begins a new harmony.
A footstep of yours, the progression of New Men and their forward march.
Your face turns away: Oh! your new love!
Your face turns back: Oh! Your new love!
"Change our fates, sift through our calamities. Make sure you start on time," chants the voices of singing children. "No matter where lies the substance of our fortune and desire, do not elevate it to importance."
Arrives on time, all those who will go everywhere.
***
Lives
I
Oh! The enormous avenue of the land of saints, the terraces of the Temple! What is the fate of the Brahman who explained to me the Proverbs? Of that time, over there, I can still see even the old crones. I can still remember the silver hours and the sunbeams on the river. The hand of the land upon my shoulder, and our caresses standing upon the peppery plain. A flight of scarlet pigeons thunders about in my brain. An exile here, I at one time had a stage upon which to perform all the masterpieces of literature. I would set your eyes upon all the treasures unheard of. I observe your history, the treasures you have unearthed. I see the consequences. My wisdom is as disdained as your chaos? What is my oblivion to the confusion which is waiting for you?
II
I am an inventor, and deserving of far more than those who came before; a musician even, who found what approximates the Key of Love. Now, I am a gentleman waging a bitter struggle against the skies of sobriety.
I search for the moving remembrance of my beggar childhood, the apprenticeship and the arrival in wooden clogs; the debates, the five or six widow hoods, and the handful of weddings that halted me from progressing along the same wavelength as my comrades. I in no way regret my old portion of the divine gaiety—not at all. The sobering air of this bleak countryside very actively feeds my atrocious skepticism. However, as this skepticism can no longer be put into practice, I am waiting to become a particularly vicious lunatic.
III
In an attic, where I was imprisoned at age twelve, I came to know the world. I illustrated the human comedy. In the wine cellar I learned history. At some evening party, in a northern city, I made the acquaintance of the women of the Old Masters. In an ancient passage in Paris I was instructed in the classical sciences. In a magnificent residence, surrounded by all the Orient, I accomplished my epic work, and passed my illustrious retreat. I'm storing up blood. My duty is accomplished. You don't even have to take that into consideration anymore. In all truth, I come from the Other Side, and without commissions.
Tom Baker Website: