Art Imitates Life in Snyder's Work
The poet and reader become one in this collection.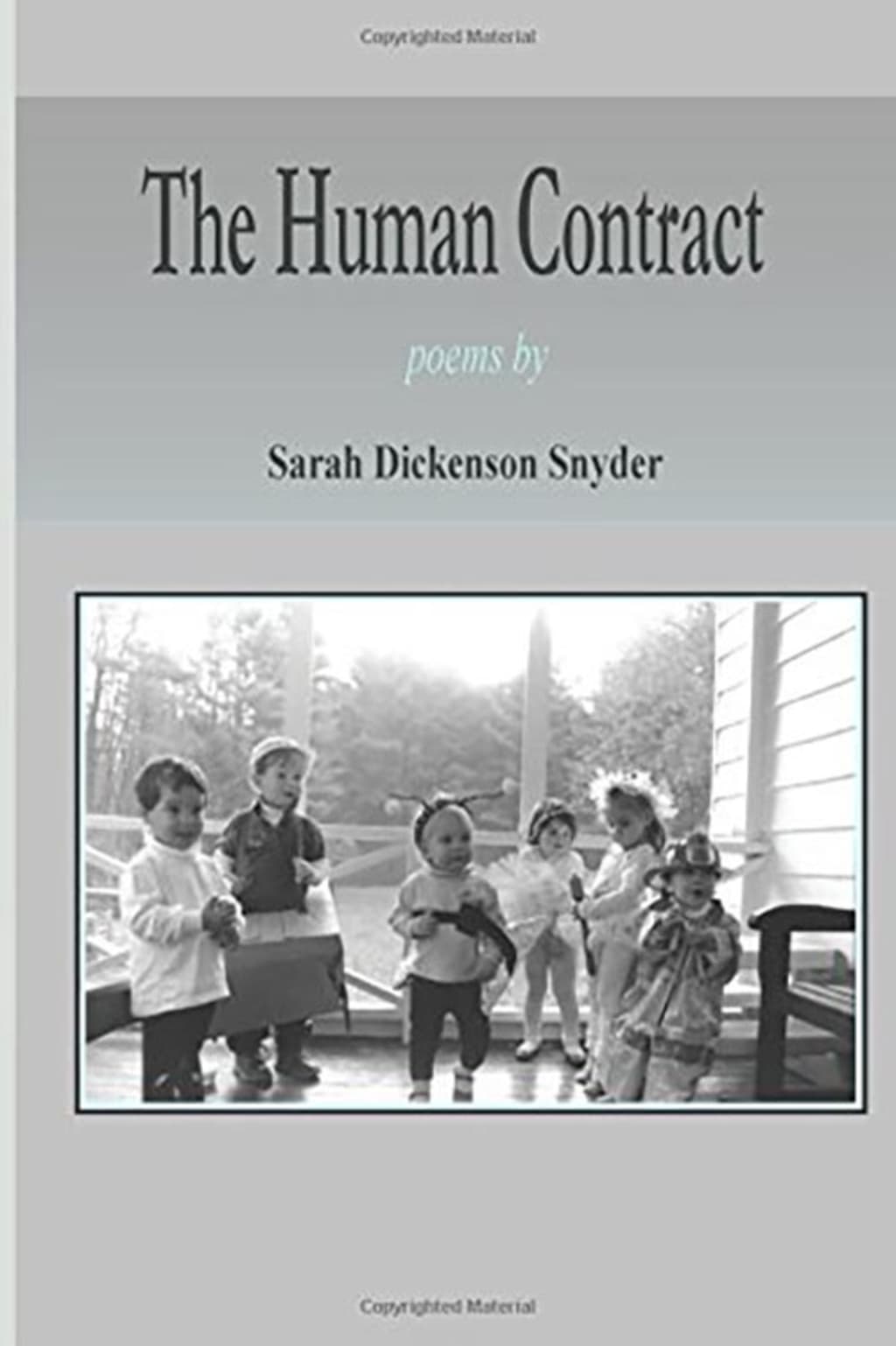 Amazon
Flashback after flashback whirls the readers of Sarah Dickenson Snyder's 2017 poetry collection, The Human Contract, through an entire lifetime. The speaker recollects her childhood and her process of growing up in vivid detail. Her parents are revived, in a way too, through this impressive collection of verse. Snyder conjures them up when they were thriving adults and sets them back down that path which inevitably leads them into their physical decline. Her grandfather is featured in the text as well before she moves on to the forays of parenting her own children.
The Human Contract is a very different animal from her second collection Notes from a Nomad, which contains more hypnotic and serene poetry inspired by travel. While a few of the poems in the former book seem to be puffs of air, drifting into nothingness, Snyder pulls no punches with the majority of this work. The book is almost feral in its honesty, with no cares for the polite society of man. Because to feel every emotional pang brought on by this poetry, the speaker demands that the readers become passengers within her very own the flesh and blood, silent witnesses.
Opening the collection, "In the Parking Lot after School," reveals this absolute disregard for keeping one's troubles to oneself. The readers are abruptly thrown into the speaker's life as they learn of "...bank over- / drafts, students yelling, Fuck you! / Oh, and an abortion, a whine deep / within me." The audience and speaker immediately become so entwined that now there are "...secret signs..." between them.
In "My Father" and "For My Mother," Snyder delivers lines which are meant to devastate; they succeed. It is impossible to feel anything but a deep-seated heartache when the speaker narrates, "Today, he'd rather not hear / my mother reminding him / how far away he is / from the man he was." And when the readers follow the speaker as she breathes "...the brush the way / I inhale lilacs, almond cake. / Nothing of her / is left. Not a scent," the coldness of loss will wash over them as would a chilly, sudden rain.
There is a sense of desperation running away with many of the poems in this book as well. "Winning" is not quite an ode to the process of waiting and praying that some literary editor will see fit to publish a set of poems and therefore legitimize them. "I want her / to read them out loud - so loudly I will hear her." This piece's theme of wild eyed yearning is carried on in "Waiting for My Prescription at CVS".
While the subject matter varies wildly, there is no disguising this same tone of nervous anxiety for the speaker "...can't stop flipping / the silky pages..." of Vogue as she fears the depiction of womanhood within means her own sexuality is lost.She then commences a "search for that / in the make-up aisle." The readers will recognize this state again in "Mortal Mothering." The emotion trembles on the page when the speaker supplies her children with the "...feeble armor" of "stay on the sidewalk, let no one / tease you, you are wanted, loved."
The realm of parenthood is held under close scrutiny in this book. It notes how many hard decisions parents must make and how unfathomable an adult's decision process can seem to a child. The exquisite piece "Groundwork" portrays this in a wonderful manner. "This is how I learned about mercy - / from a father who killed a bird to save it." Or in "Splinter" the speaker recollects her mother attempting to remove a splinter from her foot: "Hold still, she says / before she hurts me."
The Human Contract blends the speaker and her audience into one being through an odd act of possession. Through Snyder's intense writing the audience will feel that they have become the other driver who saves the speaker from choking in "The Human Contract." A stranger suddenly transformed into an intimate character, "...an angel..." in someone else's life.
About the Creator
Welcome! I provide free book reviews for modern poets! At the end of the year, 10% of all earnings and donations will be given to a non profit organization. This year you will all be helping Lambda Literary! Thank you!
Twitter: @poetryberry
Reader insights
Be the first to share your insights about this piece.
Add your insights