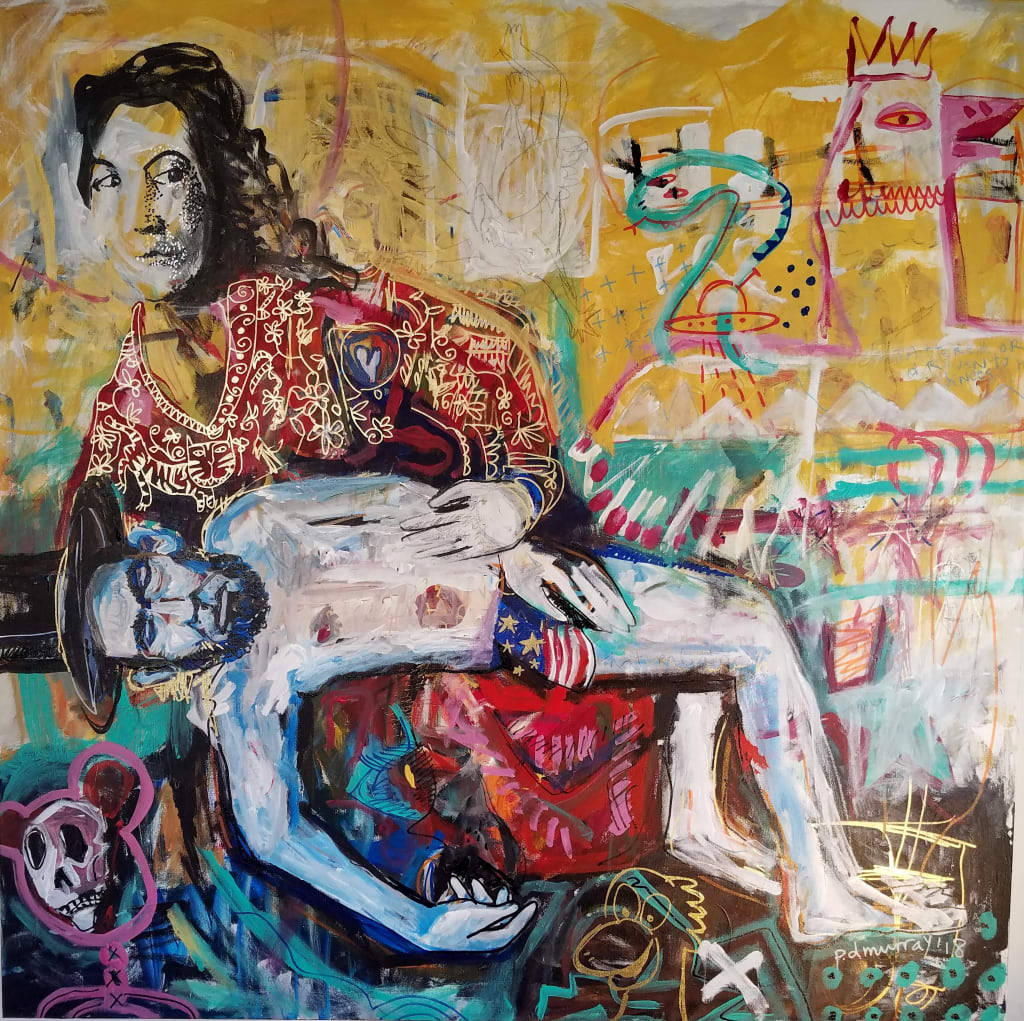 "American Pieta" P.D. Murray Mixed media 2018
After the parade
I imagine shell casings
Caromed off the roof,
Scattered among the abandoned
Strollers.
Am I too late?
Too soon?
When is a shooter not active?
I wonder in the hotel lobby,
The next day. The fifth.
Does the CNN scroll
Ever still?
I have been here a month
But that is another
Story: how the night staff
Now smile when I shuffle out
To smoke.
Good night, Mr. Paul
(. or ?)
They say. And I say:
Yes. You (?)
The moths
And mayflies have eyes
Attracted to the stabbing
Lights outside this Hilton.
I am an American boy.
I have lived through two
Earthquakes. A tornado.
Floods, hurricanes, handcuffs,
Benders, cancer, and wanderlust.
I've weathered divorces, deaths,
Diaspora, taxes, bad beats.
I was raised on Wonderbread
And milk. Watched Lassie. Believed
We were all going places.
After the parade,
They report the guy
Wore women's clothes to escape.
Played Soldier Boy; loved
Call of Duty and forecast
Actions on Facebook.
Aprés moi, le deluge.
After the parade,
I feel the flood
Of all the feels.
I despair for the queer,
The raped and seeded,
The marginalized yet vital
Walmart-wagers, weed-heads,
The battered, the boozehounds,
The aboriginal and the colonizer both.
I despair for Cain even, caught
Red-handed and born with whatever
Blind-black spot on the helix
Still spurs the human-shaped ape
To blame and kill ape.
After the parade,
We are all still just
Walking each other home.
Some of us are Abel-
Bodied, and some infirm.
Shells litter
Our streets and past.
Many are wounded,
But all are in transit.
After the parade,
Forgive us.
For we know not
What to be or
What not
To do.
About the Creator
Murray is an accomplished painter and writer.
Through 2010, he was shown exclusively by Treehouse Studio Galleries. His work hangs in private collections around the world. He's also published 5 books. You can see more at www.pdmurray.art
Reader insights
Be the first to share your insights about this piece.
Add your insights